Lancashire Connections
Lancashire is associated with a strong cluster of Knowles DNA matches, a smaller cluster of Newell/Newall matches (especially near Liverpool) and a number of Nowell matches from the West Riding of Yorkshire (east of Lancashire). In addition, these names occur with a higher frequency in Lancashire (< 2% of population) than in any other county south of Scotland (1891 data); for example:
In addition, Lancashire is the home of several family groups with three cups in their arms (see previous section) including:
the Nowells of Read
the Newells of Hare Hill House, Littleborough,
the Nowells of Read Hall near Burnley,
the Nowells of Skipton, and
a branch of the Clyderowe family of Clitheroe.
The surname Clyderowe was first found in Lancashire at Clitheroe (just south of Bowland Forest), the name Clitheroe is thought to come from the Anglo-Saxon for Rocky Hill. The Clyderowe family had one interesting link to the Noel related name Cnolle. In 1323 (Reign Edward II) in South Lancashire an Henry son of Roger Clyderowe and Roger Cnolle thrashed and illtreated Adam deli Clogh on Clyderowe Moor.
If there was a common ancestor for the various Newell, Knowles, Nowell, etc. matches then the data suggest that this ancestor may have lived in Lancashire. Two family names that did not produce any matches in Lancashire but did produce a few in other areas are potential candidates for a common original name. These names are Cnolle and Knoll both of which were more common in the past than they are today.
The name Cnolle is relatively uncommon and the publication South Lancashire in the reign of Edward II (Tupling, 1949) links it to Knoll (see earlier discussion of Cnolle name). The names Knoll and de Knol were frequently mentioned in documents related to Lancashire during the Reign of Edward I and II. Some of the earliest references to the Knoll / de Knol family in Lancashire are linked to the town Thornley-with-Wheatly 12 km west of Clitheroe. Both of these towns were included in the Grant of Chippingdale (Chipping in the south of Bowland Forest) in 1102 and from later records it seems that the Osbaldeston family were lords of the place (BHO).
The immediate lordship was held by a family using the local name, who were about the beginning of the 14th century succeeded by the family of Knoll or Knolls; as early as 1302 John de Knoll held of the Earl of Lincoln the eighth part of a knight's fee in Thornley and Wheatley… In 1319 Thomas son (and heir) of John de Knoll called upon Thomas de Osbaldeston as mesne lord to acquit him of the service in respect of a tenement in Wheatley claimed by the Earl of Lancaster; and Osbaldeston claimed the custody of the manors of Wheatley and Thornley, Thomas de Knoll being a minor, because John his father had held by knight's service. Thomas de Knoll died between 1350 and 1354, his widow Margaret and son Richard having the lordship in the latter year. Richard and his brother Adam were defendants in 1358 against a claim by John Maudson of Core. From later deeds it appears that Adam ultimately inherited; he had three sons — Richard, John and Adam… About 1500, Thomas first Earl of Derby purchased the manor of Thornley. The manor descended like Knowsley until 1600, when William the sixth earl sold it to Baptist Hicks of London (BHO). Note: Baptist Hicks linked to Virginia Company.
The publication The Victoria history of the county of Lancaster published 1891 gives more information on the Knolls of Chipping:
In 1066 [Saxon period] Chipping (see Chippingdale above) was assessed as three Manors (plough-lands) after the Conquest it was granted to Roger of Poitou, and became part of the possession of the Bussels of Penwortham for a time. Henry I in 1102 gave it to Robert de Lacy, and from that time it continued to form a member of the honor of Clitheroe. The land appears to have been divided among a number of holders, but it is not possible to trace the origin or descent of these tenements. The most important were those of Hoghton of Hoghton, Knoll of Wolfhouse or Wolfhall, and the Hospitallers, each of them apparently being regarded at one time or another as a manor. In 1356 a number of suitors of the courts of Clitheroe are named, among them being Adam de Hoghton and Adam son of William for tenements in Chipping, Richard son of Thomas de Knoll for Thornley and John de Bailey for Aighton. The Knolls of Wolfhouse appear to have been a branch of those of Thornley, and in the inquisition of 1628 respecting the estate the manor of Chipping and the capital messuage called ' Woll house in Shireburne,' with various other messuages, water-mill and lands in Chipping [Note Wolfhouse (locally pronounced "Woofus"), or Woolfenhall, is a little to the south-east of Parliek [3 km NW Chipping].
Other early de Knols in or near Chipping, Lancashire include:
1199-1272 (time of John and Henry III) grants of land in Chipping are made by Robert, son of Richard de Chepyn , to Richard, son of Leodovic de Knol; by Robert, son of Roger, son of Sir Wiliam de Chepyn.
1219-1272 (Henry III) In a deed , John son of Wiliam Clerk of Chipin , gave to Richard de Knol and his heirs a certain part of land in Chipin [Chipping] , bounded by "the Lude" – "the Black Lake" – "the tree upon Oxmoss" , to be held by payment of a pair of gloves at the Feast of St . Giles.
1260 Clemencia de Knoll vouches Elias, son of Elias de Knoll, to warrant the third part of a messuage and land in Neweton [Newton-in-Bowland, 10 km NE Chipping] , which Juliana, widow of William de Neweton, claims in dower.
1278 Hugh le Surreys v. John de Knol re a fence demolished in Weteley [Thornley-with-Wheatley, 2 km S of Chipping];
1302 Knights fees: John de Knolle holding of the said Earl [of Lincoln], for the 8th part of I fee in Thorndeleghe and Wetteleye [Thornley-with-Wheatley, 2 km S of Chipping].
1276 (4 Edward I) Alice wife of William le Porter and daughter of Agnes de Knol, in right of Agnes v. Adam le Clerk re 2 oxgangs in Dounum [Downham, Yorkshire, 15 kn E of Chipping]. Plaintiff says that Robert de Knol her grandfather purchased the tenement;
1322 Thomas de Knoll who holds in Neuton [Newton-in-Bowland, 10 km NE Chipping] 4 oxgangs of land;
1324-5 The Sheriff of Lancashire was ordered to arrest a number of persons who had been indicted tor trespass, presumably in connection with the raid on Ightenhill [20 km SE of Chipping]. The defendants, who seem to have been mostly Yorkshiremen, included Robert de Knol and John son of John de Knol;
1290 Ellis de Knoll and Alice his wife about 1290 granted Edmund Earl of Lancaster a piece of land in Grimsargh [10 km SSE of Chipping] lying on the east side of his park of Hyde.
1307-1327 (Edward II) Roger de Knol, John son of John de Knol, habitual wrongdoers (poaching) in Chase of Foulwod [Fulwood, 15 km SW of Chipping].
Despite the number of early references to the Knol / de Knol family in Lancashire and western Yorkshire this spelling of the name had virtually disappeared in Lancashire. In the census of 1891 there was only one record from Lancashire with this name. It is clear from the records that by the 13th century the "de" was dropped and the spelling name was morphing into Knolle and other variants. The Oxford Dictionary of Family Names in Britain and Ireland links Knol to Knowles, Noel, Nowell, Nowles, etc.
Another early name linked to Yorkshire was Nuvel. Some time prior to 1207 a letter was addressed by the city [York] to the archbishop—and was sealed with the city seal—testifying that All Saints', Peaseholme [York], belonged to Ralph Nuvel (BHO). The church of ALL SAINTS, Peaseholme Green, is first mentioned in a document dated between 1191 and 1206 in terms that suggest that it had been founded early in the 12th century. It was said by the citizens of York to be in the fee of Ralf Nuvel (about whom little else is known) and it is implied that it had been built by his ancestor (BHO) .
Another source references this Ralph as Noel: YORK CITY : ST. SAVIOUR'S, THURSEGAYLE c.1195-1212: Grant by Alan son of Roger, at the instance of Ellen his wife, to the hospital of St. Peter, York, of land next the church-yard of St. Saviour the Little, lying between land which Thomas son of Geoffrey held there and land which Ralph Noel (or Nuvel) held of Thomas son of Warin on the other side, to hold of the heirs of Ralph le Wauter for 2s yearly (Source: EARLY YORKSHIRE CHARTERS). This Ralph "Noel" held land at Rawcliffe (near Snaith). In the 16th century a family of Nowells held lands in several neighboring towns in the Parish of Snaith (e.g. Pollington, Baine, Fishlake, Whitley). These Nowells are likely related to a John Nowell of Giggleswick who held positions of Schoolmaster to the Kings Henchmen (young gentlemen) and chaplain in the court of Edward VI. This John was also vicar of Giggleswick but resigned when Mary took the Throne.
Shortly after this a Ralph Nuvel held land and a Mill in York: 20 Jan. at Westminster, on the Octave of S. Hilary, 5 Henry III, before
1220-1 the same Justices. —Between Master Robert of Winchester, Canon of York, claimant, and Ralph Nuvel, tenant: as to 6 bovates of land in
Lairthorp [York] and a mill in Tonge (source: FEET OF FINES FOR THE COUNTY OF YORK). Note: Tonge was once a Township in the Parish of Bolton, Lancashire.
The Ralph at Peaseholme has been linked to the Ralph Nuvel (AKA Noel, Nowell, Newall, Nuuel) who was the Bishop of Orkney but never assumed that position). This Ralph is discussed in my research on the Yules of Scotland.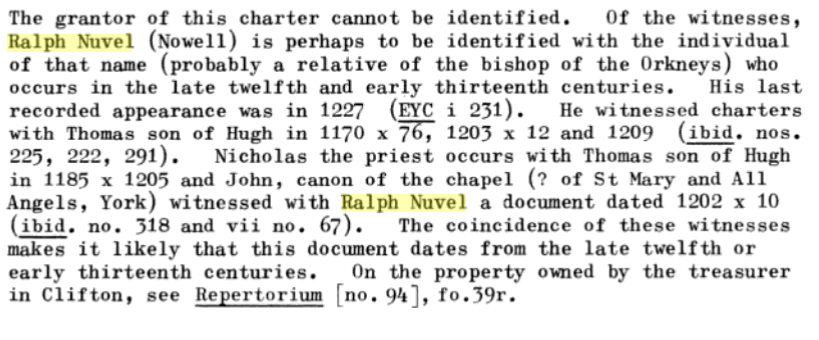 Ralph was not the only cleric from York sent to Scotland. Around the same period William and Roger Nuell were also consecrated to Glasgow by the Archbishop of York.
In 1586, All Saints, Peaseholme was incorporated into St. Cuthbert Parish and this latter church has 15th century links to the Neville family (Glass: all reset, mostly 15th-century with extensive 18th and 19th-century repairs, and all the borders made up with fragments. In N. wall, 2nd window, nIII, shields-of-arms, (2a) City of York, (2b) Neville (BHO). The Neville name in York has been linked to Nevile, Nevelle, Neuvell, Newell and Neyvell.
It is clear from my review of the data that in the West Riding of Yorkshore the names Nuvel, Noel, Nowell, Neville and Newell may reference different branches of the same family. As I indicated earlier many of the Ancestry DNA matches in Lancashire point to Knowles while those for the West Riding of Yorkshire suggest links to the Nowell family name; however, there is clear geographic overlap in Knowles and Nowell matches in the Lancashire / Yorkshire border region (see map below).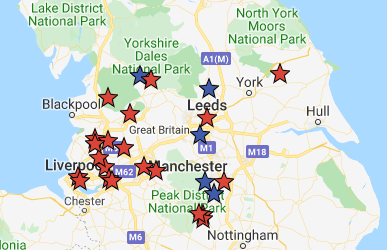 One family of Nowells from Lancashire and the West Riding stands out in the historical records. These were the Nowells of Read, Lancashire (16 km SE of Chipping). Read is 20 km south of the nearest Nowell match in Giggleswick (North Yorkshire) and 50 km west of the 2nd nearest Nowell match in Dewsbury (West Riding) so these Nowells are not the best candidates for my ancestors. However, the Nowells of Read have ties to the West Riding of Yorkshire and their well documented family history sheds light on how this family developed and adapted to the changing economic, political and religious movements that swept England in the 700 years following 1066.
Read was the seat of the Nowell family from the 14th century. The Nowells of Read include a number of individuals that were prominent in Elizabethan England :
The Nowells of Read had their origins in Mearley, Lancashire (3 km ESE of Clitheroe and 15 km ESE of Chipping). In 1364, Lawrence Nowell of Mearley granted this manor to Sir Richard de Greenacres in exchange for a moiety of Read, which then became the seat of the Nowells. The Arms of the Nowells of Read are three covered cups sable.
Given the roles that members of the Nowell family or Read played in Tudor England it is not surprising that much of the literature on the Nowell family of Lancashire is focused on the Read branch of the family. I will present an overview of the history of this branch of the Nowell family, not because they best match the DNA data, but because it is possible to trace their fortunes and movements over time.
The earliest references to the Nowell family from Read relate to ownership of land in Great Harwood [4 km SW of Read]. In 1567 Thomas Nowell of Read, esq., son and heir of Roger Nowell, esq., acknowledged at Preston that he held his lands in Harwood of Thomas Hesketh, kt., by knight's service-namely, by the fifth part of a knight's fee and 10s. yearly rent—and did homage and fealty for the same (Source: British History Online). In the 12th century the Manor of "Great Harwood" was held by Henry de Lacey whose main holdings were in Cornwall and Devon (for more on de Lacy family see my section on Y-DNA). In 1310 the family of Hesketh purchased from John son of Edmund Fiton the lordship of the manor which including 10s. due yearly from Adam son of Roger Nowell (BHO).
During the 16th century the Nowells of Lancashire became involved in the Church, the Law, Politics and Business (see Alexander, Lawrence, Robert and Nicholas referenced above) and these activities took them to London and other areas of England plus many went into exile on the Continent during the Reign of Mary I. During this period other Nowells relocated to other areas of England and founded branches of the family. In 1563 Edward Nowell of Mearley, Lancashire (the son of Charles Nowell, who was the fourth son of Roger Nowell of Mearely) moved to Edmonton , Middlesex (just north of London) and was buried there in 1616. Edward's three sons were all born and died in Edmonton. Around the same time a William Nowell from Lancashire moved to Sussex and in 1585 one of his sons John Nowell (born in Sussex) was admitted to the College of Physicians of London. In both of these cases the Arms of these families incorporated "three covered cups sable". It is not unreasonable to assume that during this period other Nowells from Lancashire moved to other areas of England.
Roger the brother of Thomas Nowell succeeded and on his death in 1591 was followed by a son Roger. (fn. 22) The family prospered; the estates were augmented by the purchase of lands formerly belonging to Whalley Abbey and of the fifth or remaining part of the manor. Roger Nowell thus became sole lord. (fn. 23) He was sheriff in 1609–10, (fn. 24) and was later a zealous witch-hunter. (fn. 25) A pedigree was recorded in 1613. (fn. 26) In 1615–16 he obtained from the Crown a charter for view of frankpledge, &c., in his manors of Read and Simonstone. (fn. 27) Roger Nowell died 1624, and his son Roger having died before him, the heir was his grandson Roger, eighteen years of age. The manor of Read was held of the king as duke by the old rent of 9s. 9d.; the Lower Hall was held of the king in chief by knight's service and 2s. 4d. rent. (fn. 28) The heir in 1631 paid £15 for having declined knighthood (BHO)
The English Civil War was undoubtedly most significant event for the Nowells of Read Hall. Though the family had long been Protestant, Roger Nowell at the outbreak of the Civil War took the king's side (BHO). One of the most decisive battles of the War in Lancashire was fought just outside Read Hall with the initial contact as being at Read Head "above the house of Mr Nowell of Read" Mr Nowell being Roger Nowell of Read Hall . The Parliamentarians won the Battle resulting in the downfall of the Lancashire Royalist cause (Wiki ). Roger Nowell who was a Captain in the Royalist forces (later lieutenant-Colonel) survived the battle ; however, his younger brother Richard, a captain in the Royalist forces, was killed fighting for Prince Rupert in a battle for Bristol. The Colonel Roger Nowell of the Lancashire Regiment who accompanied King William III to Ireland in 1690/91 may be Roger's son. Roger in face of the sequestration of his estates he did not long persevere, surrendering before December 1645, and soon afterwards petitioning for 'a favourable composition' (BHO).
King Charles the Second intended, immediately after his restoration, to institute an Order of Knighthood for those persons of rank and fortune who had supported the Royal cause in the rebellion which was to have been called the Order of the Royal Oak and a list of persons who were to have the Order was compiled; however, the idea was abandoned in consequence of the fear of exciting party-feeling and political animosity. Roger Nowell was on the list of candidates (Cheshire Notes and Queries) and at this time (1660) his estate was valued at 1000 pounds per annum. Roger recorded a pedigree in 1664 and lived on till 1695. His grandson Alexander Nowell was the last of the line; largely by his extravagance the estates became much involved, and after his death in 1772 were sold by order of the Court of Chancery (BHO). Alexander's widow returned to London with their daughter who died shortly after. However, this only represented the end of the estate in Read and by this time members of this family were dispersed throughout England and likely the colonies. For example, in the 1750s a John Nowell, who had "three cups" on his seal, was steward for the Earl of Carlise at Naworth Castle in Northumberland.
The preceding discussion is not presented as evidence of a direct link to the Nowells of Read but to outline how my DNA matches to various Nowells in England (and the Nowells of York, Maine, USA) might relate back to to my cluster of DNA matches (Knowles, Nowell, Newall) from Lancashire and West Yorkshire.
One factor that links the Knowles and Nowells of Lancashire and West Yorkshire is a connection to the de Lacy family. Robert de Lacy (died 1193) held lands in Chipping which was the location of Wolfhouse or Wolfhall, home of the de Knoll family (see earlier dscussion), was Baron of Pontefract (West Yorkshire) and Lord of Bowland. Henry de Lacey (c.1251–1311), of Clitheroe Castle, held the land around Read Hall home of the Nowells of Read and Whalley. Ilbert de Lacy (born c1040, buried at Pontefract, Yorkshire) held considerable estates in the area south of Leeds (Knowles & Nowell matches). Edmund De Lascy alias De Lacy held lands in Snaith, Barnside, Chipping, Wheatley and other locations linked to 16th century Nowells of Lancashire.
The only matches to Newell, Newall or Newhall in Lancashire and the West Riding were two matches to Liverpool and one to Warrington (25 km west of Liverpool). All of these matches were to me with no matches for my sister or cousins. This does not suggest a strong match; however, there were several families of Newells/Newalls from this area that are of interest since they incorporate three cups in their family Arms.
Newalls of Town House, Hare Hill and Wellington Lodge, Littleborough.
One Newall with three cups in his Arms was Henry Gerald Fenton Newall : Esquire, Major 3rd Batt. Lanes. Fusiliers, J. P. co. of Bute, Scotland, born 1853, being the eldest son of the late Henry Newall, Esquire, Justice of the Peace, of Hare Hill, Littleborough (Parish of Rochdale),Lancashire by his wife Maria, daughter of John Fenton, Arms three covered cups within an orle or (for Newall). See Arms below: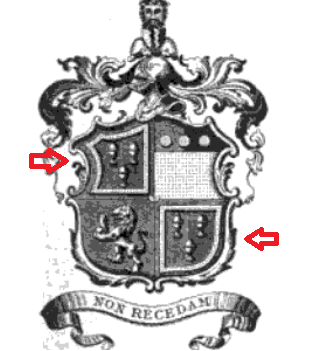 An interesting sidelight is that their daughter Sybil Fenton Newall (1854 – 1929), best known as Queenie Newall, was an English archer who won the gold medal at the 1908 Summer Olympics in London. Queenie was the eldest daughter of the ten children of Henry Newall and Maria Fenton. Her father was a merchant and owned Hare Hill House and estate in Littleborough, Lancashire. Her grandfather John Fenton was the Member of Parliament for Rochdale following the 1832 and 1837 general elections (Wiki).
The publication Sketches of Lancashire published 1852 provides an overview of this family and demonstrates that they were an important family in this area for several centuries and that the Arms of the family (as described above) were found in the window of Littleborough chapel. This window was put in by subscription in 1842 so the Arms predate the birth of Henry Gerald Fenton Newall. This publication also indicates that the Newalls of Littleborough were involved in the woolen industry. There is a Town House Mill in Littlebrough dating from 1752 which was a wool warehouse, used for storage (when surveyed). "L S N 1752" (Lawrence and Sarah Newall) on carved stone with Newall Coat of Arms. Hammer-dressed watershot stone with graduated stone slate roof. Total of six bays and three storeys.
The publication History of the Parish of Rochdale (1889) demonstrates that the Newall family was living in this area before 1550 when William Newall of Lower Town House, in his will dated 17th September, 1550, acknowledges a debt due to "the refs [the Reeves] of ye Lytlebrogh Chapel" of viii . s ., and Laurence Newall of the same place left by his will dated 2nd April, 1557, iii . s. iv . d . to buy "a chalis or vestment to ye Lytlebrogh Chapel," adding that he owed the chapel viii . s . and in wages xii. d . This same publication (p 445-448) provides a detailed family tree tracing the descendants of these Newalls.
The previous publication (above) and A visitation of the seats and arms of the noblemen and gentlemen of Great Britain and Ireland Vol I (Burke 1855) traces the roots of the Newalls of Town House to a Lawrence Newall who in 1452 was named as a grantee for life for land and property in Northowram in Shipden (now Shibden AKA Shepedeyn) near Halifax in Yorkshire. Lawrence's son, William Newall, married Isabella, elder daughter and coheiress of Christopher Kyrshagh, of Town House, co. Lancaster,
now called Lower Town House, and with her acquired that estate.
Picoppe (1861) linkes this Lawrence to Shipden Hall. The Hall dates back to around 1420, when it was recorded as being inhabited by one William Otes (Wiki) . In 1455 Lawrence Newall witnessed documents involving William Otes son and heir of John Otes of Shepedeyn. In the same time period a Lawrence Newall was recorded as a witness to other legal documents in this area (e.g. 1452/53 Lawrence Newall witnessed documents in Halifax and in 1458/59 Lawrence witnessed documents related to land in Shepedeyn) and Lawrence Newall was frequently a Juror in Trials.
Given the identical family Arms (three covered cups), the proximity of Town House (Newalls) to Read Hall (Nowells) and the common links to the West Riding of Yorkshire it is not unreasonable to suggest that both families share a common origin in the Yorkshire / Lancashire border region likely before 1500.
There is one interesting connection between Newall and Knowles which comes from an individual with the Knowles name who has "three covered cups" in his Arms. These Arms belong to Robert Knowles, Esquire, J. P. (High Sheriff 1913) co Derby. Born 1856, being the eldest son of late Andrew Knowles, Esq., J. P., of Swinton Old Hall (20 km SW Hare Hill House). These Arms are divided left and right (see below).
On the Dexter (Latin for "right" and means to the right from the viewpoint of the bearer of the shield) side are Arms with a Chevron containing three roses elements traditionally associated with Knowles (the dexter side is considered the side of greater honour). On the opposite sinister half are the Arms of Henry Gerald Fenton Newall (see above). In the case of marriage, the dexter half of the husband's arms would generally be placed alongside the sinister half of the wife's. In this case the Newall Arms come from Robert's wife Hannah Fenton Newall, 2nd daughter of Henry Newall of Littleborough (Burke, 1898).
The ancestors of Robert Knowles were from Edgworth / Edgeworth, Lancashire (10 km N Bolton) the earliest documented ancestor being Richard Knowles whose Will was dated 1582.