This Section investigates my DNA links to individuals with connections to Quebec with an emphasis on connections to the Noel Surname.
Links to Noel Surname
Some of the first individuals to settle in Quebec had the Noel surname (see following list from https://www.houseofnames.com/).
Mr. Charles Noël, (b. 1617), aged 25 French settler travelling to Canada for work arriving on 12th April 1642 [6]
Jean Noel, who arrived in Quebec in 1649
Jean Noel, son of Jean and Marie, who married Suzanne Barbot, daughter of Jean and Jeanne, in Quebec on 2nd November 1649 [7]
Jacques Noel, who arrived in Montreal in 1653
François Noel who arrived in Quebec in 1657 from Poitou.
The following Table lists the earliest Quebec ancestor with the Noel surname for the DNA matches to myself, my sister and two cousins with a common Newell Ancestor. The first three entries are the strongest matches in terms of number and strength of the links. The last five entries are links to me with less than 8 cM of shared DNA. Recently Ancestry eliminated matches below 8 cM from queries but I have these matches for myself since I identified these matches before the change.
| | | |
| --- | --- | --- |
| Name | Born | Born Where |
| Marie Madeleine Noel | 1687 | St Laurent, Ile Orleans, Quebec |
| Marie-Genevieve Noel | 1712 | St-Pierre, Ile d' Orleans/ Montmorency, Quebec |
| Marie Adelaide Noel | 1823 | Montmagny, Québec, |
| Madeleine Noel | 1687 | St. Laurent Ile d'Orleans, Quebec |
| Therese Noel | 1777 | Lotbinière, Quebec, Canada |
| Marie Thecle Noel | 1737 | Montmorency, Quebec |
| Michel Lefebvre Lasisserais Noel | 1723 | Sainte-Anne-de-Bellevue, Montréal |
| Marie Josephe/Josephte Noel | 1739 | St Pierre, Ile Orleans, Quebec |
| Therese Noel | 1764 | Yamachiche, Saint Maurice, Laval, Quebec |
| Veronique Francoise Noel | 1752 | St-Vincent-de-Paul, Quebec |
| Marie Angelique Noel | 1789 | Vercheres Lajemmais Quebec |
| Marie-Louise Noel | 1728 | St Pierre, Ile d'Orleans, Montmorency, Quebec |
| Ursule Noel | 1712 | Saint-Laurent-de-l'Île-d'Orléans |
| Philippe Noel | 1705 | St-Pierre-de-l'Île-d'Orléans, Québec |
| Ignace Noel | 1681 | Saint-Laurent-de-l'Île-d'Orléans |
| Paul Noël | 1806 | St-Thomas, Montmagny, Québec |
| Sophie Noel | 1826 | Baie-du-Febvre, Québec, |
| Ignace Noel | 1681 | Saint-Laurent-de-l'Île-d'Orléans, |
| Philipe Noel | 1670 | I Le D Orleans, Quebec |
| Marie Thecle Noel | 1750 | Montmorency Quebec |
| John Noel | 1861 | St. Andres East,Argenteuil Quebec |
Earliest Ancestor of Quebec DNA Matches
The following Map shows the locations for the Quebec matches to Noel.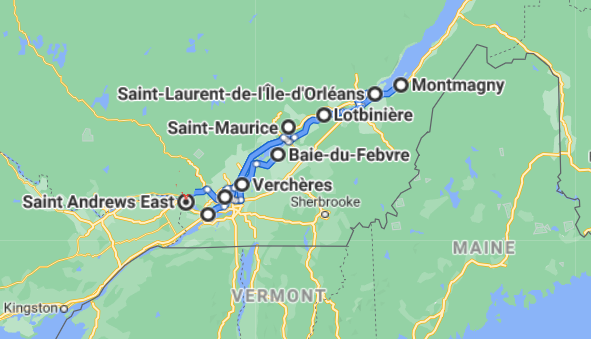 These locations have a peak at Montmagny and Île d'Orléans both of which are just below Quebec City on the St. Lawrence River and extend upstream to the area around Montreal. In 1636 Île d'Orléans was granted to 8 associates by the Compagnie de la Nouvelle France. These first farmers, installed on land belonging to Éléonore de Grandmaison at the far upstream end, were massacred in 1656 by the Iroquois. Land clearing began again in 1660. In 1646 a seigneury containing the area of Montmagny was granted to Charles Hault de Montmagny although permanent European habitation did not begin until the 1670s.
It would appear that many of these DNA matches trace their Noel roots back to Francois-Pierre Noel born 1643 in Portiers, Poitou, France.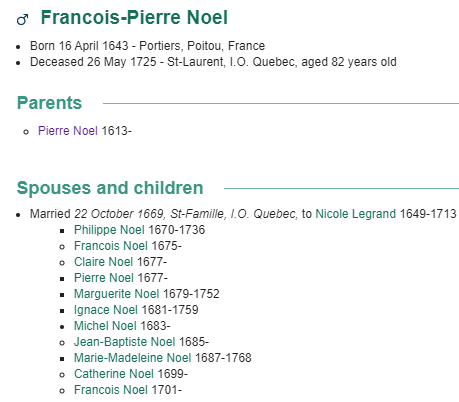 However, there is one other interesting link to the Noel surname in early Quebec records. In 1688 a Nicholas Noel was captain on the voyage of the ship Dragon sailing from La Rochelle to Quebec.

Other sources provide more detail on Nicholas and the other individuals on this voyage:
(1) Nicolas NOËL , captain, 46 years old (2) Jacque FAURE , Alvert pilaster, 54 years old (3) Gilbert VOTA , surgeon from Bourges au Berry, 20 years old (4) Nicolas BOUCHERET , sailboat from La Rochelle, 44 years old (5) François TEXIER , carpenter from La Rochelle, 30 years old (6) Jacque MAURANS , cooper of this city, 26 years old
(7) Elie FAUTIN , sailor of La Tremblade, 27 years old (8) Gaspard DARDENNE , sailor from La Rochelle, 33 years old (9) Yvon TORIN , sailor of Audierne, 20 years old (10) Guillaume ARNAUD , from La Rochelle, 33 years old (11) Jean HERODET dit Thonnaud , of St-Michel in Loire, cook, 20 years old (12) Jean GILLE , boy from La Rochelle, 26 years old
made at La Rochelle on April 3rd, 1688.
http://naviresnouvellefrance.net/html/pages16871688.html
Being the Captain on a single voyage does not in itself show a strong connection between this Nicolas and Quebec; however, there are other records that suggest that a Nicolas Noel [Noël, Nouel] may have been involved in voyages to Quebec for more than a decade.
A Nicolas or Jean Noël was also captain on a voyage to Quebec in 1689 (see below).
Saint-Paul, de Que., 138-140 Tx ;quittaBx pour Qué.-les Antilles en 1689 avec le cap. Saint-Paul, de Que., 138-140 Tx ;quittaBx pour Qué.-les Antilles en 1689 avec le cap. Nicolas (ou Jean) Noël ; G. JUNG signa à Bx le 23-3-1689. ADG, 6 B 73* fol. 63, 6 B 294. G. JUNG signa à Bx le 23-3-1689. ADG, 6 B 73* fol. 63, 6 B 294.
More info on this voyage below.
G. JUNG [Guillaume Jung 1637-1710] signe à Bordeaux le 23 mars 1689 pour envoyer le navire à Québec et aux Antilles. Le Saint-Paul de Québec, commandé par le capitaine Jean NOËL avec un équipage de huit hommes et chargé de vin et victuailles, quitte Bordeaux le 23 mars pour le Canada. Google Translation: G. JUNG signed in Bordeaux on March 23, 1689 to send the ship to Quebec and the Antilles. The Saint-Paul de Québec, commanded by Captain Jean NOËL with a crew of eight men and loaded with wine and food, left Bordeaux on March 23 for Canada.
There is another record of a Nicolas Noël being the captain on a voyage to Quebec in 1675.
La Fortune Blanche (100 tx), de La Rochelle (capitaine Nicolas Noël), frétée par Arnaud Peré; [Sieur Arnaud Peré merchant agent for Pierre Boucher, the governor of Trois-Rivières].
B 5674 no 257, 1675, 13/6. La Fortune Blanche N. Noël A. Perez Québec [Registered in Amsterdam]
This may be the same person as Le capitaine Nicolas NOUEL commande ce navire in 1675
This is likely the Nicolas Nouel who was captain on a voyage from La Rochelle to the Antilles in 1674 (see below).
| | | | | | | | |
| --- | --- | --- | --- | --- | --- | --- | --- |
| Navires | Tge | Maître | Proprio | Armateur | Provenance | Destination | Retour |
| Le Lion d'Or | 70-80 Tx | Nicolas NOUEL, capitaine | Jean THOMAS et Louis GUILHEN | Chs AUBERT de La Chesnaye | La Rochelle d 11 jun | île Percée, Antilles | |
https://www.naviresnouvellefrance.net/html/pages16721674.html
This Nicholas may have links to a Nicolas Nouel (b c 1640) who was married on 7 September 1676 at St. Martin, Jersey, Channel Islands and to the Nicholas Newell, mariner of Lyme Regis , Dorset who married Mary Coad in 1675 and remarried to Elizabeth Paviott in 1684 (see Section of this Web Site on Newalls of Lyme Regis). Nicolas Nouel of Jersey may have had a daughter Sara Noel who was christened in December 1676, in St. Martin, Bailiwick of Jersey, her father, Nicolas Nouel, was 37 and her mother, Lorance Renouf, was 25.
The Web Site https://www.theislandwiki.org gives the following information on individuals named Nicholas Nouel / Noel / Noe in jersey during this period.
Nicholas Nouel was born in St Martin about 1569 and married Catherine Mallet, daughter of Philippe and Frances Baudains. Nicholas died in 1625. He and Catherine had a son Noel (1595-1645) and daughters Thomasse (1600- ) and Catherine (1603- ).
Noe married Pauline Guerdain on 20 December 1626. They had five sons, Nicholas (1630-1638), Nicholas (1640- ), Aaron (1638-1638), Denis (1633-1692) and Aaron (1644-1686) and a daughter Marthe (1628- ).
Links to Other Surnames
Apart from the Noel links I have identified DNA links to at least two other surnames with strong Quebec connections. There are links to the Beauchamp surname and many of these point to children of Michel Beauchamp born c 1605 in France. These children include Jacques Beauchamp who died 8 Feb 1693 at Pointe-aux-Trembles [now part of east Montreal], Nouvelle France. Jacques was born 8 Jul 1635 in La Rochelle, France. Several sources indicate that his father Michel was born in Nanteuil-de-Bourzac, Dordogne, Aquitaine, France. The beauchamp family is especially interesting since there was a family with the Beecham AKA Beauchamp surname in Bareneed, Newfoundland where my Newell ancestors were from.
The other set of Quebec DNA matches that I have investigated relate to the surname Jourdain. I have 15 distant DNA matches to the Jourdain surname of which 13 are linked to Quebec with many of these links extending back to the 17th century. Interestingly, the two Jourdain links that do not trace back to Quebec are linked to Lyme Regis, Dorset. Lyme Regis was the home of Ignatius Jordain (1561 – 1640) who was an English merchant and politician who sat in the House of Commons between 1621 and 1629. In 1576, his employer sent him to Guernsey, where he was converted to puritanism. Two of his Lyme Regis cousins, John and Silvester Jourdain, played significant roles in the East Indies trade and the colonization of the Somers Islands (Bermuda) respectively (see www.historyofparliamentonline.org ). While in India John Jourdain had dealings with a Richard Newell (see following letter from Nathaniel Courthope to Captain John Jourdain [in Bantam]) dated June 14th. 1614):
Captain Larkin sent Mr. Sophony, Richard Newell and [one] man more up the river of Landucke in a small prow with 4 [of the] blacks, thinking to settle a factory in the said place. [But they] were repulsed by the Dieackes and so returned without [ ] of the Landucke men (East India Co. Records).
In addition, I have researched the Newells of Lyme Regis, Dorset and Uplyme, Devon (seperated by 2 km) including William Newell of Uplyme, Devon who died at sea after writing his Will in 1610. Administration documents for his Will identify William's wife's family name as Jermyn which might be Jourdain.
Le Roy Quebec
I have numerous distant DNA matches to individuals with Roy and LeRoy ancestors from Quebec and Acadia.
Roy is the 3rd most common surname in Quebec and many Quebecers with the Roy surname trace their roots back to members of the Carignan Regiment who arrived in New France 1665. At that time, there was a regiment of seasoned soldiers in France known as the Carignan Regiment. It had been formed as a private army in 1644 by Thomas François de Savoie, Prince de Carignan. This was an army for hire, made up of hand-picked volunteers. The standards were very high and these men had to be big and strong physically with a strong fighting spirit. In the hire of the King of France, this regiment had just returned from a successful engagement against the Turks. Rather than demobilize the regiment, the King determined to send it to New France (Canada) to help the colonists. The Regiment was placed under the command of Henri de Chapelas, Sieur de Salières and was therefore renamed the Carignan-Salières Regiment. The following list contains the names of of men of the Carignan Regiment with te Roy surname who chose to remain in Canada when the Regiment was disbanded:
Roy, Antoine (Desjardins)
Roy, Jean (de)
Roy, Jean (La Pensée), aka LeRoy
Roy, Jean (Le Gascon or Petit Jean)
Roy, Michel (Chastelleraud), aka Châtellerault
I have focused my attention on a Joseph Roy (aka LeRoy) who was a Merchant at Beaumont, Quebec in the 18th century. Beaumont is a municipality 10 km east of Lévis, on the south shore of the St. Lawrence River, in the Bellechasse Regional County Municipality. This Joseph was connected to various fur trading and fishery post on the Labrador coast with Pierre Revol, the latter also a merchant (from The Merchants, Ship Owners and Fur Traders of Nouvelle France). Joseph's father may have been Jean Roy, Merchant in La Rochelle who was at Québec (city) in 1644, 1659, 1664, 1665 and was associated with Jean Chanjon, Jacques Royer and most likely other merchants. I have focused on Joseph since he owned several ships and was involved in the fur trade and fishery on the Lower North Shore of the Gulf of St Lawrence and southern Labrador which may provide a link to my ancestors from Newfoundland.
The following information on Joseph Roy and his family is a translation of infomation from http://www.francogene.com/genealogie-quebec-genealogy/015/015406.php.
ROY, Joseph born 1692-08-14, baptized / baptized 1692-09-14 Quebec, deceased / dead 1756-04-24, buried 1756 -04-26 Beaumont; * married 1716-11-06 Beaumont. Married Jeanne Couture dit LaFrenaye buried 1745-08-24 Beaumont, QC. Their children:
Joseph , born 1717-09-01, baptized 1717-09-01 Beaumont, buried 1717-10-18 Beaumont
Marie Jeanne , baptized 1720-04-22 Beaumont, buried 1720-04-23 Beaumont
Joseph , baptized 1721-02-04 Beaumont, buried 1721-08-28 Beaumont
Marie , born 1723-11-27, baptisée 1723-11-30 Beaumont, married Beaumont 1743-11-04 Joseph1 LÉPINE dit LALIME , married 2nd Québec 1754-07-01 Jean CORPRON
Marguerite , born 1725-12-28, baptized 1725-12-28 Beaumont, buried 1787-02-14 Quebec, married Beaumont 1742-11- 19 Charles LECOUR
Charlotte ,born 1728-03-13, baptized 1728-03-13 Beaumont, married Beaumont 1744-02-17 Pierre RENAUD dit REVOT
Joseph , born 1730-10-29, baptized 1730-10-29 Beaumont, buried 1730-11-06 Beaumont
Marie Josèphe , baptized 1732-12-15 Beaumont, buried 1733-04-12 Beaumont
Joseph , baptized 1734-10-26 Beaumont, married Saint-Charles de Bellechasse 1756-11-22 Marie Gabrielle SARAULT
Étienne , baptized 1738-10-05 Beaumont, buried 1742-05-29 Beaumont.

Three of Joseph Roy's daughters married merchants with business connections to him.
Josephs daughter Marie married Joseph Lépine, dit Lalime, a Quebec trader in 1743, her second husband was Jean Corpron, merchant trader, assistant purveyor general of provisions in Quebec; b. c. 1729 at Pizanie (dept. of Charente-Maritime), France. In September 1755, although by his own admission he had a lucrative business and "was on the point of forming with the Sieur [Pierre Claverie] a company which was to have been heavily capitalized," he agreed to enter the service of Joseph-Michel Cadet*, who at that time managed the king's slaughterhouse, who was carrying on "flour milling and a fairly large business in goods, wine, spirits, and other food supplies," and who "fitted out ships and imported them from France." Indeed, "everything suggested that he [Cadet] could not fail to carry on profitable operations." Corpron, an experienced businessman, was not content with a salary; he demanded and obtained from the king's butcher "the fifth part of the profits in all his trading." As Cadet's partner, Jean Corpron rapidly became his confidential agent; in 1756, when Cadet was put by Intendant François Bigot* [involved in Louisbourg and Newfoundland trade] in charge of supplying provisions in New France, Corpron received the responsibility of the "establishment" in Quebec [see François Maurin]. Thus, within three years, while according to his own account taking "the precautions which prudence suggested to him to share only in legitimate profits," he was able to accumulate the tidy sum of 1,200,000 livres. http://www.biographi.ca/en/bio/corpron_jean_3F.html
Jean was an assistant to Jean-Joseph–Michel Cadet from about 1751 to 1759. Might have been associated with Pierre Claverie, a leading merchant in Québec City. He died in France after 1765 (merchants-ship-owners-and-fur-traders).
Joseph's daughter Marguerite married Charles LeCour in 1742.
Joseph's daughter Charlotte married , PIERRE RÉVOL salt smuggler, trader, merchant; b. c. 1714 in France, son of Jacques Révol, a lawyer in the parlement of Grenoble, and Hélène Bastard; d. February 1759 at Gaspé. Pierre Révol, banished from the kingdom of France, arrived in Canada on the king's ship in 1739. He had received this punishment for having broken the law of the salt tax. Little is known of Révol's early years in Canada; his career as a trader and merchant does not take definite shape until he contracted a marriage at Beaumont, near Québec, on 17 Feb. 1744. His wife was Marie-Charlotte, the daughter of Joseph Roy, who seems to have been successful in the Labrador trade at that time. Révol took part in his father-in-law's activities and quickly proved to be a skilful though sometimes imprudent trader. The partnership between the two men lasted only a year, during which they clashed before the provost court of Quebec. Mme Roy's death on 14 April 1745 brought about the final break. The dead woman's succession was contested by Joseph Roy's sons-in-law; Roy did not want to make over the property held in joint estate until after his own death. Révol and his brothers in-law then took legal action before the provost court against their father-in-law, who won the case in 1747. But Révol obstinately appealed to the Conseil Supérieur. At the time of Joseph Roy's death in 1756 nothing had been settled. Révol never knew how the 14-year lawsuit ended, for he himself died a month before the final settlement (http://www.biographi.ca/en/bio/revol_pierre_3F.html)