Isaac Newell
Isaac's family was from Burnt Head (an abandoned community now part of  Cupids, Nfld.) which is approximately 3 miles from 'The Dock' by boat.  My family tradition is that the Newells of Burnt Head and 'The Dock" are related with a common  ancestor in the 18th century.  I have not established the common ancestor but Philip Newell [aka Noel] my ggg grandfather who settled in the 'The Dock' and Isaac who settled in Burnt Head around the same time may have been brothers or cousins.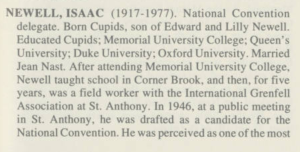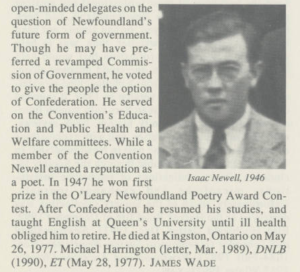 Encyclopedia of Newfoundland and Labrador, volume 4
http://collections.mun.ca/cdm/ref/collection/cns_enl/id/4092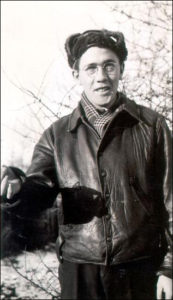 Photo of the young Isaac Newell, ca. 1940
 Courtesy of Archives and Special Collections (Coll – 090), Memorial University of Newfoundland, St. John's, NL
Copied from: Newell Collection is a Coleridge Scholar's Dream  By Bert Riggs and Dr. Martin Howley
From the files of The Gazette Mar 23, 1995.
http://www.heritage.nf.ca/articles/arts/isaac-newell-collection.php
See this paper for a discussion of his poetry and his collection of poetry.
RE: National Convention

Source:  The Newfoundland National Convention, 1946-1948: Reports and papers
edited by James Hiller, Michael Harrington.