North American Links
The preceding discussion of distant DNA links to the Old World suggest that I and other relatives with links to the "Dock Newells" have links to individuals with the Newell, Noel and other related names (Nowell, Neville, Knowles, etc.) in the UK and Europe. However, most of these links appear to be very distant connections with no established direct genealogical connections to the Newells or Noels of Newfoundland. This raises the possibility that Philip Newell's ancestors did not arrive in Newfoundland directly from the Old World but may have first emigrated to another area in North America and subsequently found their way to Newfoundland. My research into DNA connections suggest strong connections to three areas of North America outside Newfoundland. There three were the southern Atlantic States of the USA (especially Virginia); New England (especially Massachusetts) and the Maritime Provinces of Canada (especially Nova Scotia). Massachusetts and Virginia were both first settled in the 17th Century by immigrants from England and the following Map demonstrates that both Massachusetts and Virginia still have predominantly English DNA.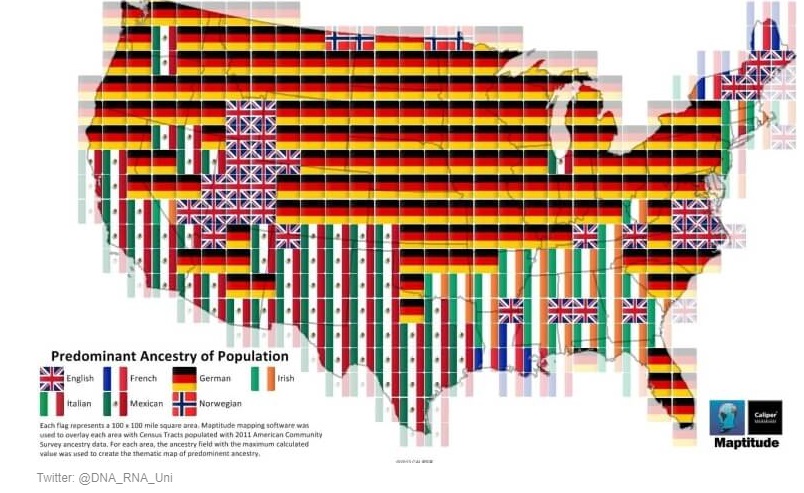 Another possibility is that the matches I get from these areas of North America represent relatives of my ancestors from the UK that settled in these areas.
My first step in investigating these North American connections was to generate counts of Ancestry DNA matches for selected names and locations (see below). The North American locations searched were Virginia, Massachusetts, Nova Scotia and Newfoundland. These locations and names were selected based on earlier analysis.
| | | | | |
| --- | --- | --- | --- | --- |
| | Virginia | Mass. | N.S. | NL |
| Newell | 2 | 23 | 13 | 70 |
| Newhall | 0 | 13 | 0 | 1 |
| Knowles | 6 | 29 | 3 | 0 |
| Noel | 14 | 2 | 2 | 110 |
| Nowell | 0 | 1 | 0 | 4 |
| Neville | 17 | 2 | 1 | 14 |
| Nevill | 1 | 0 | 0 | 0 |
| Knoll | 0 | 1 | 0 | 0 |
| Jewell | 3 | 13 | 0 | 0 |
| Juel | 0 | 0 | 0 | 0 |
| Elwell | 0 | 23 | 0 | 0 |
| Ewell | 8 | 4 | 0 | 0 |
| Yule | 0 | 0 | 1 | 0 |
| Yuill | 0 | 0 | 0 | 0 |
| Youell | 1 | 0 | 0 | 0 |
| Noall | 0 | 0 | 0 | 0 |
If we focus on my non Newfoundland, North American matches then Newell and Knowles were tied for the highest number. Drilling down further both Noel and Neville had the majority of their non Newfoundland matches in Virginia while Newell and Knowles had peaks in New England.
Virginia
As stated above, there were a number of my Noel and Neville matches that traced their earliest known ancestor back to Colonial Virginia. The following embedded Google Map (click on symbols for more info) provides information on some of these matches.
The symbols on the map are color coded as follows:
Red = DNA Matches (click for more info
Yellow = Y-DNA S1051 Haplogroup matches
View Original: https://drive.google.com/open?id=1UgtFXMQVc75ZTDDW7mfybzJokzv1dTV_&usp=sharing
The Ancestry DNA matches for Virginia include the following names:
Noel (8 matches) earliest 1655
Neville (8 matches) earliest 1662
Yowell (4 matches) earliest 1730
Youell / Ewell (6 matches) earliest 1644
Jewell (2 matches) earliest 1745
Knowles (2 matches) earliest 1641
Newell (2 matches) earliest 1735
The earliest Noel match in Virginia is for Cornelius Noell who married Elizabeth Pagen, in 1655 at Occupacia, Essex County, Virginia. Many of the later Noel matches likely represent his descendants. There is a considerable body of research on Cornelius supported by early documents from Virginia (see below).
Cornelius Noel petition for citizenship in this country." James City, Virginia
Journal of the Grand Assembly, November 8, 1666, page 42.
"Whereas Cornelius Noel hath long lived in this Country, servant and Freeman and of the Reformed Religion and hath taken Land with a full resolution to make his constant abode in this Country and to demean himself as a true and faithful servant towards his Majesty and his Leige people, hath petitioned he might be admitted a Denizen of this Country.
"It is by the Governor Council and Burgesses of this Grand Assembly Granted and Ordered that the said Cornelius Noel be made a free Denizen.
:"Essex Deed and Will Book 10," 1699-1702, page 56, April 27, 1686. Naturalization granted Cornelius Noell, born in Holland. Old Rappannock Record Will and Deed Book 9," 1696-99, page 337. Will of Cornelius Noell dated Jan. 10, 1698-9, proved June 20, 1699, wife Elizabeth to son James, land called "New Holland"; dau. Eliz. Noell (who is under age) son Daniel Noell; dau. Mary Clutson, Dau. Margaret Connellie, sons Cornelius and James Noell (who are both under age.)
There are two other interesting references to Noel in the Virginia records:
Record Deed Book 3, 1663-68, page 342, Feb. 16, 1666-67. Cornelius Noel, Wm. Coffin, Henry Jearman (later Jarman) and John Powell, devide land they had patented Sep. 25, 1665.
Noel a Mariner came from England to Tappa- hannock, Essex County, Virginia, after 1660 with a party of Huguenots, among whom were some of his own family.
The first reference links Cornelius to the Coffin name which is discussed in a later section on New England while the second reference (not directly linked to Cornelius) either suggest that Cornelius was a mariner or that there was a second Noel family.
Based on his name, age and place of birth some researchers have identified Cornelius Noel as the son of Jacob Nouwelsz Noel born 08 Nov 1623 in Zuid, Leiden, Holland, Netherlands . Other researchers have identified his father, Jacob (Nouwelsz) Noel, as the son of Peiter Passchier Nowe born Abt. 1599 in Sedan Andennes. France-Belgium, and died Abt. 1683 in Leiden, Holland (see for example http://noel.mcn.org/ ) .
However, there were also a number Nowells who were among the earliest settlers of Virginia (see: Cavaliers and Pioneers, Abstracts of Virginia Land Patents and Grants 1623-1800). The earliest of these was John Nowell, who came in the Ship Margaret and John in early 1620s (MUSTER of the Inhabitants of Mulbury Island, taken the 25th of January, 1624). This John may be related to Thomas Nowell who had land at Skiffes Creek (near Mulberry Island) in 1630.
My sister and two Newell 3rd cousins all have matches tracing back to the Noels of Virginia. It is also significant that Peter Noel from the Harbour Grace Noels (likely a distant Y-DNA relative) reports that he had a match in Family Finder (FamilytreeDNA version of Ancestry autosomal DNA test) that ties back to Cornelius Noel of Holland c. 1623.
The earliest Neville DNA matches in Virginia are a cluster of matches that link to John Neville, born 1662 in Northampton, Virginia who married Elizabeth Bohannon in 1685 at Isle of Wight, Isle of Wight, Virginia. This John Nevill is likely the same person as John Neville of Nansemond [extinct county now Surrey, adjoining Isle of Wight, County and parts of which were transferred to Isle of Wight] and wife Elizabeth sold to Arthur Skinner 125 acres in Isle of Wight formerly patented by John Neville. This John Neville was likely the son of William Neville / Norvell who in 1642 had a plantation near the border of Isle of Wight County and Nansemond.
In most early documents the Neville name is used for this family and the Norvell spelling is likely a result of transcribing cursive writing. However, in researching the Norvell name I found 30 DNA matches to myself, my sister and my cousins with a number common to several of us! All of these matches are linked to Virginia or surrounding southern states. A number of these trace their origin to Norvells of Isle of Wight or Norvells of Skiffes Creek (see Thomas Nowell). The fact that matches to this name are localized may support the conclusion that it is a local version of Nowell or Neville.
In 1642 documents related to the county boundaries, the William Neville of Isle of Wright is recorded has having a neighbor Robert Pitt. William's neighbor Robert Pitt is especially interesting since he was a Bristol merchant. Robert's sister, Mary Pitt, married Andrew Newell (see more re Andrew in New England section and Lyme Regis section). Other neighbor of William Neville include the surnames : Jones, Drury, Wolf, Nosworthy, Russel, Blount, Coffin and Nuttall.
Christopher Lawne Born in Blandford, Dorset, he emigrated on the Marygold in May 1618 and died in Virginia the following year. In late 1618 or early 1619, Sir Richard Worsley, knight baronet, of Appuldercombe, Isle of Wight, England, and his associates were granted a patent for a particular plantation by the Virginia Company. His associates were Capt. Christopher Lawne, Nathaniel Basse, John Hobson, Anthony Olevan, Richard Wiseman, Robert Newland, Robert Gyner and William Willis. Link to William Wills (see Richard Newall file). Re his Will Admon. 17 June 1620, to William Willis, during minority of Lovewell and Symon Lawne.
Lawne's Creek, on the south bank of the James in present-day Isle of Wight County, is named for Christopher Lawne. He established a plantation there with 15-20 other Puritan colonists
Another set of early matches from Virginia link to the Youell / Ewell family name (note: genealogical researchers have linked the Youell and Ewell names in Virginia). The earliest reference in the matches is for Capt. Thomas Youell, born 1644 at Dividing Creek, Northumberland, Virginia, died 1695, Westmoreland, Virginia. I had earlier linked Youell to Yule in Scotland. Some researchers have linked Ewell to Noel in Virginia and others have linked Youell to Yowell. To make matters even more confusing Elwell (note spelling) is an English name linked to Virginia. The Elwell name has even been linked to Jewell and there are even later 18th century DNA links to the Jewell name in Virginia.
I have two Newell matches for Virginia and one of these also has a link to the Newells of Dudley MA (see later sections on New England). There is some evidence that some Newells from Colonial Virginia moved to North Carolina. I get two Newell matches from North Carolina (both with links to Virginia). My sister and two Newell third cousins get even more matches to both Virginia and North Carolina (one is shared by me, my sister and one cousin). In my paper on My Y-DNA Results I point out that, other than known relatives, I don't get any close Y-DNA STR matches. One of the closest (still a significant difference of 3 on first 12 markers) is a James T. Newell who traces his roots back to a James Newell b c1795 in North Carolina ( I am still researching this link).
I also have numerous Haplogroup S1051 Y-DNA matches with connections to Virinia and the Carolinas. In my analysis of my Y-DNA results I identified a distant DNA link (common S1051 Haplogroup) to individuals from the Argyll region of Scotland. Some of these may be linked to the Scottish Argyll Colony in North Carolina (see my links to the Argyll region of Scotland in my Y-DNA Results report and info below):
The Argyll Colony was the first colony of Highland Scots to settle in the Upper Cape Fear. Settled in 1739, the colony was named for the shire in western Scotland from which its members came. They were the vanguard of what began as a trickle and grew into a flood of Highland immigrants to Bladen County (later divided into Cumberland, Moore, Robeson, Harnett, and Hoke Counties). By the 1770s Highland Scots comprised one-third of the population of that region, earning for it the sobriquet "Valley of the Scots."
At the outbreak of the war [American War of Independence], more than a few Highland Scots in the Upper Cape Fear were Loyalists…. After the Revolution, some left for Barbados, Nova Scotia, or Great Britain, because they had lost their property by either being confiscated or emerced by the local government (Source: North Carolina History Project).
Before leaving the discussion of Virginia there is one other result from the analysis of my DNA that is noteworthy. When sorting through the distant DNA matches, especially those from the southeastern United States (Virginia, Carolinas) I noted some matches that had mixed European and African ethnicity (none with the family names investigated). After digging further I found even more which I suspect may be descendants of some of the matches from Virginia investigated earlier. Slavery was a fact of life in Virginia for over 200 years and many if not most landowners likely owned slaves. Children born from male European slave holders and their female slaves will pass on European DNA to their children but likely not (in southern US) their owners name.

New England
Ancestry, as part of its Ethnicity Estimates, identifies areas where your ancestors may have lived. In my case Ancestry identified a link with early New England settlers (see Map below) and more specifically with a subgroup called Nova Scotia & Massachusetts Coast Settlers.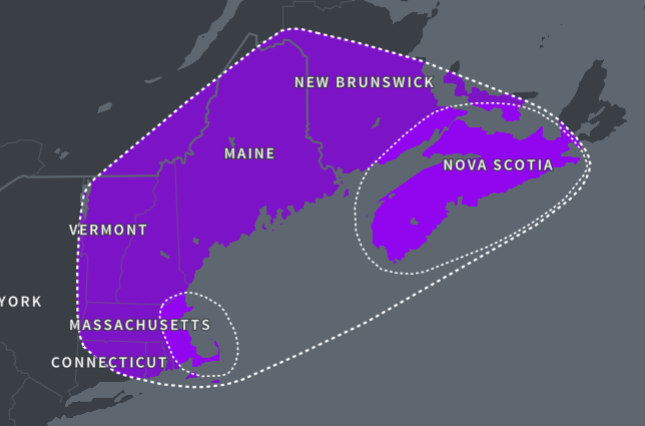 Ancestry describes the relationship as follows: You, and all the members of this community, are linked through shared ancestors. You probably have family who lived in this area for years—and maybe still do.
I have matches to individuals with Newell and Knowles ancestors from throughout New England (e.g. Connecticut, Massachusetts, Rhode Island, Vermont and Maine). Newell/Newhall and Knowles have the largest number of non Newfoundland matches in New England and in both cases the largest group is from Massachusetts. Within New England there is some variation (e.g. only Knowles in Rhode Island and only Newell in Vermont) but overall the pattern is similar for both names. Within Massachusetts the Knowles name is most common in the Cape Cod area while Newell but not Knowles is found in nearby Nantucket. Both names are found in matches from Boston and the neighboring towns of Lynn and Salem. The Newhall name has the highest frequency in Lynn, Essex, Massachusetts (10 miles NE of Boston). Elwell also has a significant number of matches especially in Gloucester, Essex, Massachusetts (NE of Boston) and Taunton, Bristol, Massachusetts. There is also a cluster of matches to the Jewell name from Braintree, Norfolk, Massachusetts (12 miles south of Boston).
The following map shows Cites/Towns in Massachusetts, Connecticut and Rhode island with Newell and Newhall matches to myself, my sister and/or my two cousins. Newell matches are in in blue and Newhall matches in red. Many locations have multiple matches across the four individuals and locations with an exceptionally large number of matches are indicated by a Star symbol.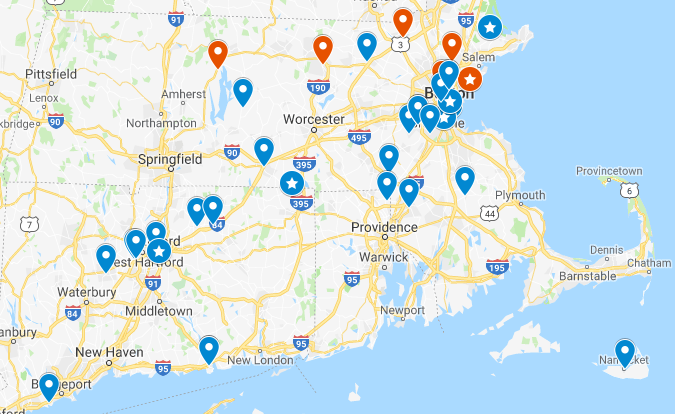 The matches with the the Newell name cluster around Boston including a large cluster of matches for Henry Newell (AKA Newhall) of Boston who moved to Nova Scotia in the 1760s (more on this person in Nova Scotia Section later in this Document). There is also a cluster of Newhall matches in the vicinity of Boston including 5 matches for various Newhalls from Lynn (10 miles NE of Boston). It is possible that the Newell and Newhall matches (not necessarily the families) are connected since Henry Newell from Boston was sometimes referenced as Newhall. There are also a number of Newell matches from Connecticut but it appears that many of these originally came from Massachusetts (likely Ipswich).
All three of these Dock Newell relatives also have the same general pattern of matches for Newell and Newhall of Massachusetts including the matches to Henry Newell and the Newhall of Lynn. It is also significant that Peter Noel (see earlier discussion of Virginia) also had Family Finder (FamilytreeDNA version of Ancestry autosomal DNA test) matches to a Newhall from Boston c. 1674.
A number of Newells from 'The Dock', moved to Massachusetts in the mid to late 1800s; however, these Newells would be 2nd, 3rd or possibly 4th cousins not 5th +. In addition, none of the Massachusetts Newells referenced above have any connections to Newfoundland in their trees.
Earlier when discussing DNA matches by town in England, I indicated that at the town/ village level when adjusted for population the towns of Lyme Regis in Dorset, Uplyme, Bidford, Brixham, Newton Abbott and Barnstaple in Devon had the highest density [of non name specific DNA matches] in England. Lyme Regis, Dorset and Uplyme (only 2 km away but in Devon) were the home of a Newel family that I had researched in the past. The publication The History and Antiquities of the Borough of Lyme Regis and Charmouth by George Roberts published in 1834 provides the following summary of the Newell family in Lyme Regis:

This family attracted my attention since:
they were noted mariners with connections to the Channel Islands,
they had connections to Bristol (see my research on John Newall),
they had connections to Massachusetts, and
the town of Lyme Regis had connections to the early settlement of Virginia.
There was only one Newell DNA match for Lyme Regis; however, this match was common for myself, my sister and one of my Newell cousins. The Newell Ancestor referenced in this match was Elizabeth Newell (born Lyme Regis 1676) daughter of Nicholas Newall who married Joseph Winter of Uplyme. Interestingly, George Winter a grandson of this couple was born in St. John's, Newfoundland.

Given the connections between Newfoundland and Devon and Dorset there is a the possibility that a connection like this could come from a non Newell connection (other Ancestors). In my case there is a possible connection between my Norman ancestors and this match which may account for part of the match. My match was 15 cM across 2 segments while the match to my Newell cousin was 7 cM across 1 segment. There were two other Newell matches linked to Dorset, one from Pimperne (40 miles east of Lyme Regis) and one for Dorset (no specific location). The latter is interesting since it is connected to the Abbott family of Bonavesta / Trinity, Newfoundland.
My research on the Newells of Lyme Regis and Uplyme suggest that the Newell/Newall family of Lyme Regis may have started to move to other areas in the 17th century. All the Newells did not leave Lyme Regis during this period but by the 1700s many members of the family were living in the neighboring towns of Uplyme (in Devon) and Charmouth. In The History of Lyme-Regis by George Roberts published in 1823 the author states that the Newell name was "extinct" [in terms of Lyme Regis by 1823]. If the family left the area by this date then I would not expect to get post 1800 Newell DNA matches to Lyme regis.
As part of my research on the Newell / Newall family of Lyme Regis I prepared an Ancestry family tree for Andrew Newell / Newall (c 1593 – 1663). This tree traces Andrew from his roots in Lyme Regis to his marriage to Mary Pitt, from Bristol, to the birth of their children in Charlestown, Suffolk, Massachusetts (Charlestown is immediately north of Boston and was annexed to Boston in 1873). Charlestown is at the center of the Newell/ Newhall matches for Massachusetts.
The earliest Newell /Newall in this tree is Alice who left a Will dated 1593:
Will Alice Newall; 4 Nov. 1593, proved 20 Dec, 1593 ; to be buried in the church of Uplyme, Co. Devon; to the "poore" of Lyme Regis ….son Joseph, daughter Winefred, the child now in my wombe, sons William, John and Nicholas.
I have tentatively identified Alice as the great grandmother of Andrew Newell of Charlestown and her son William (referenced in her Will) as Andrew's grandfather. This William, a merchant, wrote the following Will in 1610 before departing on a long voyage [Note Uplyme in Devon is just 2 km NW of Lyme Regis]: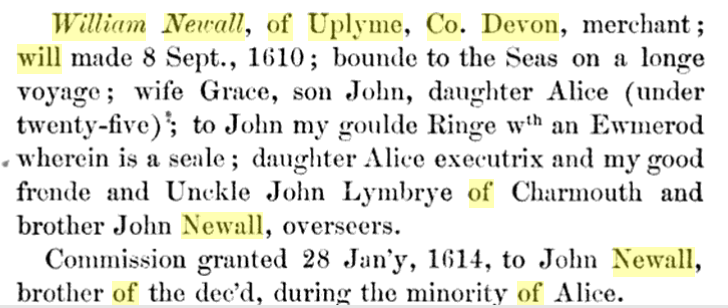 I have tentatively identified this William's son John (see Will above) as the father of Andrew.
One of Andrew Newell's great grandchildren (see tree), Captain Andrew Newell, may be key to understanding some DNA connections to Nantucket and Nova Scotia. Captain Andrew Newell was born in Charlestown, Suffolk, Massachusetts in 1702 and in married Eunice Coffin at Nantucket in 1726. Andrew. At least two of their children were born in Nantucket but eventually they relocated to Sherborne (west of Boston).

I did not get any Newell matches to Nantucket but one of my Newell cousins had a match that traced to this Andrew. The paucity of matches to Newell at Nantucket is not surprising since they only lived here for one generation before moving on to mainland Massachusetts.
Capt George Newell (1791–1872), a grandson of Andrew of Sherborn, moved to Framingham, Middlesex County, Massachusetts. I have no Newell, Newall or Newhall matches with direct matches to Sherborne or Farmington; however, Sherborn (a small town) has a very high ratio of matches to population and Farmington had many matches with Newells , Newhalls and Ewells from Massachusetts in their trees.
Andrew's wife, Eunice, was the daughter of Joseph Coffin from Nantucket and Bethiah Renuff (I get matches to Renouf of Channel Islands) . Coffin is an ancient English family which originated in Devonshire. The Coffins have held a number of manors, the most notable of which is Portledge in Devon, England, which they held for over nine centuries. The progenitor of the American Coffins was Tristram Coffin, a Royalist, who came to Massachusetts from Devonshire in 1642. He was the original proprietor of Nantucket. The American branch is one of the Boston Brahmin, a group of elite families based in and around Boston. Many American Coffins are or were Quakers (source: Wiki). I have 30 distant DNA matches for Coffin and Nantucket, including one that has Eunice daughter of Joseph (her spouse not identified). See also the earlier reference to Wm. Coffin linked to Cornelius Noel of Virginia.
The Coffins of Nantucket were whalers and fishermen who fished and hunted for whales in the waters of what is now Eastern Canada. In 1768 there sailed from Nantucket eighty sail of vessels of an average burden of 75 tons, and probably fully as many more from other ports – Cape Cod, Dartmouth, Boston, Providence, Newport, Warren, Falmouth, (Cape Cod,) and perhaps other ports being represented, and the voyages being undertaken to Davis Straits, Straits of Belle Isle, Grand Banks, Gulf of St. Lawrence, and Western Islands. That same year a whaling sloop commanded by a Captain Coffin from Nantucket was lost in the Strait of Belle Isle but the crew was saved (source: History of the American Whale Fishery).
I first started researching DNA links to New England when I noticed a large number of matches to the Knowles family of Barnstaple County, Massachusetts. The Knowles matches are focused on Chatham, Barnstaple, Massachusetts (located at the "elbow" of Cape Cod, Chatham was a fishing and whaling center) and Shelburne, Nova Scotia. This is not a random connection since the area around Shelburne, Nova Scotia was settled in the 1760s by families from Barnstaple and Nantucket, Mass. (see: A History of Barrington township and vicinity, Shelburne County, Nova Scotia, 1604-1870). The book "The Knowles Family of Eastham, Mass." by C.T. Libby states that a: Richard Knowles was first located on the New England records of Plymouth, Massachusetts in January of 1638. He married Ruth Bower on 15 August 1639 and they later settled in Eastham, Massachusetts (Near Barnstaple). Other sources suggest that Richard was possibly from Lancashire, England which is the area where I get the bulk of my matches to the Knowles name in the UK.
The links to Knowles, while centered on Barnstaple, extends to other Knowles throughout New England and Nova Scotia. In addition, I also get significant numbers of DNA matches to other families linked to the Knowles of Barnstaple (e.g.: Bower, Freeman, Doane, Paine, Snow, Folger, Nickerson, Harding and Smith). Smith and Snow names are both in my Newfoundland tree so these matches might come from either or both of these sources. The link to these other families is that they share a common heritage with the Knowles over 6-7 generations (Mass & NS) and in many cases intermarrying with them several times over different generations (see earlier discussion of endogamy) ; as a result they share common DNA.
While the case for a direct link to Knowles is strong there is the possibility that this DNA link comes indirectly through non Knowles families. Perhaps my Smith or Snow ancestors from Newfoundland are related to the Smiths and Snows from Massachusetts; however, both of these families have deep roots in Newfoundland and there is no suggestion of links to New England (still possible). One way to isolate the Knowles connection is to compare my results with those for other Newell relatives. A 3rd cousin once removed had 6 matches to Knowles, all 5-8th cousins, all Great Britain as main ethnicity plus ties to Massachusetts and a 3rd cousin had over 70 matches in the distant cousin category that linked to Knowles. The rapid drop off between a 3rd cousin and a 3rd once removed is not surprising since distant cousins are near the edge of detection. This does support the conclusion that the connection to Knowles is real since these 3rd cousins predate many of my non Newell ancestors.
The other two linked names with significant numbers of matches in New England were Elwell and Jewell. As stated earlier Elwell has a significant number of matches especially in Gloucester, Essex, Massachusetts (NE of Boston) and Taunton, Bristol, Massachusetts (west of Plymouth) while Jewell has a cluster of matches from Braintree, Massachusetts (12 miles south of Boston). A Robert Elwell arrived in Dorchester, Mass. (now part of Boston) in 1634 (possibly from Dorset) and sometime after 1642 he relocated to Gloucester. Research on the Elwell family suggest that Robert was a fisherman. Historical records for Gloucester indicate that the Elwell family were active in the fishery during the 18th century. As late as 1877 a William Elwell from Gloucester indicated that he had fished for mackerel in the Gulf of St. Lawrence for 12 seasons. Thomas Jewell from Surrey arrived in Boston, Massachusetts in 1639 and died July 21, 1654 in Braintree, Mass. Many of the Jewell DNA matches from Baintree identify Thomas as their ancestor.
Another way to look at my New England connections is by examining DNA matches, regardless of family name, by town. Assuming that I had direct ancestors that were early settlers in New England then we should expect that their DNA should be spread by marriage to other families throughout the areas where they settled. The blue symbols on the following map show towns with large number of matches (multiple pages). All of these were early colonial settlements (17th century). Locations with the largest number of matches were: Barnstaple County; Salem; Ipswich; Plymouth; and Lynn. When adjusted for population the locations with the highest number of matches per 1000 population were: Eastham, Barnstable County (Cape Cod); Ipswich; Rehoboth, Bristol County (30 miles west of Plymouth); and Sherborn, Middlesex County (SW of Boston). The matches per 1000 population for these four areas were significantly higher than equivalent statistics for towns in England and Scotland.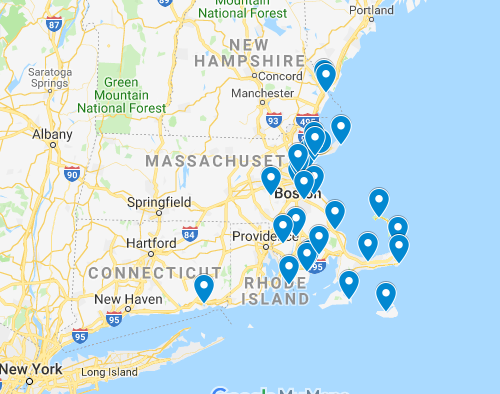 Pennsylvania
Almost immediately after arriving in Massachusetts many of the first Newells, Newhalls, Knowles and Elwells discussed earlier started moving to new locations within the State and then to other states in New England. By the start of the 18th century they started moving into the (then) new Colony of Pennsylvania.
Pennsylvania was colonized by Swedish and Dutch settlers in the 17th century, before the English took control of the colony in 1667. In 1681, William Penn established a colony based on religious tolerance; it was settled by many Quakers along with its chief city Philadelphia, which was also the first planned city. In the mid-eighteenth century, the colony attracted many German and Scots-Irish immigrants (Wiki).
The general DNA matches show a strong signature for Pennsylvania especially Lancaster County and along the Delaware River. Many of these Pennsylvania matches have German names in their trees (e.g. Kauffman/Coffman, Wolf, Schmidt, Fuchs, Meyer). Many of these had ancestors that came from areas near the Rhine (Rheinland-Pfalz and Baden-Württemberg) and a number were Mennonite. The other group that appears in my Pennsylvania matches are individuals with Scottish ancestry in their tree (e.g. Stewart). Both the German and Scottish matches fit with the makeup of the early settlers in Pennsylvania. In addition there were a number of individuals with Quaker connections, which is not unusual in Pennsylvania.
Pennsylvania might also be the source of a group of DNA matches for me, my sister and my Newell cousins to individuals with Swedish ancestry (e.g. Stedham, Cock, Friberg, Månsson & Persson) ! It is important to note that the patronymic naming system used in Scandinavian countries makes it difficult track families by name; however, many of these names are clearly Scandinavian. These matches may be linked to the Swedish Colony (see below) established in 1638 along the banks of the lower Delaware River which flows north into Pennsylvania.
New Sweden (Swedish: Nya Sverige) was a Swedish colony along the lower reaches of the Delaware River in America from 1638 to 1655,[1] established during the Thirty Years' War when Sweden was a great military power. New Sweden was part of Swedish colonization efforts in the Americas. Settlements were established on both sides of the Delaware Valley in the region of Delaware, New Jersey, and Pennsylvania, often in places where Swedish traders had been visiting since about 1610.[2]Fort Christina in Wilmington, Delaware was the first settlement, named after the reigning Swedish monarch. The settlers were Swedes, Finns, and a number of Dutch. New Sweden was conquered by the Dutch Republic in 1655 during the Second Northern Warand incorporated into the Dutch colony of New Netherland. New Sweden finally came to an end when its land was included in William Penn's charter for Pennsylvania on August 24, 1682 (Wiki)
The Swedish settlers did not depart after the demise of New Sweden; a census of Swedes living along the Delaware conducted in 1693 indicates that they were at least 1000 Swedish & Finnish households living along the Delaware at that time.
By the 1680s, a couple of thousand Europeans were settled around the Delaware River – Dutch as well as Swedes and Finns. And into this region came Quakers, a migration organized largely in England by William Penn, who gathered around him forty wealthy Quakers and founded a new colony on the west bank of the Delaware. Penn declared that his colony would have religious freedom – except that none could vote who did not believe that Christ was the son of God. With colonists now difficult to recruit in England amid the new prosperity there, Penn included among his migrants people from Ireland, Holland, France, Germany and Switzerland (source: http://www.fsmitha.com/h3/h27-am8.htm).
Another aspect of the Pennsylvania matches, particularly the German ones, is that many only lived in Pennsylvania for one or two generations and subsequently moved south to Virginia and or North Carolina. Many of these migrants followed the Great Valley Road (see map below) that went west from Philadelphia (just upstream from New Sweden), through Lancaster County (an area with matches) then to Hagerstown and then followed what is now the route of I81 southwest to the Shenandoah Valley in Virginia.
The earliest European settlers to the Shenandoah Valley were from Germany and Switzerland including Martin Kauffman who first settled in Lancaster, Pennsylvania before coming to the Page Valley in 1732. His son, Martin Kauffman II built the White House in 1760 as a residence and Mennonite meeting house. Several of my matches are descendants of this Martin Kauffman. Several of my Newell, Noel and Yowell matches in Virginia also have ancestors that lived along this route.
My current theory is that an ancestor, likely from the Newell line or a branch, lived in Pennsylvania some time prior to 1750 and spread DNA through marriage to individuals with German & Swedish backgrounds. Descendants of these people subsequently migrated southwest carrying this DNA.
Nova Scotia
The area around Shelburne, Nova Scotia was settled in the 1760s by families from Cape Cod (Barnstaple County) and Nantucket, Mass. These families were enticed north by the Governor of Nova Scotia who was looking for settlers to occupy land previously owned by Acadians (French and Catholic) who were expelled from the Colony by the British starting in 1755.
Economic interest was one of the factors that enticed the settlers from Massachusetts to come to Nova Scotia and possibly Newfoundland. The following map shows the main whaling ports in New England.
Some of the most important whaling and fishing grounds for these New England ships in the 18th century were the coast of Cape Breton, NS, the Gulf of St Lawrence, the south coast of Newfoundland, southern Labrador and Davis Strait. The following map shows these whaling areas (whale symbol) plus locations outside Massachusetts (in red) that have links to New England whalers . Ports like Provincetown (the main deep water port on Cape Cod), Nantucket, Plymouth, Boston and Salem (all areas with DNA matches) sent whalers and other fishing boats to these areas. By the mid 1700s Ehglish restrictions on New England ships and the long voyage north would have encouraged whalers to relocate to Nova Scotia.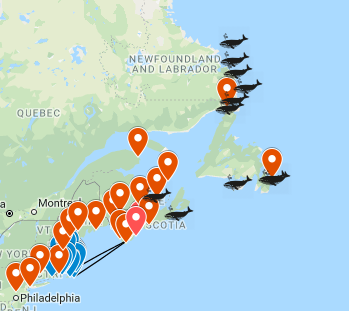 The family names of the Cape Cod settlers that moved to Shelburne County, Nova Scotia in the 1760s included: Knowles, Smith, Paine, Snow, Hopkins, Crowell, Freeman and Harding (see: A History of Barrington township and vicinity, Shelburne County, Nova Scotia, 1604-1870). There were later migrations from New England plus some back migrations over the next two decades with another peak in migrants from New England c 1785 when British troops and Loyalist from New England were transported to Nova Scotia and New Brunswick.
Barnstaple on Cape Cod is only 30 miles from Nantucket; however, the settlers from Barnstaple were mainly Congregationalist while the settlers from Nantucket were mainly Quakers. As a result of these religious differences there was limited mixing between the two groups in Massachusetts and in Nova Scotia.
When the Revolutionary War broke out in 1776, many Quaker families in Nova Scotia returned to Nantucket. Among the surnames of Quaker families who remained in Barrington were Coffin, Gardner, Chapman, Swain, Pinkham, and Covel. (source: Sandra McCann Fuller, 2011). However, in September, 1785 (after the war ended), a number of whalers from Nantucket came to Halifax; three brigantines and one schooner, with crews and everything necessary for prosecuting the whale fishery, which they proposed to do under the British flag. Their families were to follow. A short time after they were joined by three brigantines and a sloop from the same place (source: Thomas B. Akins, History of Halifax City).
I only get two DNA matches to Coffin and Nova Scotia; however I get 5 matches for Coffin and PEI. Some of these likely come from connections to Elisha Coffin, a Quaker whaler from Dartmouth, Nova Scotia, with roots in Nantucket Island, Massachusetts, who arrived in PEI in 1772 (source: History-of-Quakers-in-Atlantic-Canada). Most interestingly, I get 16 matches to Coffin and Newfoundland; these are connected to Coffin families from Fogo, Bonavista and Rencontre East (South Coast).
I have a number of 5th cousin links to Newells of Nova Scotia. In four of these cases the common ancestor is Henry Newell (AKA Newhall) born c 1755 in Boston who married Eunice Smith in 1776 at Shelburne, Nova Scotia. Eunice was the daughter of Archaelaus Smith and Elizabeth Nickerson), she was born in Chatham, Barnstaple, Massachusetts [home of the Knowles] and subsequently moved to Nova Scotia. In the remaining case the matches trace Henry back to the Newhalls of Lynn, Mass. My sister and two 3rd cousins have similar numbers of matches many of which are common. I have created an Ancestry tree for Henry in which I map out the numerous links between his family and myself, my sister and my cousins.
We do not have a record of when Henry arrived in Nova Scotia but one story states that Henry's father sent him to Nova Scotia (from Boston) to learn the Cooper's trade (barrel making). Generally, apprenticeships started around age 14 and end around 21 so he may have arrived around 1769 and married after finishing his apprenticeship.
The Smiths (see Eunice wife of Henry Newell) were a family from Barnstaple, Mass. who intermarried with Knowles and Newells in Massachusetts and Nova Scotia. Thankful Knowles married David Smith and they are the ancestors of several Nova Scotia DNA matches. One especially interesting Smith connection is that one of my great aunts (Albert's sister) married a Smith from Nova Scotia (they likely met in Mass.) and this family of Smiths trace their roots to the Knowles who moved to Nova Scotia from Barnstaple, Mass.; however, this connection would be at the 2nd or 3rd cousin level.
My matches to Knowles of Nova Scotia are much less clear than for Newell with the earliest records being:
Elizabeth Knowles born 1774 at Liverpool, Shelburne, Nova Scotia; and
William Knowles born 1811 at Barrington, Shelburne, Nova Scotia.
My sister and cousins also get matches to Knowles of Nova Scotia including one for the Liverpool match above.
My Nova Scotia DNA links include a significant number of matches to members of the Freeman family of Massachusetts who moved to Nova Scotia. I recently investigated the possibility of a Newell link to the Freeman family of St. John's (William Freeman Sr. b c. 1755 and Jr. b 1785). As part of this research I prepared an Ancestry tree for William Freeman and a separate Web Page on William Freeman . The Freeman name is very closely tied to the Knowles of Barnstaple, Mass. and Nova Scotia and William Freeman Junior is connected to several families in the Port de Grave area (e.g. Butler, Batten and Andrews). In addition, William Senior and Junior have possible connections to the Newells of St. John's.
Perhaps the most interesting reference to Freeman comes from a meeting of the Selectmen of Boston, Mass. held on October 25, 1762. One topic of this meeting was a discussion of a group of new arrivals who lately came from Newfoundland. They reported that : Your Memorialists have accordingly made the enquiry and find they are truly necessitous Persons, and as they cannot meet with employ here are desirous to return but are not able to pay the passage of themselves and Familys, they therefore request some assistance. The list included the following:
Edward Freeman, and 3 children
Joseph Newell, his wife and a child.
In June 1762 the French captured St. John's and attacked settlements in Conception and Trinity Bays. The French were driven out in Sept. which likely explains why the 19 families involved fled to Boston and wanted to return in October.
Regarding the Joseph Newell who accompanied Edward Freeman to Boston from Newfoundland it is tempting to link him to the Joseph Newell, son of Captain Andrew Newell and Eunice Coffin, who was born at Nantucket in 1727 (see my Ancestry tree for Andrew Newell). This Joseph would have been 35 in 1762. The Freeman family of St. John's continued to have connections to the Newell family of St. John's over several generations. In 1836 William Freeman applied to the courts for letters of administration of the estate of Frances Newell who had died two years earlier (see my research on William Freeman)
The Freeman family of St. John's had links to the Congregational Church in St. John's. This church had connections to the Congregational Church in Massachusetts. In addition, the Nantucketers who settled in Barrington (Nova Scotia) were primarily Quakers, while the Cape Codders were mainly Congregationalists. For example Captain James Knowles b c 1756 at Chatham, Mass. was buried in the Old Congregational Cemetery, Lunenburg, Nova Scotia in 1809.
Despite numerous DNA links to the Freeman name (for myself, my sister and both cousins) I was not able to identify a DNA link to William Freeman of St. John's. There were possible DNA connections to the Freeman families of Salmon Cove (now Champney's West) , Trinity Bay and Twillingate, Newfoundland; however, I could not find a connection between these families and William Freeman of St. John's.
One Freeman match may provide a lead regarding my connections to Jewell/ Juel DNA. This match had a William Juel (Jewell) Birth Truro, Falmouth, Cornwall who married Mary Freeman of Falmouth, Cornwall on 8 Nov 1720 . The ancestors of this William were from Littleham By Bideford, Devon. I have Jewell/Juel matches from both Truro and Bidford plus both locations have links to the Newell / Nowell names.
The only matches I get to Yule / Yuill in Nova Scotia is one at the 4th cousin level for Dorris Yule born 1915 in Nova Scotia (no other info) and one 5th cousin match for James Yuill born 1716 in Clydesdale, Scotland and died in 1807 at Old Barns, Clifton, Nova Scotia (near Truro). James Yuill Esq. and his family had settled on this land in 1761 when they had come from New England. See Acadian Section below for connections between Le Brun and the town of Old Barns.
The name Nova Scotia is Latin for 'New Scotland,' and was first given to this part of North America in 1621 (see my paper on Richard Newall). Although there were occasional Scots among the early settlers, they did not come in large numbers or establish permanent communities until 1773, when emigrants from the north-western coast of Scotland arrived in Pictou. Interestingly, I have a significant number of matches to individuals with links to Pictou and a number for Stewart, Shaw, Crawford and Buchanan in Nova Scotia (see DNA links to these names in the The Scottish Mystery section of Ancestry DNA Results Part II, The Old World) but very few for these names and Pictou. Based on their late arrival in 1773 it is unlikely that these settlers would be my direct ancestors; however, Scots from New England, like James Yuill, might be better candidates. Some other individuals with matches that fit this profile include:
Moses Shaw born 1735 at Barnstable, Massachusetts, died 1821 at Granville, Annapolis, Nova Scotia;
"Captain" John Stuart born c 1748 at Shrewsbury, Monmouth Co, NJ, USA died AFT 1811 at East Green Harbour, Shelburne Co, Nova Scotia
There is one other possible Newell link to the English settlers of Nova Scotia which is covered in a separate section on James Newell of Halifax. This James arrived in Halifax in 1749 on the Canning (one of the Cornwallis immigrant ships). In this record he is identified as a fisherman. In 1752 James Newal (spelling) was in hospital (Halifax Victualing Records 1753); in October 1754 he was married to Mary Pres at St. Paul's in Halifax (note: there is a possibility that Pres is a reference to her religion not her last name); in October 1754 they had a daughter Ann; in March 1767 Mary Newall died (note spelling as recorded at St. Paul's). At this point the trail on Halifax James goes cold which is one reason to suspect that he may have departed Halifax for other opportunities elsewhere. Many of the original Cornwallis immigrants moved on to New England.
There was a James Newell, Captain of schooner Boscowan ,which was used in the Acadian Expulsion of 1755. There is no evidence linking this James to the Halifax James and many of the ships used came from New England; however, someone who was a fisherman in 1749 might have become a Captain of a Schooner by 1755. The Boscawen commanded by James Newell (there was another ship with the same name) ran aground at Piziquid (Pisiquid present day Falmouth) and probably was not used. If this James was a relative it would be nice to assume that he ran aground intentionally.
Summary
My Ancestry DNA connections to the New World: Newells, Newhalls, Noels, Knowles, Jewells, Elwells, Canols, etc. . might arise from:
A common ancestor in the UK or Europe sometime prior to 1500
A common ancestor in Colonial New England and or Virginia whose descendants adopted different names,
intermarriage between my ancestors and individuals with these names,
some combination of the above.