© 2020 (Do not copy or redistribute this document without permission)
Introduction
This report is one of a series examining the occurrence of the Newell, Noel and related surnames in the UK and is part of a search for the origins of my Newell (aka Noel) ancestors in the UK. My ancestors arrived in Newfoundland prior to 1780 and I have not been able to identify their origins; however, during this period Newfoundland was mainly settled by fishermen from ports in the southwest of the UK and the Channel Islands (see Map below).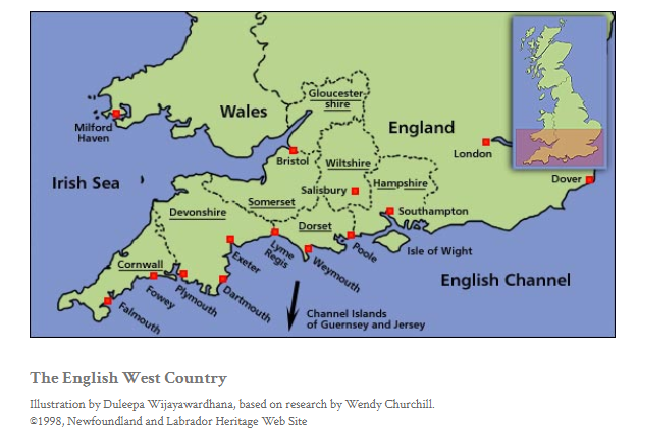 While Cornwall was one of the areas involved in the early Newfoundland fishery it was much less active than ports in Devon, Dorset and the Channel Islands.
Five counties made up the West Country: Dorset, Devonshire, Somerset, Hampshire, and Cornwall. Although the last two soon dropped out of direct involvement in the Newfoundland fishery
This report is divided into two sections, the first examines early (pre 1780) occurrences of related surnames and the second uses DNA data to search for connections.
Analysis of Surnames.
The following Table shows the modern (2011) frequency of selected related surnames in England, Cornwall and surrounding counties.
| | | | | | | |
| --- | --- | --- | --- | --- | --- | --- |
| | England | Cornwall | Devon | Dorset | Somerset | Bristol |
| Newell | 1:5K | 1:6K | 1:5K | 1:11K | 1:5K | 1:6K |
| Newall | 1:25K | 1: 78K | 1:26K | 1:42K | 1:37K | 1:23K |
| Nowell | 1:30K | 1:9K | 1:18K | 1:38K | 1:24K | 1:23K |
| Noel | 1:23K | NA | 1:23K | 1:13K | 1:20K | 1:7K |
| Noall | 1:368K | 1:10K | 1:291K | NA | 1:509K | 1:89K |
| Knowles | 1:1.2K | 1:1K | 1:2K | 1:4K | 1:3K | 1:3K |
Data from https://forebears.io/surnames Web Site
The data demonstrates that in both England and Cornwall the Knowles variant is the most common and that the frequency of the Newell name, the second most common, in Cornwall is not significantly different from that in England and neighbouring Devon. The Newall spelling is less common in Cornwall and is most common in the north of England. However, the most significant differences occur in the Noel, Nowell and Noall variants. The Noel surname was not reported in Cornwall but Nowell and especially Noall are much more common in Cornwall.
Due to migration and other factors the modern frequency of surnames does not necessarily reflect the situation in the past. The following two Tables show the number of people with each name in England, Cornwall and Devon in the 2011 Census and 1881 Census.
| | | | |
| --- | --- | --- | --- |
| 2011 | England | Cornwall | Devon |
| Newell | 10,681 | 86 | 218 |
| Newall | 2201 | 7 | 44 |
| Nowell | 1831 | 62 | 58 |
| Noel | 2422 | 0 | 49 |
| Noall | 151 | 51 | 4 |
| Knowles | 24,541 | 430 | 549 |
2011 Census, Data extracted from https://forebears.io/surnames Web Site
| | | | |
| --- | --- | --- | --- |
| 1881 | England | Cornwall | Devon |
| Newell | 4482 | 9 | 5 |
| Newall | 1459 | 9 | 3 |
| Nowell | 1408 | 4 | 29 |
| Noel | 412 | 0 | 3 |
| Noall | 181 | 127 | 0 |
| Knowles | 15,244 | 117 | 294 |
1881 Census, Data extracted from https://forebears.io/surnames Web Site
The data show that between 1881 and 2011 the number of people with all the names except Noall increased in England, reflecting the population growth over the 130 years. The rate of increase for Newell was greater than for Newall which might reflect greater out migration from the north where the Newall spelling is more common or people from the north adopting the Newell spelling when they moved south.
The 1881 data for Cornwall show that the Newell name was much less common in 1881. The higher frequency in recent records may reflect individuals with the Newall surname (more common in north of England) adopting the Newell spelling which is more common in southern England. It also shows that the Noall spelling is overwhelmingly connected to Cornwall (70% of national total in 1881 decreasing to 33% in 2011) with Lancashire having the second highest frequency. In fact most of these surnames are more common in the north of England.
Unfortunately, for determining the relative frequency of surnames in the distant past you need a comprehensive snapshot survey of the population like a modern census. The earliest of these snapshots were the Muster Rolls compiled during the Tudor period that documented the able body adult men in each county that were available for defense (also documented the weapons they had). Another later snapshot was the Protestation Oath of 1641. During the spring of 1641 there were plots against both the King and Parliament. In May 1641 a Bill was introduced in the House of Commons imposing the signing of the following Protestation on all Englishmen of 18 years and above:
I, ___ do in the presence of Almighty God, promise, vow and protest to maintain and defend, as far as lawfully I may, with my Life, Power and Estate, the true reformed Protestant Religion, Expressed in the Doctrines of the Church of England, ….
These two data sources provide snapshots of surnames in use during the 16th and 17th centuries.
Newell, Newall and Newale Surnames
The Cornwall Muster Rolls of 1535 and 1569 did not record any individuals with the Newell surname but did have two Newalls and one Newale.
John Newale (1535), Parish of Antony / Anthony (near Plymouth Devon);
Ralph Newall (1535), Cardynham Parish (Cardinham);
John Newall (1569), Morval (Morvall).
All three of these locations are in the west of Cornwall near the border with Devon.
One Newell and four Newalls signed the Protestation Oath of 1641.
| | | |
| --- | --- | --- |
| Surname | Given Name | Parish |
| Newell | Martine | St. Columb Minor |
| Newall | Neckles | Paul |
| Newall | Ames | Paul |
| Newall | Richard | Paul |
| Newall | Barlet | Luxulyan |
https://www.cornwall-opc-database.org/extra-searches/protestation-returns
Luxulyan (see above) is in the west of Cornwall and lies four miles northeast of St. Austell and six miles south of Bodmin. Both of these locations have 16th Century connections to the Newall surname. There is one early (1509-1514) reference to a Robert Newall, Nowell or Neweall (see below) that had connections to St. Austell, Cornwall and areas further north in England.
Robert Nowell, Newall or Neweall, of Sent [Saint] Austell, Cornw. [Cornwall] , Ware, Herts [Hertfordshire], London, and Assheby de la Zouche [Ashby-de-la-Zouch] , Ntht. [Northampton]. (Henry VIII: Pardon Roll, Part 4 1509-1514).
Since this Pardon was issued early in Henry's reign it may represent a Pardon for some transgression in his fathers reign. See the Nowell / Noall section (below) for more discussion of this individual.
There are a number of early Newall/ Newell reference in or near Bodmin:
a Ralph Newall is recorded in the 1535 Muster Roll for Cardinham (4 mi NE of Bodmin);
in 1559 a Raffe (Cornish for Ralph) Newall was reported in the Bodmin parish registers;
in the Bodmin town charter granted in 1563 (5 Elizabeth) a Ralph Newall was made one of 24 Burgess of the town;
at Saint Winnow (6 mi SE from Bodmin and NE from Luxulyan) a Nicholas Newell was involved in a property dispute c 1558-1579.
St. Columb Minor, on the north coast towards the middle of Cornwall, was the home of Martine Newell in 1641. There was also a John Newall recorded here in the 1569 Muster Roll. In 1583 there was a John Newall cited in connection with documents related to the Manor of the Arundells of Lanheron [Lanherne] 3 mi NE of St. Columb Minor. The Arundells of Lanherne and Trerice were an important family in Cornwall during the 16th Century. Interestingly the Arundells were connected by marriage to the la Zouche family of Northamptonshire (see earlier reference to a Robert Newall, Nowell or Neweall that had connections to St. Austell, Cornwall and Northampton). In the late 16th Century parish records for St. Columb Major (5 mi east) there are references to a John Nowell / Newell.
Paul, the location of three Newalls in the 1641 Protestation records, is in the extreme west of Cornwall just 8 miles from Lands End. Paul is on the outskirts of Mousehole and is in the civil parish of Penzance (two miles south of Penzance and one mile south of Newlyn). The civil parish of Paul, which lies west of the village and, since 1934, does not include the village of Paul. The ancient parish of Paul included Newlyn and Mousehole as well as the village of Paul and some of the historical references may relate to the Parish.
As I indicated earlier there were no Newalls or Newells recorded at Paul in the 16th Century Muster Rolls. The only N___ surnames recorded were Thomas Newlyn and Raffe Nyclis (? Nicholas) recorded in 1569. There were 8 other references to the Nyclis surname in the 1569 Cornish Muster Rolls and it might reflect the use of patronymic surnames in Cornwall. In the 16th century second names in Cornwall could still be fluid, liable to change from father to son.
However, the fact that Newell and Newall surnames are not found in the 16th Century Muster Rolls for Paul does not mean that the names were not in use there during this period. In the early 1500s a Richard Newall along with Thomas Bosworthogga, John Nicoll, John Jaines, and Thomas
Benettowe were charged with forcible entry, damage, and seizure
of cattle at Carnlonga [now Carn a Longa near Paul] STAR CHAMBER PROCEEDINGS— HENRY VIII. The settlement of Carn a Langa is first recorded in 1540 when it was spelt "Carn longa". This is almost certainly the Richard Newall of Mousehole involved in a court case in 1538-1544 (see below).
Richard Newall of Mousehole Yeoman vs Thomas Bosworthogga of Paul and Thomas Badcoke and others his kinsmen and servants. Messuage of land in Carn Longa, part of the inheritance of two sisters, from whome the said Newall and Bosworthogga are decended.
The parish records for Paul record an Agnes Cockes wife of Richard Newall who was buried in 1522. In 1530 a Richard Newell of Mousehole, fisherman was involved in a court case involving defamation. There is also a possible link between these Newells and and the branch of the Godolphin family settled at Trewarveneth (near Paul).
A younger branch of the Godolphins settled at Trewarveneth (fn. n15), in St. Paul's, about the reign of Henry VIII., and became extinct in 1689. The heiress of this branch married the ancestor of John Godolphin Nicholls, Esq., now of Trewarveneth. Another younger branch of the Godolphins, the first of which married one of the coheiresses of Gaverigan, settled at Treveneage, in St. Hilary, in the reign of Queen Elizabeth, and became extinct after two descents. n15. Some pedigrees make the ancestor of this family marry the heiress of Newell or Nevill of Trewarveneth; others, the heiress of Cowling, of that place.
The following map shows the location for early (pre 1750) references to the Newell / Newall names in Cornwall. The Map suggest two clusters with one centered on Bodmin (the old County Town for Cornwall) and the second between Penzance and Paul in the southwest of Cornwall.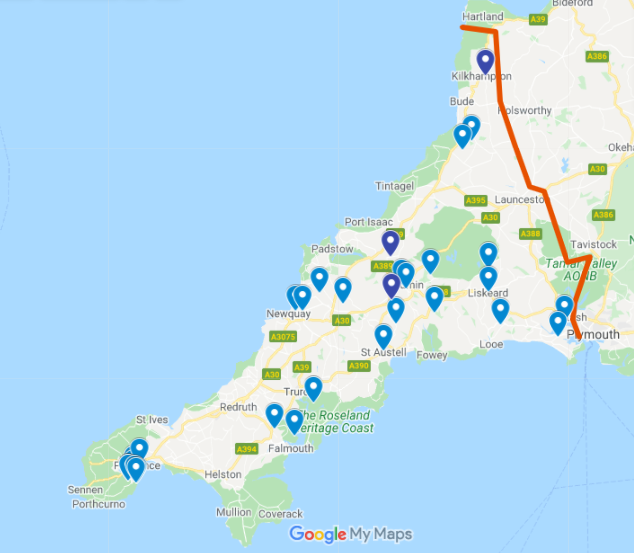 The earliest reference I found was for the Newell surname in Cornwall was from 1338.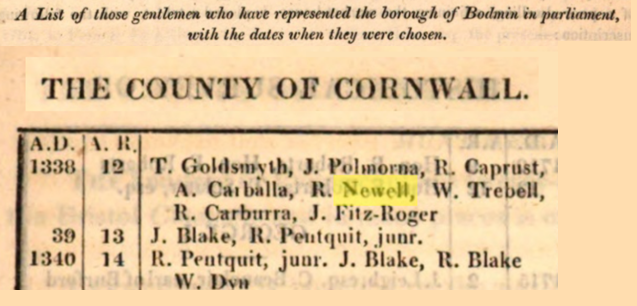 This reference list a R. Newell as representing Cornwall in the Parliament of 1338 (Year 12, Edward III). Bodmin, Cornwall is reference since at that time it was the County Town of Cornwall . A county town is the most important town or city in a county and is usually the location of administrative or judicial functions within a county and the place where the county's members of Parliament are elected.
Other sources The Parochial and Family History of the Deanery of Trigg Minor (note: Bodmin is in this Deanery) by Sir John Maclean, 1873 and Return of the name of every member of the lower house of parliament list this individual as Roger Niel. This individual was appointed at a Parliament held at Northampton.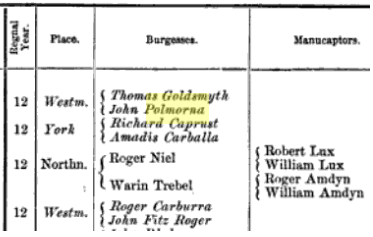 Later in the reign of Edward III a Johannes Newehalle was summoned to Parliament for Liskard Borough, Cornwall in 1350. Johannes Newehalle and R. Newell / Neil may or may not have been from Cornwall since it was not unusual for members from other areas to be appointed (parachuted) into Cornwall.
In 1553 Dr. Alexander Nowell (from Lancashire), Prebend of Westminster, was elected Member of Parliament for Loo [Looe], in Cornwall. The election was questioned in Parliament, since he was a cleric , and set aside.
In 1555 a ? Nowell was member for Saltash (see below).

S.T. Bindofft (1982) suggest that this ? Nowell was Robert Nowell the London Attorney who was originally from Lancashire and was the brother of Dr. Alexander Nowell (see above). In 1806, Alexander Nowell born 1761 in Lancashire unsuccessfully stood for Parliament in the constituency of Liskeard, Cornwall.
Nowell, Noal, Noall, Noel Surnames
There were a much larger number of records from the 1535 and 1569 Muster Rolls and 1641 Protestation Oath for Cornwall that had the Nowell, Noal, Noall, etc. surnames versus Newell and Newall.
| | | | |
| --- | --- | --- | --- |
| | 1535 | 1569 | 1641 |
| Nowell | | 9 | 17 |
| Nowles | | | 1 |
| Nowll | | 1 | |
| Noel Noell | | | |
| Noall | | 2 | 1 |
| Noale | | 2 | 4 |
| Nolle | 2 | 1 | |
| Nole | | 2 | 2 |
| Noll | | 1 | |
Data from https://www.cornwall-opc-database.org/extra-searches/
Tracking the Parish baptismal records from 1600 to 1850 we see the spelling coalesced towards Noall and the disappearance of most other spellings apart from a few Nowells. By the 19th century over half of the Noall baptisms in Cornwall were recorded in St. Ives. Perhaps local factors played a role in in the concentration of the Noall name in St. Ives. At a festival at St Ives in 1881 they awarded a prize for the man who had brought up the largest family of children up to ten years of age; the Prize was awarded to Andrew Noall, seventy-one, who had had sixteen children, nine of them being under the specified age (A History of St. Ives).
The following Map shows the locations with pre 1750 references to the Nowell, Noell and related names. Unlike the Map for Newell and Newall names (see above) the Nowell and Noall references are clustered in the southwest of Cornwall.
The earliest Nowell, Noall, etc. reference is for a John Noell who was Reeve at Kenell manor in 1447/8 (File AR/2/894, Archives and Cornish Studies Service, National Archives, UK). This reference is filed under the Arundell family accounts. Reeve is an office held by a man of lower rank, appointed as manager of a manor and overseer of the peasants. The Arundells of Lanherne appear to have settled in Cornwall, about the middle of the thirteenth century or possibly before that time (Wiki). Kenell [Kennall] Manor was near Stithians and was situated on a hill overlooking the river Kenel which reaches the sea a few miles further on at the firth of the Carrick Roads. On my Map I have situated Kenell approximately 2 mi SE of Gwennap, 2 mi E of Stithians and 4 mi NW of Falmouth.
Kennal Manor originally belonged to the Carminow family of Carminow in Mawgan-in-Meneage (SW Cornwall). The male line of the elder branch of the Carminow family became extinct about the middle of the fourteenth century, when the coheiresses married Arundell, Trewarthian, and Petit. At that time Jane Carminow, married an Arundell of Lanhorne and took Carminow and Kennal manors to her husband as her share of the inheritance. When John Noell who was Reeve (1447/8) Sir John Arundell (1421–1473) of Lanherne was Sheriff of Cornwall and Admiral of Cornwall. During this period Sir. John became the largest free tenant in Cornwall. Sir. John had connections to Devon and Dorset through his mother Margaret Burghersh, widow of Sir John Grenville, lord of the manor of Bideford, Devon and his wife.
In the 15th Century Lords of the Manor frequently filled important positions with staff from their home estate so John Noell who was Reeve at Kenell Manor may have been from one of their other Arundell estates. It is perhaps not coincidental that in 1583 a John Newall was Reeve at the Arundell's estate at Lanherne. This may be the John Newall of Saynt Colomb le Nethera [now St. Columb Minor 3 mi SW Lanherne] who in 1569 was involved in a quitclaim with Thomas Arundell de Tremere, esquire (Tremere now Tremore 9 mi E of Lanherne). The Muster Rolls of 1569 record individuals with the Nowell, Noall and Nolle surnames at Crantock, Newlyn East and Mawgan-in-Pydar (all within 10 mi of Lanherne). At Bodmin, the County Town for Cornwall , (12 mi E Lanherne) a Ralph Newall made a Burgess of the town in 1563. The parish records for St. Columb Major (3 mi SW Lanherne) also has records for a John Newell and a John Nowell in the 1590s.
There is one other early reference to a Nowell (aka Newall) in the east of Cornwall that suggest that individuals with this surname had risen in stature. The Robert Nowell or Newall referenced in the Pardon Rolls of 1509-14 (see below and earlier discussion under Newall) ) clearly had connections with other parts of England and getting a Pardon from Henry VIII likely involved paying monies.
Robert Nowell, Newall or Neweall, of Sent [Saint] Austell, Cornw. [Cornwall] , Ware, Herts [Hertfordshire], London, and Assheby de la Zouche [Ashby-de-la-Zouch] , Ntht. [Northampton]. (Henry VIII: Pardon Roll, Part 4 1509-1514).
An interesting aspect of this record are the locations referenced. Those outside Cornwall are linked to the Zouche family that had connections to the Arundells.
The Zouche family descended from Alan la Zouche (d. 1190), lord of the manor of North Molton in North Devon, England, originally called Alain de Porhoët or Ceoche, who was a Breton nobleman who settled in England during the reign of King Henry II (Wiki). During Richard III reign (1483-1485) John la Zouche, 7th Baron Zouche (1459–1526) became a leading political figure. His family's influence in Northamptonshire was useful to the King, Zouche in turn sought to expand his influence in Cornwall, and also in Devonshire, where his wife's family, the Dynhams, were major landholders (Wiki). The seventh Baron was attainted in 1485 for loyalty to King Richard III but was eventually restored to his title and a part of his lands. The Zouches were connect to the Arundells through John Dynham, 1st Baron Dynham (c. 1433–1501) of Nutwell in Devon, two of his sisters married into the Carew and Arundell families, others married into the Zouche and Fitzwarin families (Wiki). The connections between the Zouche and Arundell families continued in the next generation. John, 8th Lord Zouche, of Harringworth, Northants [Northamptonshire] probably owed his appointment early in 1539 to duchy of Cornwall offices at Mere, formerly held by the attainted Marquess of Exeter, to another kinsman, Sir Thomas Arundell, receiver-general of the duchy (see Sir. Thomas Arundell, History of Parliament).
The Nowell family of Falmouth, Cornwall rose to prominence in the late 17th and early 18th centuries. The following extract from the 1903 publication Old Falmouth by Susan E. Gay gives an outline of the history of this family.
The name of Noell or Nowell appears very early in the Falmouth register, the first entries being in 1668, et seq., when the baptisms of the children of Roger and Elizabeth Nowell are recorded. Philip (apparently the Philip born in 1676) who was son of Roger, was the father of Michael Nowell (born in 1735), who became a well-known figure in the town and neighbourhood. Mr. Philip Nowell, who married the sister of Mr. Michael Gwin, already referred to, described by Gilbert as " the heiress of Gwinn, an ancient Cornish family," was in some business in the town of Falmouth, which brought him a fortune, and his son Michael preceded Mr. Russell, (of Exeter, the well-known owner of wagons), in the carriage of goods to and from Falmouth. Good fortune attended them. Mr. Michael Nowell was mayor of Falmouth for one or two years and was also elected sheriff in 1786, and in that year, on August 25th, he received the honour of knighthood. He married a daughter of Mr. James Macarmick a but died in 1802 at the age of 66 without descendants. His sister married Mr. Usticke and had two sons and several daughters, and of these the Rev. Stephen Usticke became heir to his uncle, and inherited the estate of Penwarne, previously purchased by Sir Michael.
Based on the following document Michael's father was likely a Mercer.
1746 ANTIQUE VELLUM INDENTURE. VELLUM DOCUMENT DRAWN UP IN 1746 LISTING DETAILS OF CONTRACT BETWEEN JOHN SYMONDS OF THE PARISH CONSTENTON IN THE COUNTY OF CORNWALL YEOMAN AND HIS BROTHER HENRY SYMONDS – PHILIP NOWELL OF THE TOWN OF FALMOUTH, MERCER . THIS DOCUMENT CONTAINS DETAILS OF OWNERSHIP AND TRANSFER FOR LAND AND PROPERTY IN THE PARISH OF CONSTENTON CORNWALL (Cornish deeds).
The following provides more detail on Philip Nowell's business operations:
Many individuals have acquired wealth in Falmouth by a very peculiar species of commerce, carried on with Lisbon by means of the packets. The interchange of various commodities was legally prohibited, but at the same time practically allowed, by both Governments; and to such an extent did this half-contraband trade arise, that a Mr. Nowell, who kept a retail shop at Falmouth, is said to have made a fortune, by which his son became Sheriff of the county in 1787, chiefly as a carrier of these goods to and from London on packhorses (The Parochial History of Cornwall, Vol. 2, by Davies Gilbert, 1838).
One thread possibly connects Michael Nowell of Falmouth to John Noell of Kenell [Kennall] Manor, Stithians in 1447/8 (see earlier). In the 18th Century Sir Michael Nowell owned a property called the Barton of Penalurick in Stithians (see below). There is no definitive information on the location of this property but it is likely Penhalurick three miles west of Kennal Manor.

The 1903 publication Old Falmouth by Susan E. Gay (cited earlier) identifies Sir Michael Nowell's paternal grandfather (Philips father) as Roger Nowell and his grandmother as Elizabeth. This conforms to the first Nowell / Noell / Noall baptismal record in the Falmouth Parish Registers (see below) but subsequent records record children of a Roger Nowell and his wife Mary including a Philip born in 1676.
There was a Roger Nowell who married a Mary Rossenback at Falmouth in 1666. Most sources identify this Roger as the Roger Nowell born at St. Keverne (near Falmouth) in 1640, this Roger was the son of Edward and Reddigon [surname Williams from marriage records]. Peter Nowell, another child of Roger and Mary has been identified as the Peter Nowell who moved to York, Maine (USA) c 1695.

The Falmouth Parish records don't predate 1660; however, records for St. Keverne go back to 1580 but the earliest Nowell, Newell, etc. baptismal record dates from 1606.
In 1606 a John Newell had a daughter Alice baptized;
in 1609 a John Nowill had a daughter Agnes baptized;
in 1613 a John Nowell had a daughter Margeryt baptized;
in 1615 a John Noweill had a son Robert baptized;
and in 1625 a John Newell had a son Arthur baptized [likely the Arthur Nowell buried in 1626].
Unless John Newell and John Nowell were different individuals this suggest that the spelling of the surname was fluid in these early records. After 1625 there were no Newell baptisms at St. Keverne and the last Nowell baptism was in 1650. However, in other towns surrounding St. Keverne there were 16th century records for Newells and Nowells and these families continued into the 18th century.
My DNA Connections to Cornwall
When I started investigating distant DNA connections to the UK, I did not find any matches to Newell or Newall from Cornwall but I did find a number of Nowell, Noal, Noall and Noell matches. I had one Nowell match and several Noal / Noall matches. My sister also had Noal /Noall matches (same matches as me) and two 3rd cousins who share a common Newell ancestor had different matches to these names plus Noell. In total there were matches to nine different individuals.
| | | | | |
| --- | --- | --- | --- | --- |
| | JN | SB | C1 | C2 |
| Nowell | 1 | | 1 | 1 |
| Noel / Noell | | | 1 | 1 |
| Noal /Noall | 3 | 2 | 1 | |
Distant DNA matches
The locations associated with these matches are plotted on the following Map (some locations have multiple matches).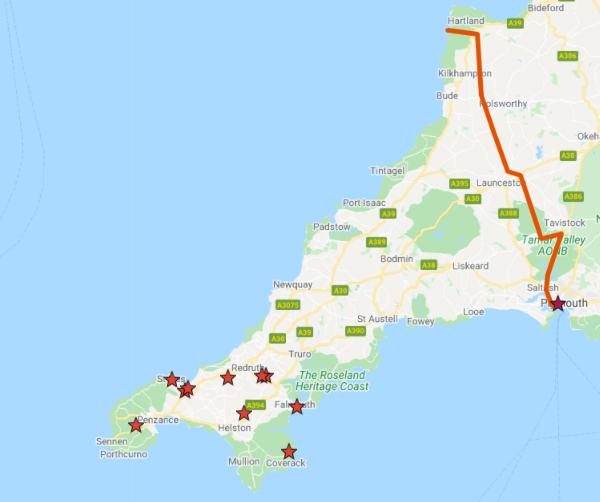 My Nowell DNA matches linked to Falmouth and St. Keverne are descendants of Peter Nowell from Maine reported as a son of Roger Nowell of Falmouth. These few matches do not make a strong case for a connection and I get many more matches to other Newell / Nowell name variants in the North of England and Southern Scotland; however, this is one of the strongest signals for the Nowell and Noall variants.
The analysis of my Cornish DNA matches is made more difficult since several families who are connected to the same town in Newfoundland where my Newell ancestors lived and share common early ancestors have possible connections to Cornwall. These families include Beecham (AKA Beauchamp) , Richards and Dawe. There is no solid evidence that these Newfoundland families came from Cornwall but also noe to disprove it. In addition, there are possible indirect connections; for example, there are several matches to Usticke (surname of Michael Nowell's nephew) but these are linked to Beauchamp.
Simeon Noall
As part of my research on possible connections between my ancestors and the Nowells and Newells of Cornwall I investigated the life of the Rev. Simeon Noall a Cornish Methodist Missionary who served in Newfoundland between 1824 and 1829. The publication Newfoundland and its Missionaries by REV. William Wilson, (1866 ) summarizes his life (see below) but does not provide any details on his early life and family.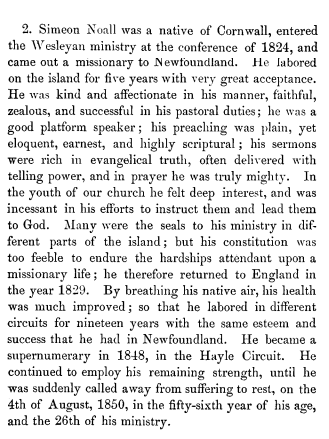 I investigated further and uncovered more details of his life and family which I have documented in a separate Sub Page of this Report. The research into his family identified several of his ancestors linked to the DNA matches for Gwennap, Cornwall. At this point I do not think that there is a direct link to my Newell ancestors but there may be links to other of my ancestors that have connections to Cornwall.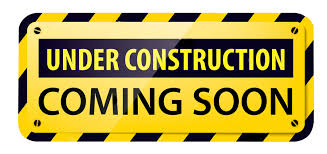 Jewell
The analysis of DNA matches also demonstrated that I (and my sister and two Newell cousins) had numerous matches to surnames such as Jewell, Juel, and Juell from Cornwall and neighbouring parts of Devon. These names are only very loosely connected to Newell/Noel (Jewell is similar to Newell see Ancestry). The following is some background on the possible origins of these names:
Jewell is an English surname of French Breton or Celtic Cornish origin. The root is the Old Breton Iudicael or the Celtic Judand hael, composed of elements meaning "lord" and "generous" or "bountiful." The name was borne by a 7th century saint, a king of Brittany who abdicated and then spent the last part of his life in a monastery. As Jule, Jewel, Jewell, or even Jekyll, it was a name found mainly in Devon and Cornwall. Judhael de Totnes from Brittany, a prominent supporter of William the Conqueror, was granted a large landholding in Devon after the invasion. He may have been the origin of many of the Jewell names in that county. http://www.selectsurnames3.com/jewell.html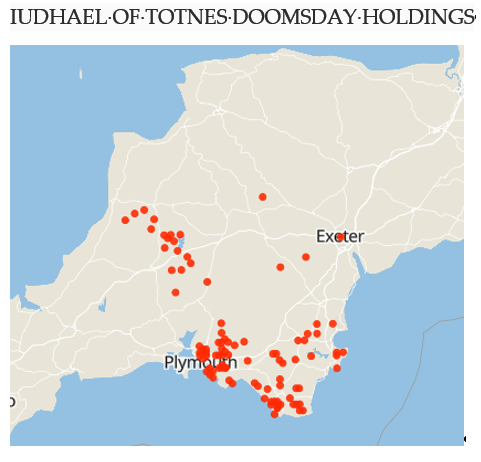 "Helias and Robert Juels are mentioned in the Norman Exchequer Rolls of 1180-95. Galfrid, William, and Richard Juel or Joel occur in Huntingdonshire, about 1272. (Rot Hundred.) 'This family derived probably from Juel or Judael de Mayennc, Baron of Totness and Barnstaple, temp. William I.: a Breton noble (see Maine}. He held lands from the Earl of Mortaine, besides his own barony; and a portion of the former, as well as a fief created in the Barony of Totness, seems to have passed to the younger branch names Fitz Juel. Warin Fitz Juel, in 1242, held a knight's fee, which had been granted by the Earl of Mortaine at the Conquest (https://www.houseofnames.com/jule).
The Cornwall Muster Roll of 1569 did not record any individuals with the Jewell surname (does occur in Devon and Dorset); however, the Cornwall muster Roll does record 30 Juells and five Jules.
Juel is similar to Juhl is a surname originating in Denmark. Other spellings and connected names are thought to include Juul, Jul, Juhls, Juel, Juell, Iuel, and Yule. In American-English, "Juhl" is pronounced the same as the English word 'jewel' or Jool. https://en.wikipedia.org/wiki/Juhl. In Danish, "Juhl" is pronounced 'yool' or 'yooh' which is similar to the Scottish name Yule in sound and meaning since both names have links to Pagan and later Christian celebrations near the winter solstice. This origin of the name Yule is relevant since names like Noel and Nowell are derived from the Old French Nouel, from Noël, noel, nouel (natal, Christmas), which is from the Latin natalīs diēs (birthday of the Lord e.g. Christmas).
I divided distant Ancestry DNA matches for myself, my sister and two cousins with common Newell ancestors into three groups linked to the names Noel, Yule and Juhl as follows:
Noel including Nowell, Canol, Knol, Knowles, Newell, Newall, etc.;
Yule including Yuill, Youell, Yell, Elwell, etc.;
Juhl including Jule, Jewell, etc..
I then mapped these three groups of matches (see below) with Noel names in red, Yule names in green and Juhl names in blue.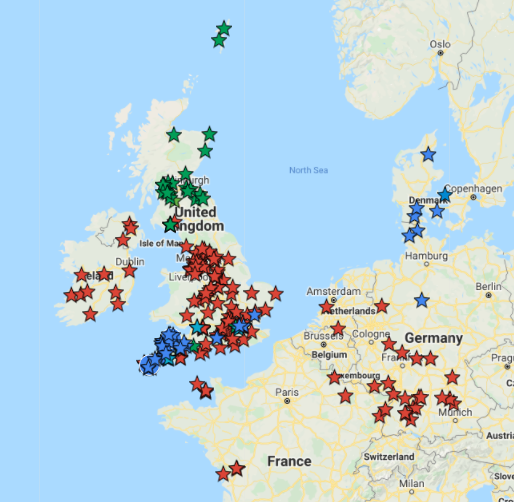 This map demonstrates that the Cornwall is dominated by the matches to the Juel and Jewell names (Juhl matches are found in Holstein region of Germany bordering Denmark).
Zooming in on Cornwall and Northwest Devon (see below) we see that there are some Noel, Nowell matches interspersed among the Juel and Jewell matches.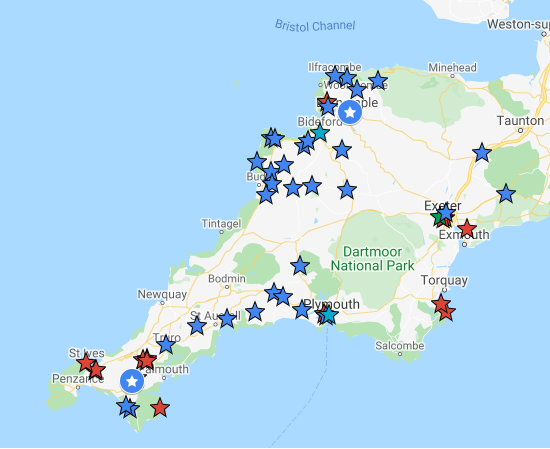 I had investigated the Jewell name in the past since there was a Philip Jewell and a James Jewell (My earliest Newfoundland ancestor was Philip and his father was James) living in Lanivet, Cornwall in the late 1700s (see https://books.google.ca/books?id=fxGkBAAAQBAJ ).