The Plantation Book of 1805 list a John Beecham (aka Bucham) who clamed ownership of property at Bareneed from 1769. A number of online genealogy sites and numerous family trees on Ancestry identify this John as being born in Gwennap, Cornwall c1730 (see below).
e.g https://www.geni.com/people/John-Beauchamp/6000000008137028579
There was a John Beauchamp baptize in Gwennap in 1734 but I have been unable to match the other information. In addition, my Ancestry DNA matches to Beauchamp in Cornwall all link to individuals descended from the Beachams of Bareneed. One would expect some matches to Beauchamps from Cornwall who did not have Newfoundland roots. I suspect that the Newfoundland roots of the Beecham / Beauchamp family of Bareneed may predate this John and may not have roots in Cornwall.
For example, a ship Beauchamp arrived in Boston MA from Newfoundland in 1737.
The Boston Gazette. No. 926. Monday Oct 3, to Monday Oct 10, 1737.
Newport, Oct 7. Entered In. Beauchamp from Newfoundland.
Other options I am investigating include: Jersey, Boston, Somerset and France. (Acadia & QC). For example, the surname Beauchamp is found in the Channel Islands and in connection with shipping between Jersey and Newfoundland (see following from  Keith Matthews Name Files, MUN).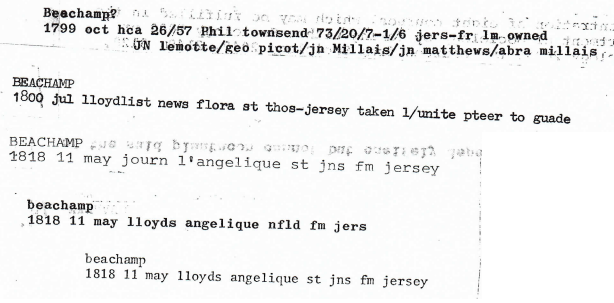 This does not rule out a connection to Cornwall but at this point I can't find any information to confirm any theory regarding origins.
The 1817 Census of Bareneed list property #41 as belonging to John Beecham

The Chebucto Web Site transcribes this as "Bucham" but it is likely Beecham (the spelling used by family in later records). The name was written in the 1805 Plantation Book as:


In the Plantation Book the grant is listed as 1769 making it earlier than John Curnew/Curlew to west and all the grants in the Dock (see previous section). It is interesting that in the 1970s my father (John Robert) had indicated that our ancestor Philip first came to the Dock with the Beechams. I interpret this as they came as servants/apprentices to the Beechams. I have no other support for this but given that the Beechams were established in 1769 (16 years before Philip got his grant) it would fit.
In 1810 there were two Beachams recorded; John of Port de Grave (Bareneed) owned a Schooner Brothers built there in 1810 and a William who sued an Edward Whealan.

In the 1817 Census the John Bucham/Beecham property is listed as occupied by 2 men and one woman (poss man and his wife plus elderly father), five children and three man servants
John's merchant was William Johnston a Scottish merchant who at this time was based in Port de Grave. This firm became Baine, Johnston & Co. in 1832.
In 1827 there were references to a John Beachamp and a William Beacham living in Port de Grave (almost certainly Bareneed):

Beachamp (see above) is likely a variant of Beauchamp. Seary et. al. Family Names of the Island of Newfoundland gives Beecham as an anglicized version of Beauchamp. In documents from the 1830s and 40s the Beecham family of Bareneed is referenced as Beauchamp.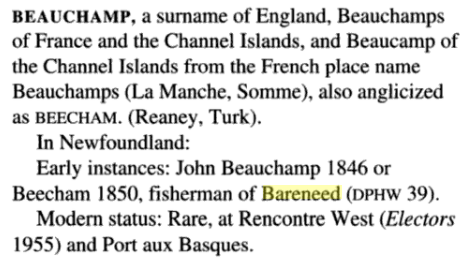 The 1835 Voters List for Bareneed there is John Beauchamp who is almost certainly the same person since the name Beecham is derived from the Old French Beauchamps.
In 1844 a William Beauchamp of Bareneed was buried and based on his age he was born c 1775. William (b 1775) could be the son of the John who was granted the land in 1769. The Question is whether the John of 1817 was this original John or another son.
This William left a Will ( See below)
In the name of God Amen, I William Beauchamp of Barened Conception Bay in the Island of Newfoundland Planter being in a declining state of health but of sound and disposing mind and memory do make and declare this my last will and testament in manner following that is to say, I give and bequeath all my right title and interest in and to a pew situated in the Church at Barened with my bed and bedding and chest unto William Henry Lacely, I give and bequeath all my right title and interest in and to all money goods chattels and anything else which I possess unto John Beauchamp my nephew and I do hereby nominate constitute and appoint Mr. Thomas Bartlett Senr of Barened and Mr. G. Heath of the same place executors of this my will.
In witness whereof I the said testator William Beauchamp have to this my last will & testament set my hand and seal this eleventh day of June one thousand eight hundred and forty four. William his x mark Beauchamp (LS)
Signed sealed & declared by the said testator Wm. Beauchamp as and for his last will and testament in the presence of us who in his presence and at his request and in the presence of each other have subscribed our names as witnesses thereto. Jacob Bishop. Geo. Heath.
N.B. There is also a gun of mine in possession of Nathaniel French which is to become the property of my nephew Jno Beauchamp after my decease.
Above from Newfoundland will books volume 1 page 465 probate year 1845 (transcription from Newfounland's Grand Banks Web Site).
Lovell's Directory of 1871 list a John Beacham , fisherman; however, in McAlpine's 1894-97 Directory the name it is recorded as Beecham.
| | | | |
| --- | --- | --- | --- |
| BEECHAM | John | fish'man | Bareneed |
| BEECHAM | Rich'd W | fish'man | Bareneed |
| BEECHAM | Thos G | fish'man | Bareneed |
| BEECHAM | Nathaniel | fish'man | Bareneed |
McAlpine's 1894-97 Directory
The Nathaniel listed in McAlpine's 1894-97 Directory is likely the following:

In my Section on Bareneed 1949-1969 house #12 (see below) belonged to John (Jack) Allen Beecham (b 1902) and his wife Emmie plus Charles Stevens (b. 1885, step brother who was head of household in 1935). Jack Allen was the son of Elizabeth Beecham (b. 1862) who was head of the household in 1911.  Elizabeth (a widow in 1911) likely married a Beecham (Beauchamp) of Bareneed some time between 1887 and 1892 likely in Methodist church. Elizabeth may have been the Elizabeth Bartlett who married Isaac Stevens in 1877. William Beecham's (#18) original house west of Beecham's Lane (SBN).