Introduction
Up until the mid-20th century life in rural coastal Newfoundland revolved around the cod fishery.  Initially, the fishery was conducted by ships from England and mainland Europe that sailed to Newfoundland in the spring, set up operations along the coast to catch and dry the fish during the summer and returned to Europe in the fall. By the mid-18th century many of these migratory fishermen were remaining in Newfoundland year round and these resident fishermen replaced the migratory fishery. The resident fishery was based on fishermen living in small communities situated along the coast close to the inshore cod stocks; however, the primary market for their fish was still in Europe. Most of these resident inshore fishermen did not have the resources to export the fish so they relied on English merchants who purchased the fish from the fishermen and shipped it overseas.  By the early 19th century many of these English merchants had set up operations in the larger towns (e.g. St. John's, Harbour Grace, Bonavista) and became part of the Newfoundland economy.
These merchants shipped the fish overseas and paid the fishermen based on the price in these markets. Since cash was in short supply the fishermen frequently established credit with the merchants and used this credit to buy supplies for the coming season. Fluctuating markets for cod and years with bad catches frequently resulted in fishermen becoming indebted to the merchants and therefore tied to that merchant (see: Hope and deception in Conception Bay : Merchant–Settler Relations in Newfoundland, 1785-1855  by Sean T. Cadigan). As a result of this credit system the relationship between a fisherman and his merchant generally persisted unless the merchant went out of business due to death, retirement or bankruptcy (see my paper on John Newall of Bristol) or the planter was sufficiently well off to change merchants.
Merchant settler relationships established during the early period of settlement in the 18th and early 19th centuries frequently were established based on relationships that existed in the UK prior to moving to Newfoundland so these relationships can provide an indication of where the planter came from in the UK.
In my original research I identified the merchant that my ggg grandfather (Philip) was associates with in 1817. In that year a census of Conception Bay listed Philip "Nule" of "Bear Need" [the Dock was frequently included as part of Bareneed] who had four children and one man servant (at that time servant indicated an employee) and was described as "well off"  (http://ngb.chebucto.org/C1817/1817-bareneed-pdg.shtml). In this census the merchant that Philip got his supplies from was listed as  "Natale & Cawley" ("Nutol & Cawly" in my original source). This merchant was likely Nuttall & Cawley, Harbour Grace fish merchants. My father also indicated that in later generations (likely my great grandfather) the family dealt with the Jerretts of Brigus. At that time I indicated that further research on this topic might be useful since fishermen frequently came from the same area as their merchant.
Unfortunately, I did not follow up on this avenue of research until very recently. Just after I started building this Web Site, I became aware of a document related to a court case held in Harbour Grace in 1787. In this case "Philip Newell" gave sworn testimony related to a dispute between himself and Mr. William Hill the agent for Newman and Roope, merchants of Dartmouth based in Harbour Grace. This establishes a link between Philip and this company that may provide new leads.
This document examines the history of three merchant companies that were associated with the Newells of 'The Dock' (Newman and Roope, Nuttall & Cawley and Jerretts of Brigus) to identify their connections with England and other parts of Newfoundland.  It also looks at merchants that were associated with Newells from other parts of Newfoundland.
Newman and Roope
The following material provides some background on Newman and Roope:
Robert Newman & Company, also known as Newman and Company, were merchants of Newfoundland and Dartmouth, Devon, involved in the trade of salt fish from Newfoundland and port wine from Portugal. In 1601, Richard Newman received fishing rights off "Newman's Rock" on the south coast of Newfoundland. In 1672, he founded the first Newman plantation in Newfoundland at Pushthrough on the south coast. Additional plantations were established in the last quarter of the seventeenth century, and at the beginning of the 1700s, most of these were consolidated under the masthead of Newman and Company, which was the Newfoundland house of Robert Newman & Company, successor to the earlier Dartmouth firm of Newman and Roope. From 1730 to 1775, the Newfoundland branch was run by the brothers Robert and Richard. When Robert died, his son John renamed the firm John Newman & Company. Following John's death, the firm came under the control of John's brother Robert, who reverted to the name Robert Newman & Company. Under Robert's tenure, the company expanded its operations to Little St. Lawrence, Burin, and Little Bay to complement its premises at Hermitage, Harbour Breton, Conception Bay, and St. John's.
The firm moved its headquarters to Harbour Breton from St. John's in 1812 as the migratory fishery declined in the wake of the burgeoning resident fishery, fueled by an increasing permanent population. While the West Country firms were declining — most had withdrawn by 1825 — Newman Brothers continued to prosper in Newfoundland, especially on the south coast. Nevertheless, the firm began to decline in the second half of the century, partly due to increasing competition from St. John's firms, many of which had also expanded into the outports. The firm closed its Harbour Breton headquarters in 1907 and withdrew from Newfoundland.
https://www.mun.ca/mha/viewresults/Accession_No/mha00000361
Another perspective on Newman and Roope is provided by the publication The Story and Origin of Hunt, Roope and Company. The following are some extracts from this pamphlet.
By 1700 their trading plantations had become completely permanent. The Newmans trading in Newfoundland as individuals in that year combined together as Newman & Company Newfoundland (except for one member of the Newman family and his relation Roope who carried on as Newman & Roope, Newfoundland, but later on they were absorbed into Newman & Company). Their business consisted in catching Cod fish and trading stores to the Planters and Mic Mac Indians in exchange for Cod fish and furs respectively. Whaling and Sealing expeditions to Greenland were carried on by them as far back as 1744.
In 1679 these two families combined together into a long term partnership as Newman and Roope, Dartmouth. Their sailing vessels also combined together in this firm as one fleet. Later this Firm was to become known as Robert Newman & Co., Dartmouth in I700.
In I782 one of the Partners of Robert Newman & Company, Dartmouth, went to London and opened an Office there  in connection with their general merchandising business. After 1 782 they continued to trade as a group of firms with Counting Houses in Dartmouth, London, Newfoundland, Oporto and Vila Nova De Gaia. In 1815 their Dartmouth House was given up, and their merchanting activities and ships were controlled from their London Office as already described.
http://collections.mun.ca/cdm/ref/collection/ich_avalon/id/5190
Finally the following provides more detail on the relationship between Newfoundland Cod and Portuguese wine in the context of Newman and Roope:
The business run by Thomas Newman of Dartmouth, Devon, England, as early as 1503, was importing wine from Portugal to England. The wine was being bartered for salted cod brought to England by Devon fishermen, thus the Newman link with Newfoundland was established. By the early 17th century, a descendant, John Newman, was sending his own fishing vessels to Newfoundland. By mid-17th century, the Newman family were firmly involved in the fishery trade and marketing cod to Portugal. They set up trading centres in Newfoundland and located an office at Harbor Briton. The success of this office led them to establish further offices at St John's and Little Bay. With its own fleet of vessels, it was transporting port wine from Portugal to Newfoundland where it was stored for maturing and eventual distribution to the Americas as well as back to England. In 1679, the company expanded and went into partnership with the Roopes, another family of Dartmouth merchants. By 1700, the partnership was known as Robert Newman & Co. They further expanded in 1711 when they opened business premises in Oporto to handle fish. By 1735, they had developed further partnership arrangements with the Holdsworth family of Dartmouth and the Olive family of Poole, who were involved in the port wine trade under the name of Hunt, Roope & Co, and became known as Newman, Roope & Co.
http://bnatopics.org/journals/2004/BNA%20Topics,%20Vol.%2061,%20No.%204,%20October-December%202004,%20Whole%20No.%20501.pdf
Both the Newmans and Roopes had long term links to Dartmouth, Devon and ancestors of both are buried in St. Petrox Church (situated in Clifton which was one of the communities that formed Dartmouth). The town of Dartmouth is called in ancient records Clifton Dartmouth Hardnesse these were in fact three separate towns the more southern of which Clifton is an appendage of Stoke Fleming.
In addition to being business partners, Newman and Roope had family connections. William Newman's Will, prepared in 1818, shows that his daughter Susan was married to Cabell Roope
http://genuki.cs.ncl.ac.uk/DEV/Dartmouth/WilliamNewman1822.html
The main reason for investigating Newman and Roope was to see what this might tell us about Philip Newell's origins. While there is no direct links between Philip's relationship with Newman and Roope and his origins it does suggest a few potential lines of research. Three areas of Newman and Roope's operations set them apart from other Newfoundland Merchants and so might provide a clue to Philip's origins before he settled in "The Dock'. The first and most obvious is the connection that both partners in Newman and Roope had with Dartmouth in Devon. Other Newfoundland Merchants were associated with other towns in the UK (e.g. the Slades and George Kemp with Poole; Baine Johnston with Scotland, Nuttall and Thorne with Bristol) so if Phillip did have a long term relationship with Newman and Roope then he might have connections with Dartmouth.  However, there might be another potential lead; Newman's connection with the South Coast of Newfoundland also presents the possibility that Philip may have established his connection with Newman in that area prior to moving to Conception Bay.  As early as the 17th century the south coast of Newfoundland was a base for fishermen from France, the Channel Islands and SW England. For example in 1627 Richard Newell of Barnstaple, Devon had interest in Placentia Bay.
| | | |
| --- | --- | --- |
| Feb 1726 Merchants of Bideford and Barnstaples trading to Placentia | | Representation against Gledhill who discourages all "substantial and sober" planters from settling there. He should not meddle in the trade. All names here provided: Edmond Strange, George Phillips, William Hartnoll, Thomas Blake, John Commyns, william Chappell, John Strange, William Babbidge, J.Shapton, Thomas Vernam, J. Power, Alex Hooper, J. Brooks, C. Bennett, W. Yeo, Sam Chappell, W. Brooks, David Baker, C.Chappell, B. Shapton, Walter Tucker, Cha. Velley, Nich. Cooke, Richard Newel, Geo. Slee?, J. Benson, T. Smith J. Parminter, Robert Tristam, Edward Smith, Robert Stafford, Henry Servant, Cha. Davie, S. Berry, N. Ennys. |
http://www2.swgc.mun.ca/nfld_history/CO194/CO194-8.htm
Finally, there is the possibility that Phillip might have had previous connections to Newman and Roope's operations in Oporto, Portugal. While this might seem to be a unlikely area for a connection there is some circumstantial evidence that might support this. There is evidence that several Newells were connected to the English operations (Factory) in Oporto during the 18th century. For example, in  1739 Townsend Wettenhall married  at Oporto, the widow of a Mr. Newell.
https://archive.org/stream/cu31924085185100/cu31924085185100_djvu.txt
In addition, there was another Newell connection to the Portuguese wine trade at Oporto. In 1751 a Mrs. Haughton had a Mr. Newell admitted as a partner in her late husband's wine business in Oporto.  https://archive.org/stream/cu31924085185100/cu31924085185100_djvu.txt
Mr. Haughton's business was interconnected with a number English wine operations in Oporto:
The firm of Dixon, Morgan & Co shipped wine and spirits, specifically from Oporto in Portugal, where it had considerable interests and where many members of the firm were based. It developed from the successive partnerships of numerous wine merchants, starting with Messrs Haughton, Langston and Dixon in the early 18th century. By 1785 the firm was known as Langston & Dixon. By 1800 this had become Dixon, Brett & Morgan.
https://search.lma.gov.uk/scripts/
mwimain.dll/144/LMA_OPAC/web_detail/REFD+CLC~2FB~2F069?SESSIONSEARCH
None of this establishes a link between Philip and the Portuguese wine trade but it does provide another potential area for future research.
The Court Case
Apart from establishing a link between Phillip Newell and Newman and Roope there are several other aspects of the case that might shed light on Philip's origins.
The court case referenced earlier was between William Hill of Portograve (Port-deGrave) who was an agent for Newman and Roope and a number of fishermen operating in Conception Bay North (see Transcript).  There are some questions regarding Hill's role with Newman and Roope at Port-de-Grave  since in The Story of Port de Grave , Gerald W. Andrews  states that "In 1785, Joseph Furneaux, a young man of 19 years, came to Port de Grave from Dartmouth to manage the local branch of Newman and Roope, replacing William Pinsent who had established his own mercantile operation. Joseph remained in that position until the closeout of the Newman operation in the Harbour about 1807"  (Gerald W. Andrews, The Story of Port de Grave , Jesperson Publishing),
Another reliable source states that: Joseph Furneaux came to Newfoundland in 1783 from Dartmouth, England, representing an English fish company for 7 years then going into the fish business himself. He married Jane Sheppard in 1791 and they had 8 children.  http://www.govhouse.nl.ca/news/2008/feb4-speech.html
Both of these sources would suggest that in 1787 Furneaux not Hill was the Agent for Newman and Roope at Port-de-Grave. However, since Furneaux was only 21 in 1787 and new to the Newfoundland trade,  it is likely that he was working under Hill.
This William Hill was likely the "W. Hill" who was Captain on the ship Barbadoes Packet on a voyage from Dartmouth to Newfoundland for Newman and Co. in 1786   (http://www.rootsweb.ancestry.com/~cannf/pw_lloydregister1764-99.htm).
He might also be the William Hill who died in 1818 (see below) and if so he would have been 32 in 1787.
| | | | | | |
| --- | --- | --- | --- | --- | --- |
| William HILL | | 63 yrs | May 26 1818 | Died on his passage from England | Per newspaper, from London, died on May 21, |
http://ngb.chebucto.org/Parish/burials-st-john-the-bap-1812-1824-sjc-.shtml
Furneaux's role is interesting since John Newall, a Bristol merchant operating out of Harbour Grace up to his bankruptcy in 1805  (see my paper on him under UK Newells) was  associated with a J. Furneaux in Newfoundland.
One other aspect of this court case might shed light on Philip Newell's origins. On the day that Philip gave testimony in the Court Case (Oct 29) there were four other planters who gave testimony.  These were: John Beachum, Daniel Mahany, Thomas Snow and Maurice Murphy;  and they were likely:
John Beachum ( Bucham, Beacham, Beecham, Beauchamp) from Bareneed;
Daniel Mahany planter of Colliers (South of Brigus) in 1805;
Thomas Snow planter of Port de Grave in 1805, 1817 also Bareneed 1817;
Maurice Murphy planter of Cat's Cove, (Conception Harbour near Colliers).
Beachum and Snow are recorded in the 1817 Port de Grave voters list; which also lists merchants they were associated with. By 1817 Beachum had switched merchants to William Johnston.  Johnston was a Scottish merchant who later became a partner in Baine Johnston. Snow was either Thomas Snow Senior of Bareneed (1817) or Thomas Snow Senior of Port de Grave (1817). Thomas of Port de Grave did not have a merchant listed (or possibly a missing ditto from previous entry which had William Johnston as merchant).  The Thomas of Bareneed dealt with W Graham.  In this census there was a Wm. Graham at  Bareneed  who had 8 servants which would indicate that he could be a merchant; however, this William Graham lists John Moore has his merchant. John Moore was also listed at Bareneed with 8 servants.  A Web posting states that a John Moore, from Northern Ireland settled at Bareneed about 1800 (MUN Folklore)   http://archiver.rootsweb.ancestry.com/th/read/NFLD-ROOTS/2002-02/1014525707.  To make matters even more confusing John Moore list his merchant as  W. Pack  who may have been associated with Pack, Goose and Fryer, merchants of Carbonear  http://collections.mun.ca/PDFs/guardian/AG_V03N07.pdf.  The W. Graham in question might also be William Graham a Liverpool merchant or a relative of Alexander Graham & Co., Glasgow who operated in Newfoundland as Graham, McNicol and Co.
One other rather indirect connection arising from this investigation is the fact that John Beachum ( Bucham, Beacham, Beecham, Beauchamp) from Bareneed also had a connection to Newman and Roope.  My father had said that the Newells came to 'The Dock' with the Beachams. My memory of this conversation is fading so I can't remember if he was suggesting that they came together  or that the Beachams were established and the Newells came over with them (perhaps he was not sure either since this was passed down to him with other pieces of family history).  However, this does not help pinpoint the origins of the Newells since the Beacham name, like Newell, has connections to SW England (Somerset, Devon, Bristol, etc), France (Beecham, Beecham etc. are English translations of the French name Beauchamp), the Channel Islands where both the English and French spelling is found and even Ireland (The family of Beauchamp was seated at Ballylaughan,  County Carlow) .
The Beecham family was found in Port-de-Grave by 1769 (Seary et. al., Family Names of Newfoundland) and may have been established there much earlier https://www.ancestry.ca/genealogy/records/rebecca-beauchamp_37502884
These is even a reference to a Ship called Beaucamp arriving in Boston from Newfoundland in 1737 https://books.google.ca/books?id=Icc2AQAAMAAJ.
Thomas Snow, another Port-de-Grave / Bareneed resident involved in the court case, is an especially interesting character.  In 1749 Governor Rodney at St John's wrote to Thomas Snow at Port de Graves Re the following matters:
John Pike appeared to answer complaints from:
Michael Mooren and David Careen (whippings aboard ship)
Grace Davis and Mary Prosser (cruel and barbarous beatings)
Jeremiah McDonald (beatings, sent to Spain against consent)
Amos Vincent (forcible entry, theft)
Samuel Granger (demolishing his house)
John Trimlet (had servants take possession of his plantation)
Thomas Range (seizure of effects by force)
John McDonald (wages)
Petition of James Buttler against Thomas Snow.
http://www2.grenfell.mun.ca/nfld_history/letterbook/GN2-1-A-1.htm
This suggest that Snow was more than your typical fisherman and might be the Thomas Snow who in 1744-47 was an English privateer commanding ships sailing from Guernsey and Jersey.  This Snow  captured 10 enemy vessels, recaptured 4 British vessels that had fallen into enemy hands, took 1 Dutch vessel said to be carrying
French goods.
http://archiver.rootsweb.ancestry.com/th/read/CHANNEL-ISLANDS/1999-07/0933154973
There is also a connection between a Thomas Snow and the wine trade in Oporto.  As was stated earlier the Newmans had significant connections to the Portuguese wine trade and operated out of Oporto.   During the 1780s a Thomas Snow had several children baptised at the English Factory in Oporto, Portugal.
The Switch in Suppliers between 1787 and 1817
The census of the Port de Grave District conducted in 1817 list Nuttall & Cawley as the supplier (merchant) for Philip Newell of Bareneed. This raises the question of why Philip switched from using Newman and Roope as his supplier in 1787 to using Nuttall and Cawley in 1817.
An interesting perspective on the company of Newman and Roope during this period is provided by the First REPORT from the Committee appointed to enquire into the State of the Trade to Newfoundland prepared by the Right Honourable Dudley Ryder, 26th March the1793.
Mr. Newman of the above firm was a principal source of information for this report and the following are some extracts from the report related to his testimony:
 "That", he lives at Dartmouth and was a merchant trading to Newfoundland…
 Speaking of Mr. William Newman's particular trade he has for many years had but little concerns in the Fishery he has been concerned with foreign and other houses abroad in the purchase of cargoes of Fish for the sake of a commission and must be considered a factor more than a real Newfoundland merchant in its full extent.  Mr. Newman was formerly a partner of Mr. Roope and since their separation the latter has carried on a large trade and lately increased it.
https://books.google.ca/books?id=vJFIAQAAMAAJ
This demonstrates that by 1793 (the date of the above report) Mr.  Newman was no longer directly involved in Newfoundland operations and Mr Roope was the principal.  The two reports cited earlier also suggest that during this period the company was refocusing on its international operations. It is likely that although Newman was focusing on other operations he continued to run operations in Newfoundland (possibly managed by Roope)
Overall Philip's switch might be a result of the problems he was experiencing with Newman and Roppe in 1787, changes in the company (Newman and Roope) after 1787 or to find a better deal from Nuttall and Cawley. The fact that Philip was classified as "well off" in the 1817 census suggest that he was in a position to switch merchants. The earlier discussion of Port de Grave merchants in 1817 demonstrates that there were numerous small merchants, many of which were interconnected, operating in the area.
Census of 1817
As stated earlier, Nuttall and Cawley are listed in the 1817 census of Port-de-Grave district as the supplier (merchant) that Phillip Newell used (http://ngb.chebucto.org/C1817/1817-bareneed-pdg.shtml).  This census listed four communities between Brigus and Port-de-Grave, including Bareneed where Philip was situated. The data for Bareneed included a number of other small villages between Port-de-Grave and Cupids including 'The Dock', Otterbury and likely parts of what are now North River and Clarkes Beach. In the communities included under Bareneed there were 89 "Housekeepers" listed.  Four of these had no supplier listed, four more had the supplier column blank and one (a supplier) had 'sundry merchants' . The remaining 82 Housekeepers used 14 different suppliers (see list below).
| | | | |
| --- | --- | --- | --- |
| Merchant | Clients | Local |  Notes |
| Edwd French | 1 | | |
| John Moore | 10 | Y | uses  W. Pack |
| M Graham B:Need | 2 | ? | |
| W Graham | 13 | Y | uses  John Moore |
| Natale & Cawley | 4 | N | Not local |
| Ths Bartlett | 13 | Y | Likely Snr uses  Sundry Merchants |
| Ths Danson | 3 | N | |
| W Johnson | 5 | N | |
| W Pack | 7 | N | |
| W Pencent /Pensent | 12 | N | |
| W. Berg St John | 1 | N | |
| W. Hartry | 1 | N | |
| W. Kemp | 3 | N | |
| Wm Andrews | 1 | N | Port de Grave |
| Sundry Merchants | 1 | | Ths Bartlett Snr |
| No Merchant | 4 | | |
| Blank | 4 | | |
| Total | 85 | | |
As pointed out earlier several of the local suppliers were themselves clients of other suppliers. For example 13 householders used W Graham (local) but he used John Moore (local) who in turn used W. Pack.  The number of Householders associated with a merchant varied from 1 to 13.  Nuttall and Cawley had 4 clients in Bareneed (including Philip); they also had 4 clients in Brigus and one each in Cupids and Port-de-Grave.
None of these Householders listed Newman and or Roope as their supplier since they had closed out their operation in Port-de-Grave a decade earlier. However many of the merchants and householders listed, like Philip, had earlier connections to this company.  For example W. Pinsent/Pensent had earlier connections to Newman and Roope (see following):
"In 1785, Joseph Furneaux, a young man of 19 years, came to Port de Grave from Dartmouth to manage the local branch of Newman and Roope, replacing William Pinsent who had established his own mercantile operation. Joseph remained in that position until the closeout of the Newman operation in the Harbour about 1807" (The Story of Port de Grave by Gerald W. Andrews, Jesperson Publishing).
Bartholomew Corbin (Senr) a householder at Bareneed was associated with William Newman and William Pinsent.
Bartholomew Corbett Corbin was agent at Port-de-Grave for William Newman of Darthmouth, Devon in 1794 and 1804. He was agent for William Pinsent of Port-de-Grave in 1798. In 1791, along with other merchants, Bartholomew signed a letter to Governor Millbanke http://www.rootsweb.ancestry.com/~cannf/cbhg_surnames_corbin.htm.
His son Bartholomew Corbin (Jnr) also of Bareneed used Edwd.  French as a supplier (possibly his neighbour Edward French of Bareneed  or Edward French of Bay Roberts  (http://www.frenchfamilyassoc.com/FFA/CHARTS/Chart057/Chart57gen4.htm).
Nuttall and Cawley
The earliest reference I found to the firm of Nuttall and Cawley was from 1815  just two years before the 1817 census of Port-de-Grave. The 1815 document relates to a court case to recover monies from Patrick Collins and John Harrington (see below).
Harbour Grace Monday, December 11, 1815
Nuttall Cauley & Co Versus Patrick Collins, To recover the sum of ₤62.15.3.
Writ issued in the Surrogate Court at St. John's the 28th November instant, returnable here the 30th…this day.
Collins and Harrington being brought up from prison, having been remanded on Sunday noon, as the Court could not obtain security of their appearance that day to be examined.
The parties being present with several more respectable merchants they produced the accounts against Patrick Collins and John Harrington when it was the opinion of the Court that the said Collins and Harrington was co-partners and that the said Harrington and Collins did leave this place with an intention to defraud the whole of their creditors – Mr. McChurchill being present and knowing that the said Mr Churchill had acted as their clerk for some time – he was duly sworn when he declared that he considered the said Harrington & Collins as partners all the winter and also the summer – but that there was some difference took place some time in the spring with the talks of parting. The Court then considered that Mr. Nuttall & Mc Cauley _______ to have a meeting so that they can appoint some person with Mr. McChurchill to examine their books and give a fair statement to this Court by Thursday next. Harrington and Collins not having surety for their appearance—that day they were remanded to prison when the Court was adjourned.
Surrogate Court, Harbour Grace
December 7*, 1815
Jno Nuttall – appointed on behalf of the creditors—versus Harrington & Collins
http://www.rootsweb.ancestry.com/~cannf/cb_wills_nuttalvspatcollins1815.htm
One item to note in this document is that Cauley is referred to as McCauley which is likely a transcription error (confusing Mr with Mc but see Mr. McChurchill) or the clerk assuming Cauley was Gaelic.
It is not surprising that the firm of Nuttall and Cawley did not appear before this date since one of the principals (John Charles Nuttall) was born in 1791. This would make him just 25 in 1815 which is relatively young to have your own business (see more on principals below)
A second reference to the company in 1816 is especially interesting since it involved Clement Noel of Freshwater, Carbonear. Clement Noel was the ancestor of Peter Noel a possible DNA match for me (see under DNA on this Site). In this document Clement acknowledged that he was indebted to Messes Nuttall Crawley &  CO of Harbour Grace for the sum of seventy three pounds twelve shillings for supplies
http://ngb.chebucto.org/Wills/cbc-noel-clement-nuttall-1816.shtml
For more information on the Newells / Noels of Harbour Grace see: https://johnpnewell.com/the-dock-nfld/other-nfld-newells/harbour-grace/ .
To understand the company  "Nuttall and Cawley"  we need to understand the two principals in the company. As was stated earlier Nuttall was John Charles Nuttall born  1791 at Bristol, Gloucestershire (see following).
John Charles Nuttall
England Births and Christenings, 1538-1975
christening:   27 March 1791,  St. Augustine-the-Less, Bristol, Gloucester, England
residence:  Bristol, Gloucester, England
father: John Nuttall , mother:  Eliz
We know that this John Charles Nuttall was almost certainly  the Newfoundland John Charles since a record of his death in The Harbour Grace Standard newspaper of  May 1877  gives an estimated DOB of 1790 (the difference could be due to a difference in DOB and Christening):
Death  At Brigus, on Tuesday, the 15th inst., in the 87th year of his age, John Charles NUTTALL, Esq., late Clerk of the Peace, and Sub-Collector of Customs at that town — a native of Bristol, England, for 71 years a resident in Newfoundland and many years a respected Merchant in Harbor Grace, Conception Bay.
http://www.rootsweb.ancestry.com/~cannf/cbnorth_norstandard_1877.htm
The Newspaper report also tells us that he arrived in Newfoundland when he was only 16 years old.
We also know from the Bristol records that his parents were married  in 1778,that he had older siblings (George, Maria, Frances and Charles) and that his father died two years after he was born and his mother died a year later. All of these events took place at St. Augustine-The-Less church in Bristol. The church of St Augustine-the-Less was first mentioned in 1240 and was built for the parishioners living around St Augustine's Abbey ("the Great").  In 1542 the abbey church ('the Great") became the cathedral of the new diocese of Bristol.  The church of  St Augustine-the-Less  (situated near the cathedral)  was damaged by air-raids in the second world war  and was demolished in 1962.
The following map shows the location of historic parishes in Bristol  https://www.about-bristol.co.uk/chu-00.asp . St Augustine-the-Less  (location K on map)  was just one one of many parishes in historic Bristol and served a relatively small geographic area southeast of the cathedral (location J). This area was known as St Augustine's Reach and prior to 1800 this area was the heart of the Bristol Docks.  The completion of the Floating Harbour in 1809, and the building of docks at Avonmouth and Portishead made the wharves at the northern end of St Augustine's Reach increasingly marginal.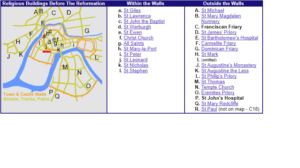 Interestingly, there are no references to any Nuttalls in the Bristol Directories for 1793/94 0r 1775. This suggest that John Nuttall was not an established member of Bristol Society (did not own house). The only evidence of the origins of the Nuttall family is an obituary written for Thomas Chancey Nuttall (son of John Charles Nuttall of Brigus) who died in British Columbia in 1906, aged 75:
The deceased was the eldest son of John Charles Nuttall of Newfoundland and grandson of General Thomas Nuttall of 'Old Nuttall Hall', Nuttall, Lancashire, Eng. The deceased came to this province [BC] in March 1859. For thirty years, from 1865 to 1895, he was general agent for the province for the Phoenix Fire Assurance Company of London, Eng., and at different times owned some of the most important business sites in the city.
This biographical sketch of Worshipful Brother Thomas Chancey Nuttall taken from local newspaper reports of his death and funeral [Note: Thomas was a Freemason].
http://www.templelodge33.ca/VI%20Masonic%20History%20Project/Ross%20Bay%20Cemetery/Nuttall-Thomas_Chancey.html
This Thomas Clancy was born at Harbour Grace in 1830
| | | | | | | | |
| --- | --- | --- | --- | --- | --- | --- | --- |
| 1 Sept 1830 | Harbour Grace | NUTTALL | John Charles & Mary | Thomas Clancy | M | J. Burt | 4 May 1831 |
Other BC records give further information:
01/16/17 Nuttall, Thomas C., m, head, m, 3 Sep 1830, 70, NF, to Can: 1859, CE, Gentleman.
……Rems: MRI: Thomas Chaucey Nuttall mar Elizabeth Sarah Stoate, 5 Oct 1878, Victoria. DN, Times, 8 Feb 1906, p.5: Nuttall, Thomas Chancey, 75, d. at res.'Woodfield', Esquimalt Rd, 8 Feb 1906, b.Brigus, NF. RBCR: Nuttall, Thomas Chancy, 75, 8 Feb 1906 at Victoria, b.Brigus, NF.
http://www.rootsweb.ancestry.com/~canbc/1901vic_cen/div01/d01p16.htm
The BC records incorrectly give his place of birth as Brigus but this was an understandable mistake since Brigus was the town where he grew up. The information in the obituary regarding his father is correct but the information on his grandfather does not agree with the Bristol records. General Nuttall could not be his grandfather since he was only a few years older than Thomas C .  https://en.wikisource.org/wiki/Nuttall,_Thomas_(1828-1890)_(DNB00).
However, it is likely that John Charles's distant ancestors came from Lancashire since this name is most common there (see map in:  https://www.ancestry.ca/name-origin?surname=nuttall).  However, his father might also have moved to Bristol from Ireland since a branch of the Nuttalls of Lancashire were established in County Wicklow and Dublin during the early 18th century (Joseph Nuttall was an important Dublin Banker in the mid 18th century).
There are no records of Nuttalls in Newfoundland prior to 1800 and no evidence that his father was involved in the fishery so how did John Charles become a Newfoundland fish merchant in his early 1820s!  The likely answer is that his sister Maria (born 1783, recorded as Nuttoll) married into the Thorne family of Bristol and Newfoundland.  In 1808 or 1809 a Maria Nuttall married Thomas Thorne, son of Walter (see https://www.geni.com/people/Thomas-Thorne/6000000025496726081).  This was around the same time that John Charles came to Newfoundland.
The Thorne family of Devon and Bristol had connections to the Newfoundland fishery that extended back to the 16th century.  http://www.biographi.ca/en/bio/thorne_robert_1492_1532_1E.html.
A William Thorne was recorded at St. John's in 1762 and in the 1760s  a John Thorne was agent for Benjamine Lester at Trinity. The records from the Anglican Church at Trinity record the birth of Richard the son of John and Mary Thorne at New Harbour in 1770 and the baptism of Thomas Thorne at New Harbour on May 6, 1773  http://www.baccalieudigs.ca/default.php?display=cid9.
The Thomas Thorne who married Maria Nuttall was Baptized at Landkey, Devon (near Barnstaple) in 1781. His father was Walter Thorne born at Swinbridge, Devon (near Landkey and Barnstaple) in 1749.  Thomas had three brothers: William (bap 1780; George bap 1785 and Walter bap 1788) and several sisters. Thomas' father Walter does not appear to have connection to Bristol; however, his brother George (b. 1752-1833) moved to Bristol where he became a Silk Mercer and by 1810 he was partner in a Bristol Bank see https://books.google.ca/books?id=dspCAAAAYAAJ.  Having an uncle who was a Bristol banker was likely a factor in Thomas's success as a Bristol merchant.
In 1817 Thomas Thorne and ? Charles Nuttall were Bristol merchant in who who traded into Conception Bay  (http://www2.swgc.mun.ca/nfld_history/CO194/CO194-60.htm). In the same year a William Thorne (likely brother of Thomas) was a member of a Grand Jury in Harbour Grace. In the 1820s Thomas Thorne was a partner with John Charles Nuttall.  In 1825 they were co-owners of a ship Swallow  registered in Bristol  https://books.google.ca/books?id=N6rNAAAAMAAJ  and their partnership was dissolved in 1829 (see https://books.google.ca/books?id=ahNKAQAAMAAJ). There is one Bareneed connection to both Nuttall and Thorne. In 1818 (just one year after the Port- de-Grave census) Philip Corbett (aka Corbin) of Bareneed was part owner of the schooner Nuttall and the 50-ton schooner Thorne see http://www.rootsweb.ancestry.com/~cannf/cbhg_surnames_corbin.htm.  The schooner Thorne was built in Bareneed and merchants were frequently co-owners of schooners used by fishermen.
There is no evidence that Thomas Thorne ever became established in Newfoundland; he became a successful merchant in Bristol and ran his Newfoundland operations using partners like John Charles and possibly his brother William Thorne. However, John Charles Nuttall became established in Newfoundland and Married Mary Elizabeth Chancey of Harbour Graceb in 1821.
| | | | | | | |
| --- | --- | --- | --- | --- | --- | --- |
| 17 Jun 1821 | John Charles | Nuttall | Bristol, Gloucester, now of Harbour Grace | Mary Elizabeth | Chancey | of this parish |
In 1834 John Charles found himself at the center of a heated dispute at Harbour Grace:
In May 1834, a Harbour Grace merchant and planter, John Nuttall, was the victim of this form of plebeian attention. On 2 May, Nuttall received a letter advising him, "for his own good [to] drop the persecution of Michael Kief" (or Keefe), and allow him to assist his "starving Family Crying for Bread. Four days later Nuttall found a less conciliatory note wrapped around a stone thrown into his yard.
https://journals.lib.unb.ca/index.php/LLT/article/viewFile/4775/5648
Mr Cawley, the second principal in Nuttall and Cawley, was a member of the Cawley family of Bristol and Harbour Grace; however, it is not exactly clear which Cawley was involved in the partnership with Nuttall. A petition submitted to the Governor in 1793 was signed by the principal merehants and inhabitants trading to and carrying on the Fishery in the distrićt of Conception Bay; included in the individuals who signed this document were James Cawley and George G.  Cawley. The latter was Lieutenant George Garland Cawley who served in the Corps of Foot serving in Newfoundland, raised by Lieut. Colonel Robert Pringle in 1780  (http://www.biographi.ca/en/bio/pringle_robert_4E.html) and was promoted from Ensign to Lieutenant in 1782 https://books.google.ca/books?id=N5IrAAAAMAAJ.  Lieut. Cawley was baptized in Bristol in 1762 and was buried at Harbour Grace in 1799  (from gravestone he was born c 1759).  The record of his Baptism (see below) shows that he was Christened at the same church in Bristol as John Charles Nuttall and his Parents were James and Frances.
George Garland Cawley     christening:     2 July 1762
St Augustine-the-Less church, Bristol, Gloucester, England
father: James Cawley ;  mother:  Frances
England Births and Christenings, 1538-1975
Based on his middle name and other Harbour Grace records (including the Will of Charles Garland) it is very likely that his mother (Frances) was a sister of Charles Garland a Surrogate Court Judge at Harbour Grace. The Garlands had been principal residents of Conception Bay since the 17th century and Charles was noted for defending Harbour Grace from the Franch in 1762.
The Bristol records also show that Charles Garland Cawley had a brother James, also Christened in  1762, who was the James who signed a petition at Harbour Grace in 1793. This James was the James Cawley who was Deputy Sheriff of Harbour Grace in 1810 and the James who was father of James Frederick Cawley born at Harbour grace in 1798.
| | | | | | | |
| --- | --- | --- | --- | --- | --- | --- |
| Harbour Grace | CAWLEY | James & Charlotte | James Frederick | M | G.C. Jenner | 16 Sept 1798 |
This James died at Harbour Grace in 1817.
| | | | | |
| --- | --- | --- | --- | --- |
| 18 May 1817 | James | Cawley, Esq. | 55 yr | of this parish, Magistrate |
The following diagram outlines the Cawley family of Harbour Grace and their connections: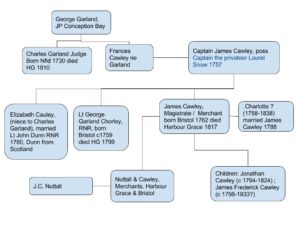 The three candidates for the Cawley in Nuttall and Cawley are James who died in 1817, his son Jonathan who died in 1824 and his son James Frederick who died in 1833.
In 1831 James Frederick Cawley, merchant and John Charles Nuttall were both creditors to Hugh William Danson an insolvent merchant in Harbour Grace
(https://news.google.com/newspapers? nid=59&dat=18310527&id=XRs1AAAAIBAJ&sjid=3SUDAAAAIBAJ&pg=7147,1906089&hl=en);
however, he was only 17 in 1815 (the date of the first reference to Nuttall and Cawley) so he is unlikely to be the Cawley  in Nuttall and Cawley. The father James Sr. would be a good candidate except it is difficult to see why he would be the junior partner.  In addition, there are references to court cases involving Nuttall and Cawley in 1819 and 1820 which is after  James Cawley Sr. died (see https://books.google.ca/books?id=BzdbAAAAQAAJ  and (https://archive.org/stream/cihm_94106/cihm_94106_djvu.txt).   However, these may have been legal proceedings against the company that continued on after James died.  Jonathan, who would have been approximately 21 in 1815 and did not die until 1824, is perhaps the best candidate but we have no other information on his life.
Regardless, I could not find any reference to Nuttall and Cawley after 1820; therefore it is likely that Phillip Newell's relationship with Nuttall and Cawley was relatively short lived.  However, this does not rule out the possibility of Phillip continuing to use John Charles Nuttall as a supplier.
The only common link between the Nuttalls and Cawleys prior to the formation of 'Nuttall and Cawley' was their shared connection to St Augustine's (the less) parish in Bristol.  However since neither family is listed in the 1775 census of Bristol (neither owned property) it is impossible to say if they were neighbours.  Given that St. Augustine's was situated near the Docks it would be the type of location that a Newfoundland family like the Cawleys might stay when in Bristol for the winter.
During the 1820s John Charles Nuttall had a business partnership with Thomas Thorne (who married his sister) https://books.google.ca/books?id=ahNKAQAAMAAJ
and he was still acting as a merchant at Harbour Grace in 1834 https://journals.lib.unb.ca/index.php/LLT/article/viewFile/4775/5648.
Sometime between 1849  and 1856 John Charles Nuttall moved to Brigus to become Customs Collector at that town.
[Source of above dates:
12 Sep 1849    Married: On 11th inst, at St. Paul's Church, Harbour Grace, by the Rev John Chapman, Lieutenant William John COEN, Royal Newfoundland Companies, to Frances Elizabeth, eldest daughter of John Charles NUTTALL Esq, of this town.
http://www.rootsweb.ancestry.com/~cannf/cbnorth_norherald.htm
and
In 1856 the late J.C. NUTTALL, H.M. Customs, cleared 92 sail craft for the seal fishery,
http://archiver.rootsweb.ancestry.com/th/read/NFLD-ROOTS/2002-03/1015870839]
By 1864 J. C. Nuttall was established in Brigus as a customs collector and clerk of the peace (see Hutchinson's Directory 1864).  In 1872 J. C. Nuttall's youngest daughter married George Churchill Jerrett a Brigus merchant.
George Churchill Jerrett
George Churchill Jerrett was the son of James Jerrett b.1803 in Sandford, Devon (a Cooper) and Mary Ann Churchill b.1817 in Ottery St Mary, Devon.   George C. married his first wife, Charlotte Prowse c. 1860 in Stokeinteignhead, Devonshire, England; Charlotte died in 1772.  George Churchill and his younger brother William emigrated to Newfoundland c. 1860 and George Churchill and Charlotte had the first of 6 children born in Newfoundland in 1861.
The Jerretts likely moved to Newfoundland as a result of George Churchill Jerrett's marriage to Charlotte Prowse. The Prowse family of Torquay, Devon had early connections to Newfoundland; Robert Prowse (father of Judge Prowse the historian) of Port-de-Grave was in business in Newfoundland by 1808.
The Jerrett' became merchants and builders in Brigus and became one of the principal families of Brigus in the late 19th century.  My father had indicated that in latter years (likely my great grandfather John's time)  the Newells used the Jerretts of Brigus as a supplier.  Given that at this time John Charles Nuttall was living in Brigus and nearing the end of his career and his daughter was married to George Churchill Jerrett it is likely that if the Newells were still dealing with Nuttall that they might transition to the Jerretts.
When recently reviewing some family letters from 1907 (the year before my  great grandfathers death and the end of the families involvement in the fishery) I found a reference to the Jerretts:
June 3 1907  John & Caroline [my great grand parents] in a letter to their daughters in New England.
John [another John Newell in 'The Dock'] is going to the Labrador with C. Jerrett where he were last summer. 
From other sources we know that the schooner Ruby, belonging to Mr. C.A.Jerrett, merchant of Brigus  was green-fish catching on the Labrador in the summer of 1908 (Greta Husseys book, Our Life on Lears Room Labrador).
http://archiver.rootsweb.ancestry.com/th/read/NFLD-ROOTS/2001-08/0996702701