This report reviewers the information available on people with the Newell family name living in St. John's, Newfoundland prior to 1900. I also make reference to the Newells of Pouch Cove (22 km north of St. John's)  who were connected to the Newells of St. John's.  Like the situation for my family from 'The Dock' there is frequent confusion regarding the spelling of Newell prior to 1800 and some early references use Newell / Nowell / Noel interchangeably. The first reference to a Newel / Nowel in St. John's I found was was a Joseph who married a Hannah Hoggins at the Cathedral of St John the Baptist (C of E), St. John's, Newfoundland in 1759.
| | | | | | |
| --- | --- | --- | --- | --- | --- |
| Jan 6 1759 | St. John's | Joseph NOWEL / NEWEL? | Hannah HOGGINS | none given | |
http://ngb.chebucto.org/Vstats/vstats-mar-1-vol26e-sjc.shtml

In 1759 a Joseph Newell (same person) claims ownership of the Morrison Plantation in St. John's (in or near the Lady's Ship's Room which was situated east of Queen Street  near the Holdsworth Plantation) that his wife (an only child) inherited from her mother.
Whereas Joseph Newell has presented me a petition seting forth that he has a right to plantation / by his wife / situate in St. John's Harbour, adjoining to W. Goldsworth and Wm. De Grave's Plantations, but have no papers to produce for the same only a certificate from several of his ??? inhabitments of this place, testifying that his wife & her mother had jointly enjoyed the same for thirty years past without any interuption. Now that she dyed intestate leaving no other child but the wife of the said Joseph Newell. Now praying to have an order granted for holding the same.
I Do therefore hereby order and direct that you the said Joseph Newell / in right of your wife/ shall humbly & quitely enjoy the Morrison Plantation; you paying my ??? On the ??? that may appear to be justly due.
Given under my hand at St. John's the 26th of October 1759.
R. Edwards
http://www2.grenfell.mun.ca/nfld_history/letterbook/GN2-1-A-3.htm
In 1762 a Joseph Newell from Newfoundland (likely the same person above) was in Boston and seeking assistance to return to Newfoundland:
Boston October 25, 1762. His Excellency Francis Bernard Esq.
At a Meeting of the Selectmen, [Boston] October 25, 1762. Memo. of the Familys now in this Town who came from ye Land, with their Circumstances as taken from George Morley.
A Committee from the Honourable Board have desired your Memorialists to enquire into the Circumstances of George Morley, and others, who lately came from Newfoundland.  Your Memorialists have accordingly made the enquiry and find they are truly necessitous Persons, and as they cannot meet with employ here are desirous to return but are not able to pay the passage of themselves and Familys, they therefore request some assistance.
The list included the following:
Edward Freeman, and 3 children.
Joseph Newell, his wife and a child.
http://ngb.chebucto.org/Articles/cole-trinity.shtml
Note #1: There were 19 families from Newfoundland involved and their departure from Newfoundland was likely caused by the French attack on Newfoundland and subsequent capture of  St. John's in June of 1862. The French were drive out in Sept 1862 which explains why they wanted to return.
Note #2: see my research on Freeman family of St. john's
In 1763 Joseph and Hannah Newell have two children, Thomas and Thomasine,  baptized at St. John's.  If this was the family that was in Boston in 1762 then their might be an earlier child or one of these was born before trip to Boston and only baptized after return.
| | | | | | | | | |
| --- | --- | --- | --- | --- | --- | --- | --- | --- |
| Thomas NEWELL | Joseph & Hannah | HOGGINS | | bap Nov 4 1763 | | | | Married 1759, his surname ?NOWEL. |
| Thomasine NEWELL | Joseph & Hannah | HOGGINS | | bap Nov 4 1763 | | | | |
Thomasine was buried the following year:
| | |
| --- | --- |
| Thomasin Daur of Joseph NOWEL & Hannah | Jan 3 1764 |
In 1764  Joseph Newell had a daughter Hannah baptized at St. John's.
| | | | | | |
| --- | --- | --- | --- | --- | --- |
| Hannah NEWEL | Joseph & Hannah | HOGGINS | | bap Nov 25 1764 | |
Hannah was buried the following year:
| | |
| --- | --- |
| Hannah Daur of Joseph NOWEL & Hannah | July 28 1765 |
See my Ancestry tree for Joseph: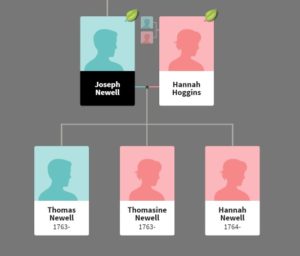 In 1767 there was a possible 2nd marriage for Joseph
| | | | | |
| --- | --- | --- | --- | --- |
| Sep 21 1767 | St. John's | Joseph ARVEL | Rebecca HEIZE | none given |
Some sources reference as Nowel e.g. Joseph Nowel Rebecca Heize 21 Sept 1767
In 1770 Joseph Nowell had a house on his land in St John's (from evidence given at Court Case in 1831).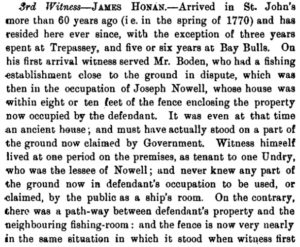 In 1781 Governor Richard Edward prepared legislation related to  altering the Roads in and about St. John's. This resulted in changes to several properties including:  Nowels flake, and Holdsworths upper Flake, over the path to be cut down twelve feet wide (a Flake is a platform used for drying fish). From the location near Holdsworth we can assume this was the property near Lady's Room referenced in the 1831 Court Case. Having a flake implies that Nowel was involved in the fishery. As part of the road improvements a Joseph Nowel (likely same person), in the Upper Division (street), was charged a rate (tax) to cover the cost of road improvements .
In 1820 Thomas Nowell, a descendant of Joseph, sells the land in St. John's to John Cuddily / Cuddihy (also from 1831 Court Case).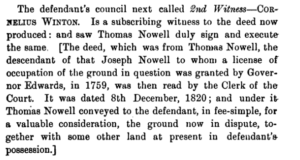 At this point I lost the trail of this family; however, there was another family with the Newell name (or a branch of the above) was living in St. John's in the late 1700s.
The 1794/95  census for "Quiddy Viddy" (just outside St. John's) recorded a "Nich. Newall" a fisherman who was married with four children (three boys and one girl) and one male servant. This Nicholas was living in a property owned by a "Mich. Little".
In 1803 a Nicholas Newel and his wife Frances had a son George baptized at the Congregation Church in St. John's.
| | | | | | |
| --- | --- | --- | --- | --- | --- |
| George NEWEL | Nicholas & Frances | | b Dec 20 1803 | St. Johns | bap Jan 15 1804 |
There are no other references to this couple in the Congregation Church records but in 1819 a Frances and George Newell witnessed a marriage in the Anglican Church.  This Ann (widow) was likely a daughter of Nicholas Newell who had earlier married a Brown.
| | | | | |
| --- | --- | --- | --- | --- |
| Nov 1 1819 | St. John's | Henry BELLAMY, bach, St Johns | Anne BROWN, widow, St Johns | Frances Newell, George Newell |
Nicholas was almost certainly the Nicholas Newell, St. John's Planter, who married Frances, the eldest daughter of the late Robert Mugford of Port de Grave, Planter deceased.  Robert Mugford's Will of 1772 left his land in Port de Grave to his wife Ann and then, after Ann's death, to his daughter Frances. Mugford died about 1794 and Ann, his widow died in 1813,  but she had leased the property for 31 years to John Walsh who assigned it to Pete MacPherson [Port de Grave Merchant 1817, poss from Bareneed in 1825 , links to Congregational Church and  related to William Freeman via his 1st & 2nd wives].   In 1817, Nicholas Newell, a St. John's planter, testified that he was married to Frances, the eldest daughter of Robert Mugford, a deceased Port de Grave planter, and that by Mugford's 1793 Will Frances  was the rightful owner of Mugford's property in Port de Grave.  Chief Justice Tucker returned the property to the Newells. From the above we can speculate that Nicholas and Frances may have been married in Port de Grave (or Harbour Grace) some time before 1794 (date of Census).
In 1836 a William Freeman applied to the courts for letters of administration of the estate of Frances Newell who had died two years earlier. This request was based on the sum of five pounds owing to Freeman from her estate which included property in Port de Grave.  The connection between William Freeman and the family of Nicholas and Francis Newell likely relates to the Newell property in Port de Grave (see my research on William Freeman):
To the Honourable the Chief Justice and the Assistant judges of the Supreme Court.
The petition of William Freeman of St. John's Carpenter humbly sheweth
that Frances Newell late of St. John's aforesaid widow died about two years hence, without having made and published any last will or Testament, and being possessed at the time of her death of a piece of ground with a house and improvements thereon situate at Port de Grave in the Northern District of the value of about one hundred pounds.
That the said intestate left her surviving four sons and three daughters, all of full age and residing within the Central District – That the estate of the said intestate is indebted to your petitioner in the sum of about five pounds, and in order to obtain payment of which your petitioner frequently applied to the said sons of the intestate and requested them to file for letters of administration of the estate of the said intestate, but that they have always declined and refused so to do.
That the names of the sons of the said intestate are severally, John – Robert – Nicholas and George, and the names of the said daughters are Ann – Margaret and Abigail, all of whom are married –
Your petitioner therefore humbly prays that your Lordships will be pleased to grant him letters of administration of the said estate, upon his ??? the necessary security, and as in duty bound he will ever pray &c.
Wm. Freeman
Sworn  at St. John's , tenth day of July 1836.
The William Freeman document provides a list of Nicholas' children as of 1836. Some other researchers have added an Elijah Newell to the list based on connections to the Pouch Cove Newells and assuming he died before 1836. My Ancestry tree for Nicholas Newell provides my best estimate of of his family.  While some researchers have speculated that Nicholas Newell was related to both the Newells of Pouch Cove and the Newells  of 'The Dock' I have not found any direct evidence for the latter connection.  Up until recently I did suspect a DNA connection through his daughter Margaret who married Richard Cross but after more in-depth research I now suspect that this connection comes from Grace Crummey from Western Bay who married John Minchin Collins, a Cross descendant, and ancestor of my DNA matches. One of my great grandmothers was Harriett Comby /Cumby and based on numerous DNA connections her ancestors were likely Crummeys from Western Bay.
Since we have a relatively complete list of Nicholas' children there is the possibility of matching them to Newells captured in various Directories for St. John's compiled in the second half of the 19th century. The first of these is Hutchinsons Directory for 1864/65 (see below):
Hutchinson's Directory  St. John's 1864 – 1865 
Neville, J.T., inspector public works & buildings
Neville, James, shoemaker
Neville, John, farmer
Neville, Peter, farmer
Newell, George, shipcarpenter
Note: I have included Neville since the names might be confused and there were no Noels listed for St. John's .
The George Newell, shipcarpenter might be Nicholas' son.
The next Directory was compiled in 1870/71 and it includes Pouch Cove:
McAlpine's ST JOHN'S DIRECTORY 1870/1871
| | | | |
| --- | --- | --- | --- |
| Neville | James | boot and shoemaker | 20 Princes |
| Neville | J T | supt of public building and architect | office Colonial building, h Rae island, Bay bull's rd |
| Newell | George | shipwright | 123 Princes |
| Newell | Isaac, sen | fisherman | Nunnery hill |
| Newell | Isaac, jun | fisherman | Nunnery hill |
| Newell | John | fisherman | Nunnery hill |
Pouch Cove
| | | |
| --- | --- | --- |
| Newell | James | Fisherman |
| Newell | John | Fisherman |
| Newell | Nicholas | Fisherman |
| Newell | Philip | Fisherman |
| Newell | Richard | Fisherman |
Combining these Directories with my Ancestry family tree for Nicholas and various church records compiled by Peter Noel suggest that Nicholas' sons John, Nicholas and Robert ( see St. John's marriage 1856) moved to Pouch Cove; his son George or his son George was likely the Shipwright living on Princess Street in St. John's. Analysis of my DNA matches suggest that I am not connected to the family of Nicholas or the Newells of Pouch Cove through the Newell line. As indicated earlier I did get some connections but I suspect that these are through my non Newell ancestors (e.g. Comby/Cumby/Crummey, Snelgrove, Andrews, Smith, Wells). Many of these families were from the Harbour Grace area and were also connected to the Noels of Harbour Grace. I would not rule out a connection between Nicholas and the Noels of Harbour Grace / Carbonear.  Some support for this comes from the religious leanings (Methodist) of many members of both families.
After accounting for Nicholas' family we are left with several other sets of Newells in St. John's.  One group was living on Nunnery Hill in St. John's in 1870 and included two Johns and an Isaac (see Isaac and John Newell of St. John's Ancestry tree).   This family was living on Nunnery Hill in 1870 and likely included a father and son, Isaac Sr and Jr  (since only adults were included in the Directories we can assume Isaac Sr was born before 1830). This family continued to live on Nunnery Hill into the 20th century and in 1914 a William Thomas Newell who joined the Newfoundland Regiment was living with his mother Emma at 14 Nunnery Hill (see Emma widow of Isaac living at same address in McAlpine's 1904 Directory).   This is not the William Thomas Newell born at Pouch Cove in 1888 since the parents are different.  The Johns in this family are more difficult to trace but possibly include the two Johns Newells living at  Kickham's Lane (likely near Nunnery Hill based on current Kickham Place) in 1885/86  (An Elijah Newell lived on the same street) and the John R  on Holloway Street (Formerly Nunnery Lane) in 1894. A William Newell was living on Nunnery Hill in 1935.
There were also several Newells living in the West End of downtown St. John's, near Joseph Newell's property, who may or may not be related to the Nunnery Hill Newells; these include: a John living at 10 Pleasant Street in 1894 and a John who died at Cabot Street 1913. The latter married Jane Summers (see tree for Isaac and John) and I do get a few DNA matches with connections to this John; however, the common DNA matches suggest that this may not be a Newell link.  One other St John's Newell of note is Hannah, widow of Philip, who was living at 48 Signal Hill Road in 1885 and 1890  and living at 26 Prospect Street in 1904 (likely with her son John).
I originally thought that Hannah's husband Philip might be Philip Newell son of James of 'The Dock', Bareneed. The Philip of Signal Hill Road died in 1882:
Royal Gazette   January 24, 1882 (Tuesday)
DIED. … On the 19th inst., Mr. Philip Newell, in the 58th year of his age. [born c. 1824]
Further research showed that this Philip was living on Signal Hill Road, St. John's as was his daughter who died in 1887.

The Times & General Commercial Gazette    May 18, 1887 (Wednesday)
Died, on the 9th inst., Bertha, fifth daughter of Hannah and the late Philip Newell, aged 16½ years. [born c 1870]
This Philip was married to Hannah Newell and had a son John, messenger. Hannah and her son John were living at 48 Signal Hill Road, St. John's in 1890. Further research indicated that a Philip Newell who married a Hannah was living in Pouch Cove in 1870.

Source: https://noelhistory.files.wordpress.com/2012/11/pouch-cove-parish-directories1.pdf
Unless Philip of 'The Dock' moved to Pouch Cove this rules out Philip of Signal Hill Road as a candidate for Philip son of James.
I have prepared a Google Map showing the location of the Newells I found in St. John's Directories.