William Turner is listed in the 1817 Census of Bareneed as having a wife and 5 children.

The Census also indicates that the merchant who supplied William was W. Graham (see discussion in History 1805-1818 section) and William's "Means of Providing" is listed as what I interpret as "Potatoes only" (see my discussion of Agriculture).

The property occupied by William Turner in 1817 was likely the same Plantation listed as belonged to Thomas Sullivan in the 1805 Plantation Book.

In 1805 the Sullivan property was located east of Philip Noel.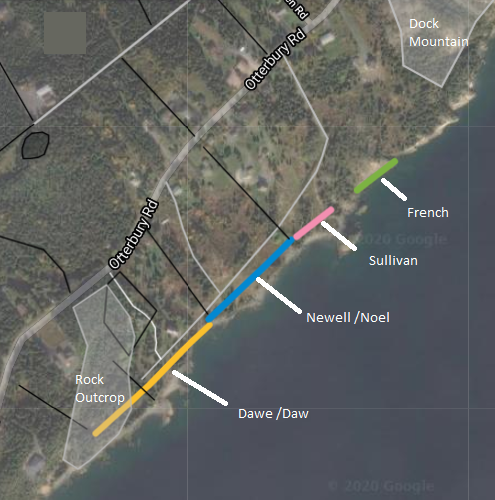 Unlike the Dawe and Noel Plantations described earlier which were dated as registered in 1785 and 1786 in the 1805 Plantation Book, this Sullivan Plantation was listed as registered in 1802.
There is very little information on this Thomas. There were other Sullivans who were planters in Carbonear, Harbour Grace, Bay Roberts and Harbour Main around this time so this Thomas might have been related to one of them. Most but not all of these were Roman Catholic. In 1784 there was a reference to a Thomas Sullivan who had dealings with Newman (merchant) Port de Grave.

In 1814 a Thomas Sullivan of Little St. Lawrence left clothing to wife of John Butler. This might be significant since in 1817 a Butler owned property near the Sullivan Grant (see #51 below).

Basically the last record to Thomas Sullivan in the Bareneed records was in the Plantation Book of 1805.
William Turner of Port de Grave was involved in at least two court cases between 1817 and 1818.


During the early 1800s a William Turner was master of several vessels sailing between Poole and Newfoundland and later between Teignmouth (Teign) and Newfoundland (see example below) but it is not clear if this was the William from Bareneed.

In 1829 the Wife of William Turner was buried at Bareneed.
| | | | |
| --- | --- | --- | --- |
| (BLANK) TURNER, wife of William TURNER, Dock, Bearneed. N.D. | | | Mar. 22, 1829 |
Burial wife of William Turner at Bareneed
On 14 December 1830 Richard Turner of Bareneed married Grace Daw of Bareneed. (One transcription gives the grooms names as Robert but the following official copy confirms that it was Richard).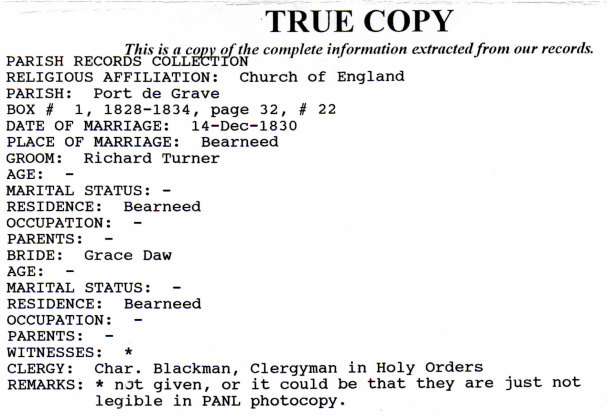 There was also a William Turner who Married a Mary Warford at Harbour Grace in January 1832 who might also be a son of William of Bareneed.
| | | | | | | | | | |
| --- | --- | --- | --- | --- | --- | --- | --- | --- | --- |
| 15 Jan 1832 | Harbour Grace | TURNER William | | Bachelor | | Harbour Grace | J. Burt | William Warford | |
| | | WARFORD Mary | | Spinster | | Harbour Grace | | John Parsons | |
Harbour Grace marriages
In 1834 a William Turner of The Dock (age 63 making his DOB c 1771) was buried at Bareneed.
| | | | | |
| --- | --- | --- | --- | --- |
| TURNER | William TURNER of the Dock. | | 63 years | Jan. 21, 1834 |
The 1835 Voters List for the Dock lists a Richard Turner.
Records for a Turner family from Australia suggest that a Henry Turner son of Richard Turner and Grace Daw moved to Australia c 1850. Myself and several other descendants of Newells from The Dock have 4th & 5th cousin DNA matches to several descendants of this family.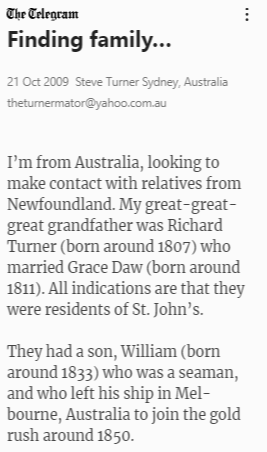 This is supported by the burial records for this William Turner.
Name:
Wm Turner
[William Turner]
Birth Year:
abt 1832
Age:
69
Death Place:
Alexandra, Victoria
Father's name:
Turner Richd
Mother's name:
Grace Daw
Registration Year:
1901
Registration Place:
Victoria
Ancestry.com. Australia, Death Index, 1787-1985
In 1839 Richard Turner of the Dock sold land to my great great grandfather John Newell (from my early notes related to research by Harold Newell). This might be the land east of the Newell Plantation occupied by William in 1817; however, I suspect that Richard/Robert Turner may have acquired part of the Dawe property (land west of Newells see Isaac Daw above) through his marriage to Grace Dawe and subsequently sold it to my great great grandfather John Newell (who owned the adjoining property to the east).