Wars, Depression & Confederation
© 2020 (Do not copy or redistribute this document without permission)
The 20th Century
In a Census conducted in 1901, Bareneed had a population of 410 and the Dock had 132 giving a combined population of 542 which was a continuation of a slow decline which had started in the 1880s.
Fishery
In 1901 the Labrador fishery (see preceding section) was still the primary source of employment for Bareneed and the Dock. The Census of 1901 recorded that there were 130 men, 31 women and 9 children employed in the Labrador fishery. The total population of Bareneed and the Dock was 542. Bareneed alone had 100 men employed in the Labrador fishery which was an increase from 82 in 1884 despite the fact that the population was higher in 1884.
The Census of 1901 recorded that there were three vessels from Bareneed engaged in the Labrador fishery (none from the Dock) with a total tonnage of 124. Two of these were small with a combined tonnage of 49 and the third was 75 Tons. This was the only vessel over 60 Tons on the Port de Grave Peninsula.
Ten years later in the Census of 1911 there were no schooners from Bareneed engaged in the Labrador fishery. This may seem surprising since there were still 89 men and 24 women from Bareneed engaged in the Labrador fishery. This was possible since by the end of the nineteenth century there was a regular coastal boat service operated and subsidized by the Newfoundland government that carried fishermen to Labrador each summer. Vessels like the S.S. Home, S.S. Kyle and other coastal boats ferried fishermen and their families back and forth from St. John's, Bay Roberts, Harbour Grace and Carbonear to Indian Harbour, Rigolet, Battle Harbour and other ports in Labrador. In those days [1930s] 20,000 men fished for cod along Labrador and the Kyle transported them all. As a boy c 1960 I can remember the Kyle docked at Bay Roberts loading fishermen and their motor boats for Labrador.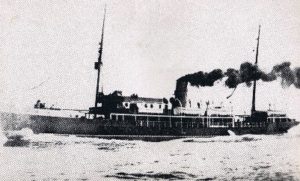 Once the fishermen had arrived at their Rooms in Labrador they would catch and process the cod for export. As part of the rush to markets, exporters chartered steamers to go to the Labrador coast to ship direct from the coast to European markets with exporters competing with each other to get there first. This fish came primarily from Conception Bay fishermen who travelled each summer to Labrador as passengers on other vessels and who fished from "rooms" they owned on the Labrador coast. For exporters and their agent buyers, it was cheaper to buy fish from Labrador and ship by steamer from there because it was closer to European markets.23 The markets for this fish were Italy, Greece, Spain, and Portugal. ( Melvin Baker, Challenging the "Merchants' Domain": William Coaker and the Price of Fish, 1908–1919)
The total Labrador catch for 1900 was 4413 quintals for Bareneed and 747 for the Dock (in 1907 Conception Bay buyers were offering $3.50 per quintal) .
My immediate family's connection to the Labrador fishery ended after my great grandfather (John Newell) died in 1908. At that time my grandfather Albert, who was living in Cape Breton, sold the family fishing Rooms at Rovers Island in Indian Tickle, Labrador (for more information see Labrador Connection page under Newell family section of this web Site). Other families from Bareneed including the Richards and Hennebury had connections to Indian Tickle. For info on life at a Labrador Fishing Room see Our Life on Lear's Room, Labrador
In the midst of a very difficult period for the fishermen and fisherwomen of Bareneed there was some good news. In late November, 29, 1915 the schooner, 'Swallow' sailing out of Bay Robert's, was assumed lost. The crew of 16 included "Beatrice Batten, Chas Batten and Henry Batten of Bareneed. However, on December 1, 1915, the Governor received a telegram informing him that "The crew and passengers of The Swallow were saved and landed at Stornoway (Scotland) by the Norwegian Steamer Hercules. The 'Swallow' had been battered by the storm of the night of November 16. They were adrift for a number of days before they were spotted by a Norwegian Steamer. The crew abandoned, the 'Swallow' and transferred to the Norwegian Steamer Hercules. The Norwegian vessel later landed the crew at Stornoway, Scotland (Source: Archival Moments Web site).
Catches started to decrease in the 1920s but this was initially offset by increased prices; however, by the 1930s a combination of decreasing catches and depressed prices was making the Labrador fishery less viable. By 1950 the market for salt fish was "drying up" and the outlook for the traditional Labrador fishery was bleak (see below).
Sealing
Before the start of the 20th Century the Seal Fishery had transitioned from being prosecuted by small (100 ton) sailing vessels operating out of ports, like Bareneed to an industry based on steam powered steel ships owned by large Mercantile Establishments in St. John's, Harbour Grace and Brigus. Men from Bareneed continued to go to the seal fishery each spring but only as crew members for these large sealing ships. This employment helped to pay the bills. After the introduction of the steamer, however, the profits to be made from the export of these commodities were controlled by a few St. John's firms with home offices in the "Old Country". Furthermore, as the number of sealers declined and the total population increased, the seal fishery which had been such a significant factor in the growth of the island throughout the nineteenth century gradually diminished in importance (Sanger, 1973).
The decoupling of the Seal Fishery from the Schooner fleet had a secondary effect on the Labrador Cod fishery. Prior to this the cost of outfitting a schooner was partially justified by its use in the seal fishery. After this the cost of outfitting the schooner fell on the fishery alone. This had no impact on individual fishermen since they were now paid by the large merchants who owned the Sealing Ships but the schooner owners now had to finance the cost of the voyage to Labrador based solely on income from the Labrador fishery.
Despite the larger and more powerful ships the landings of seals were on a downward trend during the first half of the 20th century (see G.A. Rose, 2003, Fig 5). This likely reflected the depletion of seal stocks due to over exploitation. The start of WWII marked the end of the Seal Fishery as a major factor in the Newfoundland economy.
Even with these larger steel ships sealing continued to be a dangerous occupation and there were several major sealing disasters in the first half of the 20th century. The largest of these was what is now known as the 1914 Sealing Disaster. This refers to two separate tragedies that spring. A raging blizzard was the catalyst that led the SS Southern Cross and SS Newfoundland to suffer a combined loss of 251 men. To the best of my knowledge no men from Bareneed were lost in this or other 20th century sealing disasters.
The book The Last of the Ice Hunters An oral history of the Newfoundland seal hunt (edited by Shannon Ryan, 2014) includes interviews (conducted in 1987) with several residents of Bareneed who were involved in the Seal Hunt. These were:
Clarence Bartlett (b. 1909)
Roland Batten (b.1916)
Jack Allen Beecham (b. 1903)
Robert Boone (b. 1911)
William Boone (b. 1909)
The following are some of their comments:
Clarence Bartlett of Bareneed (pp. 130-135) says he got his first berth in 1926, celebrating his 17th birthday at the ice.
Roland Batten of Bareneed (pp. 135-137) was at the ice (sealing) four seasons. The first year I think, 1935, I was on the Imogene. Billy Beecham [also from Bareneed], Bill Christopher and me, we slept in one Bunk.
Jack Allen Beecham (pp.137-138) I was on the dole in 1930 when I got a berth to the ice on the Viking with Captain Badcock. That was a good year [$43.24 per man]. Captain Badcock gave me a berth the following year on the Ranger.
William Boone of Bareneed (p. 298) was bridgemaster (see below) for Captain Abram Kean for six springs.
My father (John Robert) told me the story of his only sealing voyage. In 1930, the year before the Viking Disaster (see below),he went to the ice in the Viking (the same year as Jack Allen Beecham from Bareneed, see above). He never went into detail about his experience but he took other directions after this. When the ship returned home that spring he went to Toronto looking for carpentry work with my Uncle Ted (his older brother). This period was near the peak of the Global Depression of the 1930s so Canada was restricting immigration from Newfoundland but they got in since they were born in Cape Breton, Nova Scotia. Uncle Ted became established as a carpenter in Toronto and remained there; however, my father returned to Newfoundland.
The Viking Disaster
On the night of Sunday, March the 15th 1931 a serious explosion occurred on board the sealing steamer "Viking" which was then in the ice about 9 miles from Horse Islands, White Bay. The men in the cabin, galley, engine-room, and on the bridge were all either killed or badly injured whilst those comprising the majority of the crew whose quarters were forward were able to get out on to the ice. Of the 153 men carried in "Viking" 26 lost their lives at the time of the disaster and one died in "Sagona" on the way back to port. Five of the crew were from Bareneed, all survived.
Harold Batten (see below) Bareneed Sealer
Wm. R. Boone Bareneed Sealer
Isaac Efford Bareneed Sealer
Walter Batten Bareneed Sealer
Voyages to the Arctic with Captain Bob Bartlett
In addition to sealing voyages several men from Bareneed including William Boone, George Richards and Harold Batten (see crew Viking 1931 above) sailed to the Arctic as crew with Captain Bob Bartlett on the schooner Morrissey.
For twenty summers the Morrissey, sailing out of New York City, carried expeditions to the frozen north, sometimes sailing past eighty degrees north latitude (within 600 miles of the north pole). "Captain Bob" took both students and scientists with him on his trips under the auspices of the American Museum of Natural History, the Museum of the American Indian, the National Geographic Society, the Smithsonian Institution, Explorers Club of New York and others. http://www.archive.ernestina.org/history/1931.html
William Boone of Bareneed sailed on the 1930 voyage of the Morrissey (see crew list below). Before this voyage he was on the Sealer Viking.
George Richards and Harold Batten are on the Crew list for a voyage of the Morrissey in 1931 (see below). Both had served on sealing vessels that spring; Harold on the Viking (see above) and George on the Ranger.
George and Harold are also on the Crew list for a voyage to Greenland in 1932. On this voyage they built a memorial to Robert Peary at Cape York.
George and Harold are in a photo taken at Cape York, in 1932 (see below).
George and Harold were also on the 1933 Bartlett-Norcross Expedition (see below). Captain Bob's nephew J. Angel was on several of these voyages during the 1930s. In the 1980s I had an opportunity to spend several afternoons discussing these voyages with Jack Angel (in 1930s he was a university student who joined his uncle on summer voyages). He fondly remembered George and Walter.
George and Harold were back again in 1936 (see below):
In 1940 the Morrissey set a record for furthest north at 80 degrees 22 minutes North Latitude, only 578 nautical miles from the North Pole. Harold Batten was not on that voyage but George Richards was Boatswain (see below).
The Charlie Batten on this voyage was also from Bareneed (see ref to his wife in crew list for 1938 voyage of Morrissey).
George Richards died a few years later and is buried in Bareneed: George RICHARDS / a noble seaman, / a gentleman unafraid / who lived up to the best traditions of the sea / Born Dec 31st 1899 / Died April 15th 1942 ( St. Mark's Anglican Cemetery, Bareneed)
Growing up in Bareneed, I would visit Harold Battens house (he was father of my friend) and as a small boy was always confused by the photo on the wall of men with guns standing around a hairy cow [Muskox]! This was a photo of Harold with various rich Americans who Captain Bob took on hunting expeditions to pay for some of his voyages.
I suspect that there were other men from Bareneed who sailed with Captain Bob but I can't find evidence. These include Sam Batten and John Bartlett (of Bareneed) who was a distant relative of Captain Bob.
Snapshot 1911
The first Newfoundland Census of the 20th Century was conducted in 1911 and this is the first Newfoundland Census where we have easy access to family level information. The combined population continued to decrease and was now 517; however, there was a slight increase in the population of the Dock (354 Bareneed + 162 the Dock) .
The following Table shows the breakdown by Occupation for Bareneed and the Dock in the 1911 Census. The data is separated by sex. Occupation is given for most male adults but is almost never given for women classified as Wife; the one exception was the Post Mistress. However, a surprising (for the time) number of unmarried adult women (daughters, sisters) are classified as having occupations. Domestic Servant and Housework are the most common for women; however, 5 women were classified as teachers. Given the size of the population in Bareneed many of these were likely working elsewhere but home for the summer holidays. For males 78% were classified as working in the Labrador fishery and 13 % were classified as Fishermen (Inshore). Other local occupations for men were Storekeeper, Farmer and Blacksmith; however, the 2 Coal Miners were almost certainly working in the Cape Breton, Coal Mines and the 2 Carpenters were possibly working elsewhere (see Mining below). The Coal Miners recorded had either just returned from Cape Breton or were home for the summer to help with the fishery.
| | | | | | | |
| --- | --- | --- | --- | --- | --- | --- |
| | Bareneed | Dock | Bareneed | Dock | Total | Total |
| Occupation | Male | Female | Male | Female | Male | Female |
| Labrador Cod Fishery | 90 | | 4 | | 94 | |
| Fisherman | 7 | | 9 | | 16 | |
| Teacher M/F | 3 | 5 | | | 3 | 5 |
| Domestic Servant | | 10 | | 1 | | 11 |
| Housework | | 4 | | | | 4 |
| Post Mistress | | 1 | | | | 1 |
| Blacksmith | 1 | | | | 1 | |
| Farmer | 1 | | | | 1 | |
| Carpenter | 2 | | | | 2 | |
| Sales Woman | | 1 | | | | 1 |
| Storekeeper | 1 | | | | 1 | |
| Coal Miner | 2 | | | | 2 | |
| Totals | 107 | 21 | 13 | 1 | 120 | 22 |
By contrast, in the 1891 Census 98% of Males were employed in the fishery (only exceptions were a teacher, 2 shopkeepers and one unclassified) and the only occupation for women was curing fish.
Out Migration
In the 1890s many men from Bareneed and the Dock left to work in the Coal Mines of Cape Breton N.S. or the Iron Mines on Bell Island, Conception Bay. Most of these, like my Grandfather Albert Newell, were living away at the time the census was compiled and were not counter.
In 1898 my grandfather Albert worked as a ship's carpenter on a ship called the Cap Breton out of Montreal. In December, 1899 he married Clara Andrews of Port-de-Grave and moved to Sydney Mines, Cape Breton, Nova Scotia
Sydney Mines, Cape Breton, N.S. http://ltbksmns.blogspot.ca/
Albert did well in Cape Breton, becoming a foreman in the mines and building and renting several houses which he built. In 1912 Clara traveled to Bareneed to purchase a house from the estate of Isaac Richards , a local merchant and the family moved back to Bareneed in 1916. After moving to Bareneed Albert bought two schooners used for importing coal from Cape Breton, NS. One schooner, the F. B. Wade later sank at its moorings in a storm and the other was sold to pay off debts.
In 1921, 10.9% of the population of Sydney, NS was born in Newfoundland. The following Table shows the increasing number of Newfoundland born residents residing in Cape Breton between 1891 and 1921 (source: Crawley, 1988 ):
| | | | |
| --- | --- | --- | --- |
| 1891 | 1901 | 1911 | 1921 |
| 900 | 3671 | 5464 | 7460 |
The working conditions for most workers at the steel mill or coal mines were demanding and dangerous. They worked eleven to thirteen hours per day, at least six and often seven days per week. Immigrant laborers were generally given the most menial and dangerous of work, and Newfoundlanders were singled out by the North Sydney Herald for enduring the most accidents: Fatal accidents have been too numerous at the works and collieries this summer [1900] , and in most cases the victims were Newfoundlanders. Almost every week a coffin is forwarded to some point of Newfoundland by the "Bruce" containing the remains of some unfortunate laborer whose life was cut short in some terrible manner
A.D. McLennan of Whitney Pier offered his own explanation of the high accident rate among Newfoundlanders: If a foreman tells a Cape Bretoner to go to a dangerous work place he will not go, come what may. If a Newfoundlander is asked to go to work in dangerous places he will go whether he sees the danger or not, and in nine cases out of ten the Newfoundlander meets death… (Source Crawley, 1988)
Among the miners who died was John C. Bartlett of Bareneed, who was killed at Sydney Mines, NS in an accident from fall of coal on June 17 1908. This John was the father of John R. Bartlett (b 1898) of Bareneed (see next section).
Another major source of employment for residents of Bareneed during this period were the Iron Ore Mines on Bell Island in Conception Bay. Commercial mining began on Bell island in the summer of 1895 and by 1905 the mines were extending under the sea floor of Conception Bay and by 1951, miners were working three miles out under the sea . Until the 1950s, Bell Island was the sole source of iron for the Sydney [Cape Breton, N.S.] steel mills (Source: Heritage Newfoundland and Labrador Web Site).
The following Table list individuals born at Bareneed who were living on Bell Island in 1921 (Source: 1921 Census).
| | | | | | |
| --- | --- | --- | --- | --- | --- |
| Surname | Given Name | Relation | Status | Born Yr | Where Born |
| DALTON | Earnest | Boarder | Single | 1901 | Bareneed |
| BARTLETT | John | Head | Married | 1889 | Bareneed |
| MORGAN | Susy | Wife | Married | 1894 | Bareneed |
| NEWELL | Edward | Head | Married | 1874 | Bareneed [Dock] |
| NEWELL | May | Wife | Married | 1880 | Bareneed |
| NEWELL | Wm. Ed. | Son | Single | 1900 | Bareneed |
| NEWELL | Emily | Daughter | Single | 1904 | Bareneed |
| NEWELL | Violet | Daughter | Single | 1908 | Bareneed |
| NEWELL | Harry | Son | Single | 1916 | Bareneed |
| MUGFORD | Thomas | Head | Married | 1900 | Bareneed |
| MUGFORD | Emma | Wife | Married | 1898 | Bareneed |
| FILLIER | Elizabeth | Wife | Married | 1882 | Bareneed |
| FRENCH | Lorenzo | Head | Married | 1869 | Bareneed |
WWI
Edwardian era began after Queen Victoria's death in 1901. During the Edwardian Era the people of Newfoundland saw themselves as part of the British Empire and considered it their patriotic duty to defend the Empire.
In 1900 the Newfoundland Government formed the Newfoundland Royal Naval Reserve to train Newfoundlanders for service in the Royal Navy. In 1902 the H.M.S. Calypso was purchased by the Newfoundland Government to train and instruct members of the Naval Reserve. In February 1916 it was renamed the HMS Briton to free the name Calypso for a new ship being built. The newly named Briton continued training men until the end of the World War I.
After the start of the War these Naval Reservist were some of the first to go to War. Among these were a significant number from Bareneed:
The Guardian newspaper – Bay Roberts Friday, November 20, 1914 Bareneed Notes: List of Naval Reserves gone to the front are:
William BARTLETT [joined Nfld. Regiment, see below]
Robert GARDINER, son of Wm. and Mary Ann Gardiner [Navy see below]
Samuel PETTEN, son of Jacob and the late Grace Petten [Navy see below]
Isaac RICHARDS, son of the late Wm. and Mary Richards [Navy see below]
Albert BARTLETT, son of John and Elizabeth Ann Bartlett [Navy see below]
Chesley BATTEN, son of Thomas George and the late Thryphena Batten [Navy Born Bareneed, address listed as Gloucester, MA] .
Not all volunteers got to serve: MAX BARTLETT, son of Mr. Sam Bartlett, of Port de Grave, also volunteered and had all but got past the Examiners when he unfortunately opened his mouth and disclosed a set of dentist's teeth. Max did his duty though he had to remain behind. Guardian newspaper – Bay Roberts, Dec. 18, 1914
The following sons of Bareneed served in the Navy during WWI:
| | | |
| --- | --- | --- |
| Service # | Name | Address Given |
| 2012X | Bartlett, John B. | Bareneed |
| 739X | Bartlett, William H. | Bareneed |
| 628X | Bartlett, Albert | PDG, born Bareneed |
| 626X | Batten, Chesley | Gloucester, MA, born Bareneed |
| 1992X | Batten, Cyril | Detroit, born Bareneed (see below) |
| 1570X | Batten, Joseph | Bareneed |
| 749X | Bradbury, Joseph | Bareneed |
| 535X | Gardener, Robert | St. John's, born Bareneed |
| 916X | Petten, Samuel | Bareneed |
| 627X | Richards, Isaac | Bareneed |
Cyril Batten, born Bareneed, son of Robert T. Batten served in the Royal Navy (see following article published in Western Star Newspaper (Corner Brook, N.L.), 1949-07-22. Cyril moved to Detroit after the War and became a US citizen.
The following served in the Newfoundland Regiment, five of which died while in service.
| | | | | | |
| --- | --- | --- | --- | --- | --- |
| Name | Community | Age at Enlistment | Occupation | Active Date | Fatality |
| NEWELL, Clement Leslie | Dock, Bareneed | 23 | Clerk | 1917 | Yes |
| NEWELL, Kenneth S. | Bareneed | 21 | School teacher | 1915 | Yes |
| NEWELL, Victor Perrin | Dock, Bareneed, | 19 | Munition worker | 1917 | Yes |
| SEALEY, Frederick | Dock, Bareneed, | 19 | Machinist | 1916 | Yes |
| STEVENS, Charles | Bareneed, | 18 | Fisherman | 1916 | Yes |
| BATTEN, Harold | Bareneed | 18 | Student | 1917 | No |
| BEECHAM, Joseph | Bareneed, | 18 | Fisherman | 1918 | No |
| GREENLAND, Hubert | Bareneed, | 19 | Teacher | 1916 | No |
| NEWELL, Harry | Bareneed | 18 | Fisherman | 1918 | No |
| NEWELL, Richard Lewis | Bareneed | 18 | Farmer | 1915 | No |
| RICHARDS, Albert | Bareneed, | 25 | Carpenter | 1918 | No |
| RICHARDS, John Edwin | Bareneed, | 19 | Fisherman | 1914 | No |
| BATTEN, Allan S | Bareneed, (St. John's) | 19 | | 1915 | No |
Note #1 The Newell family section of this Web Site has more information on the Newells from the Dock who served and died in WWI.
Note #2 Allen Batten is listed as St. John's in the Rooms database which is where he was living with his parents in 1915 but he was born in Bareneed the son of Abraham Batten of Bareneed & Harriet Furneaux of PDG. He is buried in St. Mark's Cemetery, Bareneed: Allan BATTEN / Private / Royal Nfld. Regt. / 21 July 1959 / Age 64.
Even among those who survived there were scars. Harold Batten was wounded in the right arm but recovered without a disability. John Richards lost use of his right hand due to injuries at the battle of Beaumont–Hamel. When offered support finding employment with his disability after his discharge he chose support to further his education so he could become a teacher (see below). He later became a school principal in St. John's.
The following served in the Canadian Army: CURLEW, GEORGE Private, 35th Battalion, The York Rangers, 1st American Regiment Number: 404313 Volunteered April 12, 1915, Toronto Letter Carrier, Toronto; Born Sept. 3, 1886 at Bareneed Dock, Newfoundland (Source: CANADA POST HERITAGE).
The following sons of Azariah and Julia Stevens of Bareneed served in the Canadian Army; both died in France. Ballington was recorded as born in New Glasgow, N.S. where his father was working as a Coal Miner and Maxwell was recorded as born in St. John's.
Ballington Stevens: Word was received on Saturday that Pte. BALLINGTON STEVENS, of the Canadian Regt., was killed somewhere in France sometime ago. Pte. Stevens was the son of Julia and the late Azariah Stevens, formerly of Bareneed, but for a number of years residing in New Glasgow, N.S [Coal Miner]. Another brother, Maxwell, [Also died in France 1918] is also with the Canadians at the Front. Bay Roberts Guardian Newspaper, Friday, July 27, 1917.
Likewise the following may have been born in Bareneed:
The Great Depression
The Great Depression, beginning in 1929, struck Newfoundland hard. Total exports fell in value from $40 million in 1930 to $23 million in 1933. The value of fishery exports alone fell from $16 million in 1928 to $6.5 million in 1932. The number of people receiving the dole, or able-bodied relief, of six cents a day rose sharply. During the winter of 1932-33, one-quarter of the population depended on the government for the necessities of tea, flour, pork and molasses.
In 1933, during the Great Depression, the Newfoundland legislature voted itself temporarily out of existence, ending 79 years of responsible government. The following year, Newfoundland accepted a constitution similar to those in place in the directly-controlled Crown colonies. Under this constitutional arrangement, there was a governor and six commissioners, all appointed by the United Kingdom. By law, three of the commissioners were British and three were Newfoundlanders.
Census 1935
A Census conducted in 1935 demonstrates that Bareneed had changed significantly since 1911. In the intervening 24 years the population decreased from 517 to 341, a decrease of 34%. The statistics on occupation (see below) also show also show significant changes with a 59.6% decrease in the number of men employed in the Labrador fishery and a 31.3 % decrease in men working in the Inshore fishery. These decreases are even more significant since the working male population only decreased by 7.5%. The overall population was decreasing at a faster rate due to an aging population with a lower birth rate and fewer children..
| | | | | | | |
| --- | --- | --- | --- | --- | --- | --- |
| | Bareneed | Dock | Bareneed | Dock | Total | Total |
| Occupation | Male | Female | Male | Female | Male | Female |
| Labrador Cod Fishery | 27 | | 11 | | 38 | |
| Fisherman | 9 | | 2 | | 11 | |
| Seaman | 4 | | | | 4 | |
| Sailor, Coasting | 2 | | | | 2 | |
| Teacher M/F | 4 | 2 | 7 | 1 | 11 | 3 |
| Domestic Servant | | 2 | | | | 2 |
| Domestic Helper | | 2 | | 4 | | 6 |
| Farmer | 5 | | 2 | | 7 | |
| Farm Worker | 26 | | 4 | | 30 | |
| Carpenter | | | 3 | | 3 | |
| Sales Woman | | 1 | | | | 1 |
| Sales Man | | | 1 | | 1 | |
| Retail Merchant | | | 2 | | 2 | |
| Machinist | | | 2 | | 2 | |
| Totals | 77 | 7 | 34 | 5 | 111 | 12 |
| Income-gov't Seniors | 9 | 5 | | | 9 | 5 |
Economic factors caused by the Global Depression combined with decreasing fish stocks were likely driving the decrease in the fishery. The men of Bareneed adjusted by moving into farming as a fallback. This increase is partially for subsistence but was also likely driven by agricultural programs sponsored by the Commission of Government.
There was also an increases in men employed as teachers, seamen / sailors, carpenters, and machinist. During this period the number of male teachers increased by 267%. Bareneed could not support this number of teachers so they were likely working elsewhere and were at home on summer break.
The Depression had a more negative impact on the employment prospects of women. The only group to increase was Domestic Helper but this was described as living at home helping to look after the family. There was one other significant change since 1911 which was a new category called "Income-gov't". The people receiving this income were all over 65 so it was support for seniors. In 1911 Newfoundland established the first state-operated old age pension scheme in Canada, more than two decades before such a program was adopted in any of the Maritime Provinces (Snell, Acadiensis 23, 1, 1993).
Based on the statistics and information from my father I think that Bareneed fared better than many other areas of Newfoundland. There was some potential for agriculture in Bareneed and the level of education and skill sets allowed people to find employment outside the fishery.
WWII Navy
When WWII broke out men from Bareneed were among the first to volunteer; however, the total recruitment from Bareneed was less than in WWI. There were several reasons for this including :
the population of young men in Bareneed was lower;
the image of War had changed after the slaughter of WWI;
the eagerness to volunteer for Britain was reduced.
The First Naval Draft November 27, 1939
BOONE, Isaac Bareneed, C.B.
RICHARDS, Herman Bareneed, C.B.
John Edwin Richards (1922 – 2013) Veteran WWII Royal Navy
Harvey Richards (see below) served in the Royal Navy.
WWII Merchant Marine
William Ernest BOONE / Merchant Navy WW2 / 1909-1991 / St. Mark's Anglican Cemetery Bareneed
WWII Army
The Government of Newfoundland made a decision not to raise an Infantry Regiment as they did in WWI but instead raised two Newfoundland Artillery Regiments. These Regiments served in North Africa and Europe. Records for WWII are not yet in the public domain so it is difficult to identify men from Bareneed who served in these Regiments but in researching my Newell relatives I did find a press clipping from a Canadian War Correspondent reporting on a British Artillery Regiment in Normandy as part of D-Day. He describes the Newfoundlanders serving with the Regiment including Harvey Newell from Bell Island. Harvey was a Newell from the Dock (b 1916) who moved to Bell Island to work in the Iron Mines.
I would appreciate any information on other men or women from Bareneed who served in WWII.
WWII Airforce
Victor Raymond French born 1918 the son of William Thomas French of The Dock , KIA over Germany 10 SEPT 1942. Sergeant 405 (R.C.A.F.) Sqdn, Royal Air Force Volunteer Reserve. Served as wireless operator/air gunner. Service #798590.
The American Bases
The start of WWII brought a measure of improvement to the Newfoundland economy. Under its Leased Bases Agreement with Britain, the United States had obtained permission in 1941 to establish military bases in Newfoundland in exchange for 50 of its aging destroyers. The first American troops arrived at St. John's in January 1941. In the months following, Newfoundland and Labrador became one of the most highly militarized places in North America as the United States spent more than $100 million to build military bases in St. John's, Argentia, and Stephenville (http://www.heritage.nf.ca/articles/politics/american-presence-newfoundland-labrador.php).  In 1940 a airfield and Canadian base (for RAF ferry command) was established at Gander which employed more than 1500 civilians and in 1941 a Canadian base was opened in Goose Bay. The construction of these bases created a demand for skilled carpenters (see below).
My sister Shirley indicates that our father was working as a carpenter at the US Air Base near St. John's when he married and later he worked at the base in Stephenville and was working at the base in Gander when I was born.
Confederation
The Newfoundland economy improved after the WWII as Newfoundlands strategic position in the North Atlantic resulted in continued Cold War spending on bases by both the American and Canadian Governments. This upturn in the economy again opened the door for either a return to Responsible Government or joining either Canada or the United States. Making this decision required two referendums in 1948.
Conception Bay tended to lean towards a return to Responsible Government so Districts like Port de Grave (Bareneed in this District) became hotly contested.
My father John Robert was a big supporter of Smallwood and Confederation during the campaign and I remember Smallwood stopping at our house when he visited Port de Grave in the late 1950s and 1960s. However, there was one secret that my father kept until late in his life. In the Poll Booth he had second thoughts worrying about the impact of Canadian imports on a chicken farm he just started so he voted against Confederation. This caused a bit of confusion when the Poll results for Bareneed were released since everyone knew every persons leanings and the expected result but the numbers did not match the expected outcome.
Voting (%): Second Newfoundland Referendum 1948
| | | |
| --- | --- | --- |
| District | Responsible Government | Confederation |
| Port de Grave District | 50.965% | 49.04% |
| All Nfld | 47.7% | 52.3% |
On March 31, 1949, Newfoundland officially became part of Canada, and on the following day, Joey Smallwood was sworn in as the first premier.
Continued in History 1949-1969