Introduction
Like most families in Conception Bay, the Newells of 'The Dock', Bareneed were involved in the Labrador fishery.  This fishery developed in the early 19th century when overfishing started to deplete the inshore cod stocks along the Newfoundland coast.  Virgin cod stocks off Labrador encouraged fishermen to venture north each summer in search of better catches. This fishery was a mirror image of the migratory fishery that first brought fishermen from Europe to Newfoundland. Each spring fishermen from Newfoundland would follow the retreating ice edge north, then return home at the end of summer. The fishermen who ventured north were classified as either floaters or stationers; the latter returned to the same location each summer and had fixed 'rooms' where they processed their fish while floaters did not have fixed rooms and generally salted the fish on the boat and brought it home 'green' for processing (drying)  in Newfoundland.  Since floaters did not have fixed rooms they were generally more mobile which later became an advantage when cod stocks were depleted in southern Labrador.
Rovers Island, Indian Tickle.
My branch of the Newells of 'The Dock' were stationers since they had fixed rooms in Labrador which were at Rover Island (53 33'N, 55 59'W) near Indian Tickle (I am not sure if this applied to all Newells in "The Dock").  Indian Tickle is a narrow channel between Indian Island and the mainland, on the south coast of Labrador (see Map).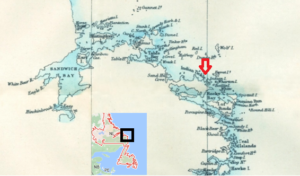 Map showing Indian Tickle, Labrador from Chimmo 1867
Small boats travelling north along the Labrador Coast would take the more sheltered passage through Indian Tickle to avoid the many small islands further offshore.  The Newfoundland and Labrador Pilot of 1887 describes it as follows:
INDIAN TICKLE is formed by Indian island on the north east and Musgrave land on the south west The anchorage in a bay on the west side of Indian island is in 4 fathoms sand It is safe for shipping in ordinary summer weather and convenient for fishing vessels but the holding ground is bad and a heavy swell rolls in after easterly winds. In the harbour rocky ground extends some distance from Terra Nova Point leaving only a narrow channel with 3 fathoms water between it and the bank off Rover island on the Musgrave shore and caution should be used in passing through it . Breakers extend nearly 2 cables from the north west point of Indian island. Warren Cove at the north end of Indian island is well sheltered for fishing boats and two or three small islands in the tickle afford excellent places for fishing stages and curing fish being protected from all winds and sea.
The following drawing shows Indian Tickle c 1885; the buildings in the background would be some of the Rooms.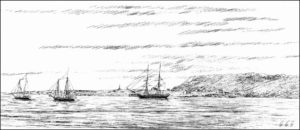 Drawing of Indian Tickle by George E. Gladwin
In the early 1770s George Cartwright recorded several passages through Indian Tickle, while travelling between the south coast of Labrador and Sandwich Bay, but did not note any settlements there.
https://books.google.ca/books?id=NPhfAAAAcAAJ
Rovers Island, where the Newell Rooms were situated, is a small (aprox 500' long) low rocky island on the south east side of the Tickle (see map below).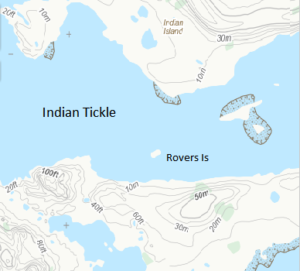 Rovers Island, Indian Tickle
There are only a hand-full of references to Rovers Island in the literature with the earliest being a record of a ship being wrecked there in 1838:
tremendous hurricane was experienced on the coast of Labrador from 7th to ult The Avalon, Mcally, [the captain also cited as Meally] of St. John's, was totally wrecked at Rover's Island.
22 October 1838 – Bell's Weekly Messenger – London, London, England
This does suggest that it was a recognized landmark at a relatively early date.
My father (John Robert Andrews Newell) was the source for my initial information on the Newells' Rooms at Rovers Island. In the 1970s he stated that after my great grandfather (John Newell) died in 1908, my grandfather Albert, who was living in Cape Breton, sold the Rovers Island Rooms.  However, there was an even more interesting side story which came to light after meeting Jane Reed (Alberts niece). Jane's mother and her sisters had moved to New England (Salem) before John died and after his death they felt that Albert had short changed them on the proceeds from Rovers Island. As a result there was no contact between them and the Newfoundland Newells until the 1970s.
There is no family history on when the Newells first started fishing at Rovers Island; however, there is some evidence for another Bareneed family that also fished at Indian Tickle. The Rev. Cannon John Thomas Richards OBE was born at Bareneed in 1875, he was a friend of my Grandfather and in  was a minister on the south coast of Labrador. His biography includes various reminisces of his early life including: that he first went to Indian Tickle as a child and that both his father and grandfather had fished at Indian Tickle (Sealskin Boots and a Printing Press, Irving Letto, 2012). This puts this Bareneed family at Indian Tickle in the early 19th century.
There are several pieces of indirect evidence that may connect the Newells with Indian Tickle.
In 1867,   Mary Ann, the first wife of  Richard Newell (my great grandfather's brother), drowned (date recorded as October 22 and no location given). The following suggest that she might have drowned at Indian Tickle, Labrador (the date differs somewhat but that could reflect a delay in the news reaching Bareneed, i.e. the date reflects when it was written in church records):
Agent St. John's, Newfoundland, report that the 9th of last month [9th October] terrible storm with heavy fall of snow swept the coast Labrador, destroying nearly all the vessels lying in the different harbours. Upwards of 37  lives were lost among the vessels that foundered 
05 November 1867 – Globe – London, London, England
One of the ships lost in this storm was the 'Estelle', a 176-ton brigantine, owned by Richard Hennebury of Bareneed. The Estelle  sank at Indian Tickle and reports indicate that most of the crew was lost. Richard Hennebury had Rooms in Indian Tickle [more on this later in paper] and  was a neighbour in Bareneed  so possibly Mary Ann was travelling in this boat.
Another possible connection comes from a report that in 1828 a Mr. Nowell was the Agent for Wise, Baker and Howard at Grady (aka Gready) Harbour, Labrador (next port along coast).

https://books.google.ca/books?id=j4-MCgAAQBAJ.
This cannot be considered as evidence of Newells from 'The Dock' involved in Labrador but does raise the possibility, given the confusion regarding Newell and Noel around this time, that this might be a Newell, especially in light of the following.
There is some other indirect evidence to suggest that the 'The Dock' Newells may have been in Labrador in the early 1800s. During my initial research in 1971 I found a reference to a Mr. Nuel of Bareneed in church (SPG) documents dated 1816. These documents indicate that he had worked on the Labrador and so could translate for some Indians [possibly Inuit] that had been brought to Bareneed from Labrador.  The presence of these "Indians" in Bareneed is recorded in  later church documents: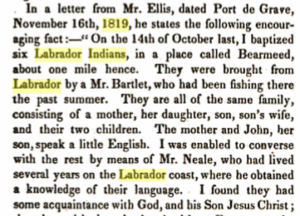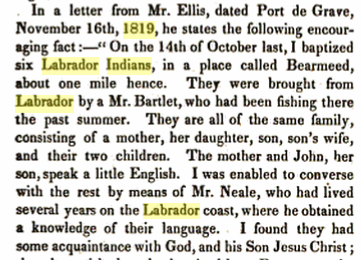 https://books.google.ca/books?id=7hRPAAAAYAAJ
In these later reports the date is given as 1819 not 1816 (poss my error) and the name of the translator is given as Neale; however, in the original diaries I worked with it was Nuel. These "Indians" later died in Bareneed [likely from smallpox]. When I was a boy there were stories of the Indians buried under Greenland's Store in Bareneed [apparently they were buried  outside the graveyard in the area where the store was later built and the bodies were moved when the store was constructed] .  This might indicate a very early (Philip or his son James) connection with Labrador.  There are other references to Labrador Indians in both Brigus and Harbour Grace during the early 19th century. Could Philip or his son James have been the Mr Nowell who was agent for Wise, Baker and Howard at Grady.
Since we don't know when the Newells first went to Labrador we need to review the entire historical record for the area around Indian Tickle to search for connections.
Early History of Indian Tickle
The first Europeans to establish post in Labrador were Basque whalers in the 16th century. In the early 18th century French fur traders were operating along the south coast of Labrador up to Cape Charles.  By the 1740s the French fur traders started moving north to Hamilton Inlet but this was short lived since the Treaty of Paris (1763) gave control of the entire Labrador coast back to the Governor of Newfoundland. This opened up Labrador to English traders and fishermen based in Newfoundland plus Moravian missionaries who established post in Northern Labrador. The Newfoundland based firms that moved into Labrador after 1763 included the firm  Noble &  Pinson and  a firm composed of: Jeremiah Coghlan; Thomas Perkins, George Cartwright and Francis Lucas.
Noble & Pinson was a partnership between John Noble and Andrew Pinson. Noble was a Bristol merchant (living at #31 Queen Square, Bristol in 1775) who was born and died in Taunton Somerset. Noble had been involved in Newfoundland since the 1740s.  Andrew Pinson was born in  Abbotskerswell, Devon, conducted business from Dartmouth,  spent his last years at Wadstray House (in Blackawton, just inland from Dartmouth) and was buried at Broadhempston, Devon in 1810. Pinson was the son of a Newfoundland planter and he joined Noble in the 1760s and later became a partner in the Labrador operations.  In 1770 Noble and Pinson opened stations in Southern Labrador and in 1771 they were based in Dartmouth and were operating from Temple Bay in southern Labrador (See George Cartwright' Journal, https://archive.org/stream/captaincartwrigh00cart/captaincartwrigh00cart_djvu.txt).
The second firm was a loose partnership between Coghlan, Perkins, Cartwright and Lucas. George Cartwright, a junior member of the firm with limited experience in Newfoundland prior to the formation of the partnership, is the best know member of the firm due to the subsequent publication of his Labrador diaries.   Cartwright was born in Nottinghamshire and prior to joining the other partners in the Labrador venture he was an army officer on half pay (not on active duty). Cartwrights only Newfoundland experience prior to 1770 was accompanying his brother John  (first lieutenant of HMS Guernsey) on a cruise  along the northeast coast of Newfoundland in 1766 and a trip to the interior of Newfoundland (commanded by his brother)  in 1768.     Francis Lucas, the other junior member of the partnership, was an Irish born and recently retired Lieutenant Royal Navy who also served on the Guernsey and later commanded a fort on the south coast of Labrador. The lead players in the partnership were Coghlan and Perkins, Bristol merchants with earlier connections to Newfoundland, who brought Cartwright and Lucas into the business to increase trade (furs & Salmon) with the natives (Lucas had learned to speak their Language while commanding a fort in southern Labrador).
Thomas Perkins (born c 1747, possibly died 1824) was an established Bristol merchant who was admitted to the Society of Merchant Venturers of Bristol in 1768 after serving an apprenticeship.  In 1775 a Thomas Perkins, merchant was living at # 34 Castle Green, Bristol (1775 Bristol Directory, published by Sketchley).  In 1780 he severed as Master of the Society of Merchant Venturers of Bristol.  From 1785-1790 Perkins was manager of the hot wells at the Manor of Clifton which was a business owned by the Society of Merchant Venturers of Bristol.  Perkins does not appear to have had a significant hands-on involvement in the Newfoundland or Labrador ventures other than as an agent and possibly banker in Bristol. Note this Perkins is sometimes confused with Thomas Handasyd Perkins of Boston.
This leaves the last and, in terms of Indian Tickle, the most interesting of the partners, Jeremiah Coghlan  (aka Coughlan). W. G. Gosling in his history of Labrador (1911) identifies Coghlan (referenced here as Coughlan) as one of the first English traders in Labrador:
Another prominent man among the early Labrador traders was Jeremiah Coughlan, whose head-quarters were at Fogo. Writing to Governor Montague in I777 he says that he was the first English subject to establish a sealing post on the Labrador, which he did in 1765 at Chateau, being encouraged thereto by his " good friend Commodore Palliser."
https://archive.org/stream/labradoritsdisco01gosl/labradoritsdisco01gosl_djvu.txt
Another source from 1767 identifies Jeremiah Coughlan as the late agent to James Bombanous, Merchant of Bristol, now bankrupt http://www.rootsweb.ancestry.com/~cannf/nd_twill_ansteyancestry.htm.
This is almost certainly the James Bonbanous [note spelling also Bonbonus] who in 1766 was Master of the Society of Merchant Venturers of Bristol (https://books.google.ca/books?id=NwYhAAAAMAAJ) and who in 1775 lived on Trinity Street, Bristol (not the current Trinity Street but an earlier Trinity Street which was near the church of St. Augustine the Less).
#4. Trinity Street :Bonbonus, James, broker
#9. Trinity Street: Coghlan, Jeremiah, Newfoundland mer.
source: Sketchley's Bristol Directory 1775.
Bonbonus also had offices on Corn Street in the same area of Bristol.
Coghlan and his wife Johanna had 5 children baptized at St Augustine's church between 1763 and 1775 http://www.rootsweb.ancestry.com/~cannf/pw_lr1776.htm.  Among these children was Jeremiah Jr whose obituary from 1826 describes the family roots in Ardo Ireland:
On his paternal estate of Ardo, Waterford Jeremiah Coghlan esq last surviving son of Mr Jeremiah Coghlan formerly an eminent merchant in Bristol By this gentleman's death that ancient and respectable family has become extinct
https://books.google.ca/books?id=AYwgmQnqzQkC
The following suggest that the family originally came from this area:
Much of our information on the history of Ardo is in an article written by Frances Currey of Lismore and published in 1853. The Coghlans of Ardo are listed as one of the principal families of Co. Waterford in 1710. "Henry Coughlan of Ardo, High Sheriff 1776 married to a widow Lindsay of the Co. Tipperary" appears on a list of the principal gentry of the county in 1775, compiled by the Right Hon. George Ponsonby.
Interestingly, Bonbonous also has links to Ireland. In the early 18th century Bonbonous a French Huguenot refugee family settled near Cork. John Bonbonous lived in Cork, and made a considerable fortune as a woollen manufacturer
Evidence of our James Bonnonous connections to this family comes from a record from 1751 of a James Bonbonous of Bristol being admitted to a Freemasons Hall in Cork https://books.google.ca/books?id=XrYKAwAAQBAJ.
Francis Lucas died in the fall of 1770, soon after Cartwright and Coghlan went their separate ways with Cartwright based at Cape Charles (southern Labrador) and Sandwich Bay (a large bay between Indian Tickle and Hamilton Inlet, site of the modern town of Cartwright) while Coghlan took the intervening coast that include Indian Tickle. Coghlan and Perkins dissolved their partnership in 1773. After the partnership dissolved Coghlan steadily prospered, prosecuting the cod fishery in the summer and leaving crews for sealing and furring in the winter and salmon fishing in the spring. By 1777 he could boast that he employed four times the men Cartwright did, "being bred in this business," and he regularly sent two ships a year to the Labrador coast. At the peak of his career Coghlan annually employed between eight and ten ships to carry supplies out to Newfoundland and Labrador and cargoes of cod, salmon, furs, sealskins, and oil back to England  http://www.biographi.ca/en/bio/coghlan_jeremiah_4E.html. 
During this period Coghlan had a post for furring and Salmon at Sand Hill Cove (just west of Indian Tickle) see  https://books.google.ca/books?id=kY_bgoE7E2YC  and https://books.google.ca/books?id=LQZksiyqnAoC.
Both Cartwright and Coghlan suffered from raids by privateers during the American war and both went bankrupt in the early 1780s. The winner in terms of this period was Noble and Pinson who took over Cartwright's operations.
In the late 1700s Noble and Pinson employed a Captain Daniel Codner as an agent in Labrador and during this period Codner was building his own shipping business which operated as Daniel Codner and Company. After Daniel's death in 1799 his son Samuel took over the business and operated as Samuel Codner and Company.  Samuel relied on partners like Robert Alsop of Newton Abbot, England to run operations in Newfoundland. Beginning in 1815 Codner and Alsop were running a small salmon fishery in Sandwich Bay (north of Indian Tickle).  By 1827 there were two firms with summer stations at Indian Tickle, Codner and Co. and Matthew H. Warren. In that year it was noted that eight schooners and one brig were fishing at Indian Tickle, with an average catch of 145 quintals per man. Warren's establishment at Indian Tickle soon became one of the largest on the coast http://collections.mun.ca/PDFs/cns_enl/ENLV3I.pdf  .
The Mattthew Warren who was operating in at Indian Tickle in 1827 was a merchant and ship owner from East Teignmouth , Devon . His obituary in the Exeter Times at the time of his death in 1857  indicates that he  was a resident merchant of St. John's for 30 years. "Exeter Times." This would indicate that he arrived in Labrador around 1827. There is no known connection between Warren and any of the merchants operating in Labrador at that time, however, the fact that soon after his arrival he became the principal merchant at Indian Tickle suggest that he may have had an arrangement with Samuel Codner. The fact that they both lived in Teignmouth , Devon would support this. Warren may have been related to John Warren Master of the ship Snow Orpheus who delivered workers to Samuel Codner in 1814. Codner and his partner Jennings sold their rooms at Indian tickle in 1839   https://books.google.ca/books?id=lXecCgAAQBAJ .
Samuel Codner and Matthew Warren were not the only Labrador merchants from south Devon. Daniel Codner senior lived in Kingskerswell, Devon but later moved to Shaldon, and although Samuel Codner was born in Weston-super-Mare on the west coast of Devon, his family came from Kingskerswell, Devon and he lived in Teignmouth.  Matthew Warren was from  Teignmouth , Devon. Andrew Pinson of Noble & Pinson was born in Abbotskerswell a few miles away from Kingskerswell.  The firm of Wise, Baker & Howard that operated at Grady (near Indian Harbour) in 1827 (see earlier discussion of their agent Mr. Nowell) operated from Shaldon, Devon (nearNewton Abbott). Robert Alsop the partner of Samuel Codner at Sandwich Bay in 1815 was also from Newton Abbot. The following map shows that all of these locations were clustered in south Devon.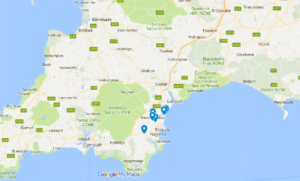 As indicated above, Matthew Warren became established in Indian Tickle around 1827 and was the principal merchant at Indian Tickle for the next 30 years.  His operations may have been run from Warren's Cove at the north end of Indian Island which is well sheltered for fishing boats and two or three small islands in the tickle afford excellent places for fishing stages and curing fish being protected from all winds and sea  (The Newfoundland and Labrador Pilot, 1887).
During his years at Indian tickle Matthew Warren owned at least 17 vessels (see list below):
| | | | | | | |
| --- | --- | --- | --- | --- | --- | --- |
| Built | Name | Type | Tons | Port | Ref | Lost |
| 1821 | Abeona | Brigatine | 86 | St. John's | 1850 | |
| | Brothers | Schooner | 96 | PEI | 1821 | |
| 1822 | Louisa | Schooner | | St. John's | | |
| 1829 | Transit | Schooner | | St. John's | | |
| 1829 | Actual | Schooner | | St. John's | | |
| 1830 | Harbardine | Schooner | 65 | Teignmouth | 1860 | |
| | Freedom | Sloop | 119 | Dartmouth | 1830 | 1835 |
| 1838 | Nancy | Schooner | 116 | Teignmouth | 1855 | |
| | Mary Astnt | | | Exeter | 1838 | 1838 |
| | Sicilian | Snow | 146 | Teignmouth | | 1838 |
| 1844 | Flirt | Schooner | | St. John's | | |
| 1844 | Venus | Brig | | St. John's | | |
| 1845 | Duke Wellington | Schooner | | St. John's | | |
| 1846 | Ann Eliza | Brigantine | | St. John's | | |
| 1848 | America | Brig | | St. John's | | |
| 1857 | Darling | Schooner | | Glocester | 1860 | |
The larger vessels transported fish to England (see following):
The Nancy, of Teignmouth, J. Hore, master, has arrived from Indian Tickle, Labrador, with a full cargo of dry salted cod fish, capelin, and oil, after a passage of twenty-four days. – Exeter Flying Post – Exeter, Devon, England  30 November 1848. 
During this period at least three of his vessels were lost, for example:
The Freedom, Couzens [Master], loaded at Labrador for Teignmouth, was driven from her anchors in Indian Tickle during a heavy gale 14th hist, and was totally lost with her cargo: crew saved.  – Bell's Weekly Messenger – London, London, England 29 November 1835.
The Sicilian, Hore [Master], from this port to Indian Tickle, Labrador, struck the Ice 28th ult. and sunk about eight miles off Venison Tickle; Crew saved.  – Lloyd's List – London, London, England  10 August 1838.
Matthew Warren and his son-in-law Captain John Warren both died in 1857 but the Warren family continued to run the business for at least another decade. Matthew's eldest son was Matthew H. Warren (b. 1819) who was living in Quebec in 1856:
Mr. Matthew H. Warren, formerly Teignmouth, but now a merchant at Quebec, British North America, eldest son of our worthy townsman, Mr. Matthew Warren, gave two very interesting and able lectures  – Western Times – Exeter, Devon, England, 22 March 1856.  
It is likely that this Matthew was running the business in Labrador before his fathers death. There was at least one other son Charles (Matthew's obit in the Exeter Times references him as father of Charles Warren of the firm Warren Brothers at St. John's).
In the Autumn of 1867 (see earlier reference to October storm that year) HMS Gannet commanded by W. Chimmmo visited Labrador and in his report Chimmo notes a visit to Mr Warren (?) at Indian Tickle:
In the course of the afternoon we ran again into our old haunt Indian Tickle and took an anchorage in four and a half fathoms We had no sooner arrived than we had a visit from Mr Warren a justice of the peace at Newfoundland and a large fish owner here.  It seems however that want of success somewhere has much interfered with his prosperity.  Our friend Mr Warren spoke in warm terms of the great advantage of Indian Tickle to the fishermen lying as it does in the highway which they follow north and south In the course of the present season as many as 3,000 vessels have frequented it but three of them had struck on sunken rocks and one of them being wrecked thereby was soon plundered by the fishermen https://books.google.ca/books?id=7o4EAAAAQAAJ .
There is some suggestion in Chimmo's report that Warren was experiencing financial problems. In February of 1867 Bankruptcy proceedings had started in England against  Matthew Henry Warren and Wm. Henry Goodridge, fish, oil and general merchants, formerly of Indian Island and Teignmouth, now of Dartmouth and Alphington   – Exeter and Plymouth Gazette – Exeter, Devon, England 17 May 1867.  This might be the William Goodridge who witnessed a Will at Tub Harbour, Labrador in 1861 http://ngb.chebucto.org/Wills/mudge-john-2-416.shtml.
During the summer of 1867 this  bankruptcy was in adjudication:
prosecution of an adjudication in Bankruptcy against MATTHEW HENRY WARREN, now of Alphington, in the County of Devon, but late of Teignmouth, in the same county, and of Indian Island, Labrador, in British North America 05 July 1867 – Exeter and Plymouth Gazette – Exeter, Devon, England. 
Some time after 1867 the Warren establishment at Indian Tickle was sold to Richard Hennebury of Bareneed. However, we know  that Hennerbury was already involved in the fishery at Indian Tickle by 1867 (see earlier discussion  of the sinking of the brigantine Estelle owned by Richard Hennebury  at Indian Tickle in 1867). At least one report suggest that Hennebury profited from the purchase:
When Warren retired from business on the coast, the "room" passed into the hands of Captain Hennebury, of Port-de-Grave, who "made piles of money there" https://archive.org/stream/wherefishersgos00brow/wherefishersgos00brow_djvu.txt .
A good description of Richard Hennebury comes from the March 29, 1926 Obituary for his relative a Mrs. Moore wife of Mr. Thos. Moore, formerly merchant-planter of Bay de Verde, who died at Cambridge, Mass.
On the maternal side, the deceased was descended from the enterprising planter, Capt. Richard Hennebury, who conducted a very large fishing business at Indian Tickle, Labrador, for many years, and who was one of the most successful seal-killers Newfoundland ever produced. For years he commanded the Thrasher out of McBrides's, St. John's and subsequently was owner and master of the splendid brigs Estelle and Anastatia. He conducted a larger mercantile business, in the early days, at Bareneed, and afterwards at Bay Roberts, where he was owner of the brigantine Brighton, also the Fond Mother, Alice H. and several other vessels.
The Hennebury family of Bareneed (possibly 'The Dock')  reportedly arrived in Port de Grave from County Cork, Ireland in the eatly 19th century.

There are references to Haneberry in the Harbour Grace Catholic church records for 1819 (James) and 1821 (Marks above). In later years Richard Hennebury of Bareneed was Roman Catholic.
There is no reference to Hennebury in the 1817 Census of Port de Grave region but the family was established there by the 1830s. In 1830 a "Marks Henebery" petitioned for  a grant of land at Northern Gut  (North River which was generally included with 'The Dock' or Bareneed during this period)
| | | | | | |
| --- | --- | --- | --- | --- | --- |
| 25 May 1830 | Marks Henebery | 3 | 0 | 0 | Northern Gut, ditto |
http://ngb.chebucto.org/Articles/land-001.shtml
Around this time period many fishermen from Port de Grave, especially Roman Catholics, were moving to the area that would later become North River (see my section on North River).  In the mid 1800s there was a large Irish community in Port de Grave and the Roman Catholic cemetery had headstones with Irish names such as Delaney, Hennebury, Moore and Crowley (Decks Awash  http://collections.mun.ca/PDFs/cns_decks/DA_Vol15_No02.pdf ).
In 1863 Richard Henebery of Bareneed was fined for Mumming without a licence!
Date of incident Complainant(s) Defendant(s) Community Charge Verdict Source(s) 2 Jan 1863 , Samuel Curlew,   Richard Henebery et al Bareneed Mumming w/out licence (Not known) PANL GN 5/3/B/19 Box 6, File 1  http://shimajournal.org/issues/v3n2/h.-Fraser-Shima-v3n2-70-88.pdf
In Hutchinson's Newfoundland directory for 1864-65 Richard Hennebury is recorded as a schooner owner at Bareneed:


The following is a list of some of Richard Hennebury's Ships:
Young Harp  Schooner        1836
Thrasher        Brig                 1850
Curlew           Schooner        1857
Estella            Brig                 1860
Rapid             Schooner        1866
Brighton         Brig                1867
Anastatia       Brig                1868
Lovell's Newfoundland Directory of  1871 lists a Mark (farmer) and Richard (merchant) Henebery at Bareneed:
Richard Hennebury's Will was probated on May 26, 1876; at that time he had moved from Bareneed to Bay Roberts. In his Will he left his Indian Tickle property to his son  Mark:
I give and bequeth to my said three sons Mark, James, and Patrick all my property situate in Labrador exclusive of fishing rooms to be equally divided between them, the fishing plantation known as Warren's Room and which I purchased from the estate of Matthew H. Warren, together with all rooms on Warren's side of the Cove I give and bequeth to my son Mark. 
Note: There are some references on the Web that suggest Richard died when one of his ships sank at Indian tickle in 1867; however, this is clearly incorrect. In addition, we also know that his son Richard was alive in 1876 since he is mentioned in his father's  Will  (and should my son Richard Hennebury return to Newfoundland my three sons mark, James and Patrick shall each and every one of them share and share alike with him).
Indian Tickle remained a major summer station into the 1890s and was acquired by the Harbour Grace firm of John Munn and Co. Munn's went out of business in 1894 and for some years the station was supplied by William Duff and Co. of Carbonear, who sent three schooners and a number of stationers from Conception Bay in 1899. Indian Tickle remained an important fishing centre into the 1900s, but the Labrador fishery as conducted by floaters and stationers from the Island was generally in decline   http://collections.mun.ca/PDFs/cns_enl/ENLV3I.pdf .
Summary
Family history and records from my great grandfather's estate show that he owned a controlling interest in the fishing Room at Rovers Island at the time of his death. Letters between family members after his death suggest that his brother Richard also had a interest which is not surprising since Richard owned a schooner that was likely used to transport family members to Labrador. This indicates that my great grandfather John was fishing at Rovers Island in the late 19th century. Based on the preceding review of the history of the Indian Tickle region there is no clear evidence of when the Newell family started fishing at Rovers island.  There is some circumstantial evidence to suggest that the family may have been established in Labrador in the early 19th century or possibly even earlier.
The review of the history of Indian Tickle also indicates that many of the merchants with connections to this area also had connections to south Devon. This suggest the possibility of a connection between the Newells of 'The Dock' and this area.
The research also indicates a strong connection between Indian Tickle and several other families (Hennebury and Richards) in 'The Dock"/ Bareneed. These connections likely predated the sale of the Warren property to the Hennebury's around 1867.
My family history suggest that in the late 19th century my immediate family were friends with the Hennebury family which is not surprising given that both families likely spent their summers at Indian Tickle. I searched for any DNA matches with the Hennebury name (I was not expecting one given the different religions) but did find a 4th cousin match that had Hennebury in their tree (plus  no other names from my tree); however, this match was with a William Hennebury of  Quidi Vidia (married Church of England in 1819).  A 4th cousin match would have Philip Newell as the common ancestor and suggest a connection through James son of Philip or another sibling other than John (a connection through John son of Philip would likely be a 3rd cousin match). Possibly one James daughters or grand daughters or a daughter of Philip married into this family.
To be coninued