#50 Edward French

Edward is listed in the 1817 Census as having a wife, 3 children, and one man servant. The Supplier/Merchant he dealt with is listed as Graham (See discussion of Graham in History 1805-1818 Section) and he is described as being "Bad Off". French's relationship with Graham is unusual since during this time the various Graham companies were in legal disputes with virtually all their clients but there is no record of disputes with Edward French. This is even more unusual given that Edward was described as "Bad Off".
This Edward is likely the same person listed Plantation in the 1805 Plantation Book.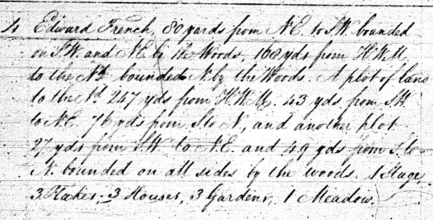 The French Plantation was registered in 1797, five years before the Sullivan Plantation but after the Dawe and Noel/Newell Plantations. This Edward was likely the son of Edward and Elizabeth French of French's Cove, Bay Roberts. Seary's book Family Names of the Island of Newfoundland states that the families with the surname French arrived as long ago as 1634.
This Edward died in July 1829 (age 64, b c 1765) and his Will was probated in 1829.

Edward was apparently reasonably well off at the time of his death since his Legacy included:
I bequeath to my wife, Mary, and to my son, Edward jointly all the monies which may be in England at the time of my death, together with the house, outbuildings and land, occupied and owned by me at the Dock, Bearneed at the time of my death.
I bequeath to each of my children, the sum of One hundred pounds sterling (except my eldest and youngest sons, John and Edward French), these children were: Elizabeth Hussey, Joseph French, Ann Dawe, of Ship Cove, Abraham French and Mary Batten);
I give to my four sons, John, Joseph, Abraham and Edward, the Schooner "Brothers" with all her materials, together with all the nets, seines, and every article used in the fishery, skiffs, boats, barking kettles, &c.;
I give to my wife and my son Edward all my cattle & sheep to dispose of as they please.
The Schooner Brothers (65 Tons) was built in 1819 by Edward Snow of Bareneed for Edward French. Edward had previously owned the Schooner Elizabeth (44 tons) built in PDG in 1806.

Edward French may have acquired all or part of the adjoining land occupied Butler in 1817 as a result of legal proceedings in 1829 (see previous discussion of Butler Plantation).