My name is John Philip Newell  (not the JPN who writes about Celtic Spirituality)  and this Web Site presents a summary of my research into my family history. The material covered includes my research into:
This research has uncovered some very interesting stories and this site presents these stories.  This site will present the life stories of real people who may or may not be related to me. In my quest I have found that prior to 1800 the concept of a family name becomes blurred in the fog of history; therefore, my search includes people with other related family names such as: Newall, Nowell, Knowles, Neville and Noel.
My research is organized under different Tabs on the header of the Web Site. The material under each Tab is organized into pages some of which have sub pages. Hovering over any item in the tree will show any sub pages.  For example, here is the page structure under the "Newell Family" Tab: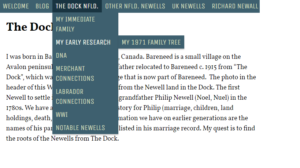 There is also a Blog  where I will provide information on any updates to the site and where you can leave comments.
The Site is still under construction so check back for updates.
No part of this site may be reproduced in any form.