John Newall, Merchant Bristol and Harbour Grace, Nfld.
John P. Newell ©
No part of this document or site may be reproduced in any form.
Index
Introduction
Bankruptcy
John's Later Life and Death
John's Wife and Children
John's Parents and Siblings
Ancestors of the Bristol Newalls
Bristol Newalls in Business 1770-1805
Shipping Records
Conclusions
Introduction
My family, the Newells of "The Dock", Newfoundland (see Map) trace our roots back to 1784, when Philip (my ggg grandfather) was married at Harbour Grace, Newfoundland.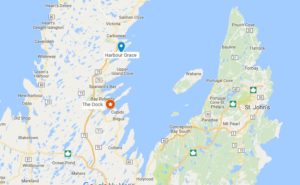 At that time the closest church to "The Dock" was in Harbour Grace, so this is where most marriages, births and deaths were recorded. In this and other 18th century documents our family name was recorded as Noel (Noel was a common name in Harbour Grace at that time so may have been used for anyone with a similar name). In researching my family history I have searched for any early references to the Newell/Newall name connected with Harbour Grace. One of the first Newells or Newalls connected to Harbour Grace was John Newall, a Bristol Merchant, who operated in Harbour Grace in the late 1700s and early 1800s. Interestingly, this John is also recorded as John Noel in several Harbour Grace documents. Given the timelines, John Newall does not appear to be a direct ancestor; however, he may be connected to my family through earlier generations. This paper explores John's life and family history in Bristol, Gloucestershire to see if there are any earlier connections to Newfoundland.
Bankruptcy
John Newall made his mark in Harbour Grace in a very unfortunate manner. In 1806 John's assets in Harbour Grace were liquated as a result of his bankruptcy in Bristol in August 1805 (proceedings in Harbour Grace delayed until the following fishing season). The documents from this liquidation indicate that John had: premises situate and being at Harbor Grace …. held under lease from William Tilly Esquire. These premises were documented in a 1804 government survey conducted in Harbour Grace as follows:
Wm. Lilly Esq. 30 7/9 yds. from E. to W. bounded on the E. by Wm. Parsons on the W. by Cane's Plantation 217 yds. from H.W.M. to the N. bounded on the N. by the woods, 3 H. 3 S. 1 Stage 1 C.R. 1 Garden; Occupied by Rd. Palmer Agent for Jno. Noel of Bristol, Merchant; Leased to John Noel for 21 years for £32 per annum.
In 1804 Richard Palmer, John's agent in Harbour Grace (see above), also had his own property in Harbour Grace which he purchased in 1803:
Richard Palmer 297 yds. from E. to W. bounded on the E. by the road on the W. by Edmund Murphy 112 yds. S.E. to N.W. bounded on the S.E. by Jno. Stritton on the N.W. by Wm. Danson on the S.W. by Murphy and Hickey 1 Garden 1 Meadow. Purchased from the Heir of Peter LeBriton for £21.1 D.E. 1803.
(http://www.rootsweb.ancestry.com/~cannf/cbnorth_nor122_141_05.htm)
At a public auction in Harbour Grace, John's interest in his lease on William Lilly's property was sold to Alexander Boucher & Co., merchants of Harbor Grace. Boucher was a merchant of Greenock, Scotland, who had extensive operations in Newfoundland (he died at St John's in 1816). In the documentation associated with the sale of the lease to Boucher, Richard Palmer (see above) is described as Attorney to the estate and effects of John Newell late of Harbour Grace. This document also includes a: schedule or particular of bills of exchange drawn on John Newell late of the city of Bristol Merchant a bankrupt and paid by and now in the hands of Richard Vaughan the younger esquire and George Dyer Merchant, both of the said city, assignees of the estate and effects of the said John Newell. This schedule outlines some of John's debts in 1805 the largest of which are to a Mr. Hodgson in Quebec and James Fraser & Company of Miramichi (New Brunswick).
In the past, I had researched John and his bankruptcy and found virtually no information on him beyond what is outlined above. In 2012, Peter Noel posted information on his Web Site under the heading "John Noel (Newall) died 1805/06 Harbour Grace . Peter Noel likely based his conclusion regarding John's death on the references to John being "late of Harbour Grace". At that time I was not convinced that John had died in 1805/06 but could not find evidence either proving or disproving it. In fact, John Newall was an enigma since there were no records of his birth in Bristol or his death in Bristol or Nfld. The situation remained in limbo until I reopened this case as I was preparing to launch my Web Site.
John's Later Life and Death
The main difference between my current research on John and my earlier research, is that I now have better access to UK newspapers (via the findmypast Web Site). Even with this tool the search was complicated since the key leads were not immediately apparent. Firstly, I could not find any evidence of John's death in the newspapers for 1804-07 which was unusual since he did seem to be a significant merchant and none of the many references to the bankruptcy make any reference to him being deceased. Digging deeper I found a reference to dividends issued by J. Newall, merchant of Bristol in 1812 (The Tradesman and Commercial Magazine, Jan 1812). I also found a reference in The Gentleman's Magazine, Volume 79, 1809 to the death at Antigua in Nov 1808 of Mr. John Newall jnr late of Bristol, a young man of most promising abilities (no reference to his father being dead e.g. son of late J. Newell). Expanding the search period and geographic scope for John senior's death resulted in the several references from November 1832 to the death at Bideford (near Barnstaple, Devon) of Mr. John Newall, formerly a respectable merchant of Bristol. Subsequently in a search of Bideford [Devon] Burials 1813-1837 I found John Newell's death recorded on Nov 13th, 1832 aged 71 [est. DOB 1761]. Since there were no other Newells or Newalls in the Bideford records for the period it is likely that John was a visitor (Bideford is a North Devon port town with strong historic Newfoundland connections). The Newell versus Newall spelling in the Bideford death records might be a result of his being a stranger who was not known locally while the newspapers who were aware of his Bristol connection used the Newall spelling.
John's Wife and Children
Once I established when John died and an approximate DOB (from age), I next searched for his family connections and this led to identifying what was almost certainly his marriage.
In the online Gloucestershire marriage records I found a marriage recorded for Thornbury (15 mi north of Bristol) on 15 July, 1784 between John Newall and Mary Anne Williams. A record in the Bath Chronicle and Weekly Gazette for 17 July 1786, states that Mary Anne was from Thornbury (possibly her family church) and John was from Bristol. An early transcription of Gloucestershire Parish Records gives the following additional information on John's parish in Bristol:
John Newall, of SS. Philip & Jacob, Bristol, & Mary Anne Williams
The church of St Philip and St Jacob (local name Pip 'n' Jay) is located on the east side of central Bristol was one of the original parishes of Bristol. It includes the Old Market area of the city, and had its out-parish beyond the city's original boundary extending over what are now the Bristol suburbs of Baptist Mills, Barton Hill, Lawrence Hill, Newtown, Russell Town, St Jude's, St Philip's Marsh, The Dings and western half of Easton. Its boundaries stretched from the Castle Wall in the city on the west to the border with the parish of St George in the east. http://www.bafhs.org.uk/bafhs-parishes/medieval-parishes/65-ss-philip-and-jacob.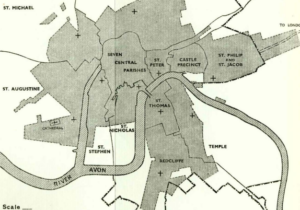 Map: Bristol Parishes 18th century http://www.bristol.ac.uk/Depts/History/bristolrecordsociety/publications/brs25.pdf
Mary Anne (John's wife) is likely the Mary Anne Williams (daughter John Williams) baptised at Bristol in 1768. Her father may have been the John Williams who owned the Three Turns Inn and Tavern in Bath and who died around the time of the wedding and her mother the Mary Williams who took over the Shakespeare & Greyhound Inn, Market Place, Bath after her husband's death. Mary Anne Newall (wife of John) died at Johnstone Street in Bathwick (near Bath) in 1839 at age 70 (b. c. 1769).
We have already noted that John had a son John Jr who died at Antigua in 1808; a search of birth records show that this John was baptized at Bristol in Oct.,1790 (parents John and Mary Ann) so he was approximately 18 when he died. Knowing the details of John's marriage date facilitated the search for other children and I was able to identify several others. Two girls: Harriet Newall baptized 1789 (parents John and Mary Ann) who died 1867 at 3 Sion Place, Bathwick, Bath and Elizabeth Anna (Hannah) Newall baptized 1795 at age 18 months so born 1793 (parents John and Mary Ann) and died 1874 at the same address in Bath as Harriet. In later life both sisters lived together at 3 Sion Place and both were spinsters.
The earliest reference I found to the sisters (Newall the Misses) at Sion Place was in a Bath directory for 1848 which was 9 years after their mother died at Johnstone Street (.5 miles away); however, they do not appear in the Bath Poll book for 1833. In 1830 the sisters were also living together (Newell Harriet & Siste) and had a "Ladies' Boarding School" at 5 Berkeley Cres, Bristol (Pigot's Directory of Gloucestershire, 1830).
There were two other daughters: Frances Jane baptized 1802 and Mary Ann baptized 1788 (parents of both listed as John and Mary Ann). Bristol newspapers reported that Mary Ann Newall, eldest daughter of John Newall merchant of Bristol died in December 1804 in her 18th year (born c 1786/7). I could not find any other information on Frances Jane.
A son Henry was baptized at Bristol on March 1804 (parents John and Mary Ann). While a little late (Ann was approximately 36) there is little doubt that this was their son unless there was another John and Mary Ann Newall in Bristol at this time. Like Frances Jane there is no further information on Henry; possibly John dropped out of Bristol society after his bankruptcy.
There is one other good candidate for a son for John. and Mary Ann. The records Trinity College, Cambridge include a student:
Newall, Frederick James. Son of John Newall. Born at Kingsdown, Gloucestershire. Matriculated, 1827; B.A. 1831; M.A. 1834.
Kingsdown is the area immediately north of historic Bristol (now part of Bristol). The first residents of Kingsdown were generally from the professional and mercantile classes, who wanted to move out of, but not far from their businesses in the crowded smoky city. Kingsdown is also near Berkeley Cres, Bristol which was the location of Harriet Newall's Ladies' Boarding School in 1830. In 1834 Frederick James (now Rev) became perpetual curate of Bourton, Dorset (on border with Somerset and Wiltshire) where he remained for a number of years. In 1842 he married Catherine Elizabeth, only daughter of the late W. Bell, Esq., of Gillingham, and in 1844 his wife had a daughter (died in 1892 , unmarried). Frederick James died in 1870 with a recorded age of 66 (approx dob 1804). Another source(see below) dated 1826 suggest that he was born c 1798 and that he was the eldest son.
Frederick James Newall, Trin. Coll., Cambr., (aged 28), 1 s. 
John N., of Bristol, gent.
This would be correct if the record ignored John Jr born 1790 who died c1818 (i.e. reference to eldest living son).
In an earlier version of this document I identified a William Newall, who was a draper living in Bath during the 1840s, as a potential son of John and Mary Ann. However, subsequent research has identified that this William was born in the 1770s so he could not be a son of John; however. he might be a brother. I have posted a report on the life of this William in a separate document (https://johnpnewell.com/uk-newells/bristol-channel-region/william-newall-bath/).
John's Parents and Siblings
The next logical step is to identify John's parents. Even with an approximate date of birth (1761, from his age at death) I could not locate his birth records in Bristol! However, I have identified a good candidate for his father who was a Richard Newall who married a Betty Gilford (Betty is a diminutive for Elizabeth) at St Nicholas parish, Bristol in 1755 (this could be his wife's family church). This is a good fit with John born 6 years after the marriage. In addition there is a Bristol Will dated 1783 for Ricard Newall that gives his parish as St. Philip and St Jacob outparish and his occupation as Maltster. The term outparish for St Philip and Jacob is later (1860s) used to refer to the parts of the parish extending east from the core when the parish was split. John was married in the same parish where Richard was buried, making this a good marker for tracing the family in the late 1700s.
Again, like his son, there is no obvious birth record for Richard Newall in the Bristol records; however, we have a Bristol burial for a Richard Newall on 2 Dec. 1783 that gives his age as 59 (born c. 1724). The Bristol Records show a Richard Newell (spelling) son of John Newell born March 1724 (more on this earlier John in next section).
There are no birth records for Betty or Elizabeth Gilford (John's mother); however, there were two Elizabeth Giffords born in 1728 and 1730 (Quaker birth records for Bristol). Betty Newall's burial records from 1815 give her age as 83 so her birth was c 1732 which might fit with one of these (assuming she was a few years older than recorded).
The next obvious question is whether John had siblings? A search of Bristol births for 1754-1774 did not show any Newalls born. There were several Nowells (no John) and these had a Richard and Mary as parents. I next searched Newall marriages in Bristol post 1770 (the period when children from Richard and Betty would start marrying). As stated earlier, John's marriage is not recorded since he was married in Thornbury not Bristol; however, there was a Richard Newall (Jr?) who married in 1777. This marriage, like John's, also occurred outside Bristol but was also recorded at Bristol. In this record a Richard Newell/Newall of St Philip and St Jacob, Bristol married a Mary Woodrouffe at Lambourn, Berkshire (Newall in Bristol record Newell in Lambourn). An Internet source records this Mary as daughter of Plucknett Woodroffe of St. Michael Queenhithe, London (http://wedmore.org.uk/tolson/woodroffe.html). There were also several Nowells married at Bristol during this period, including a John and a Richard (on different dates from our John & Richard) which can cause confusion.
The following chart outlines John Newall's family connections: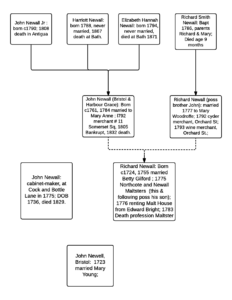 Ancestors of the Bristol Newalls
In the last section I speculated that John's father Richard Newall might also be the Richard Newell (spelling) son of John Newell who was born in Bristol in 1624. This John Newell who was father to this Richard was likely the John Newell/Newall of Bristol who married Mary Young at Bristol in 1723. Different spellings of the husband's last name are found in different records for this same marriage (to Mary Young). Boyd's 1st miscellaneous marriage index, 1415-1808 (findmypast) gives Newell while Gloucestershire, Birth, Marriage, Death & Parish Records (findmypast) gives Newall!
This may also be the John Newell who was buried at St. Augustine Parish, Bristol (West end) in Feb. 1740 and/or possibly the John Newell, Scrivener recorded at St. Augustine's, Bristol in Feb. 1741 http://www.bafhs.org.uk/resources/Occupationsrlewin.pdf. The date difference might be a calendar conversion issue with one source using old dates and another converting (at this time New Year started in March).
However, there is an alternate theory that the Newalls (John, his brother Richard and their father Richard Sr.) were immigrants from another area of the UK (perhaps the North) who settled in Bristol in the mid-1700s. The Newall spelling and the association with St. Philip and St. Jacob parish appears relatively consistent from 1755 on so if the John Newell from 1723/24 is the ancestor there was a change in the spelling of the name (or how recorded), location in Bristol and occupation. At this point my only comment is that both of these options plus the possibility of a different Newall ancestor from Bristol are possible. Support for this latter option comes from the birth of a Mary Newall at Bristol in 1718. Assuming that John of 1723/24 was an ancestor then we have a relatively diverse set of potential options for earlier Ancestors. Two of the best options for John's parents are:
Richard and Patience Knowles of St. Philip and St Jacob, Bristol who in a 1696 Directory of Bristol were listed as having 8 children including a son John
http://www.bristol.ac.uk/Depts/History/bristolrecordsociety/publications/brs25.pdf
Note: the authors of this publication state that names were spelled phonetically.
or
William Nouell (possibly a Nowell) of Mells, Somerset (20 miles south of Bristol) who had a son John in 1700. Note Mells is only 15 miles from Bourton, home of Rev Frederick James Newall.
Bristol Newalls in Business 1770-1804
The preceding discussion has shown that from 1755 to John Newall's bankruptcy in 1805 there were members of the Newall family living and working in Bristol. During this period there were several Directories and Voters List published that provide insight into the business activities and street addresses for this family and families with related names (e.g. Newell and Nowell). One important point to remember when reviewing these directories is that they generally only list individuals with businesses or property. Birth, death and marriage records indicate that there were other Newalls, Newells, Nowells, Noels & Knowles living in Bristol during this period.
In the Bristol Poll Book of 1774 we have a Richard Newall merchant of St. Philip and St. Jacob. In the Bristol directory if 1775 (Sketchley) we have a Northcote & Newall (business), Maltsters in Glocester Lane at West Street. This record also has a John Newall, cabinet-maker, at Cock and Bottle Lane (near Bristol castle); this profession does not fit with our John Newall's later career (see more later). Election (voter) records for 1776 show a Richard Newall tenant to an Edward Bright in St Philip and St Jacob parish and holding a "malth.". In other records a Malthouse is recorded and this looks like an abbreviated version of this.
[Note: In 1767 there is a reference to Edward Bright son of Daniel Bright of Bristol, distiller (http://pstatic.powys.gov.uk/fileadmin/Docs/archives/records_catalogue/Deposited_misc/Minor_deposits/B_DX14_bi.pdf) and the Bristol Bright's were merchants involved a number of ventures including trade with the West Indies]
During this period (1770-1783) the only Nowells identified in these sources were: James Nowell, vitualler at Cannon Street, St. James (not the Cannon Street south of river) in 1775 who was likely the same James Nowell who operated the Cannon Tavern, Cannon St. in 1775 http://bristolslostpubs.eu/page4.html.; Richard Nowell, house carpenter at St. Augustine (west side see earlier map) and Robert Noel shipwright also of St. Augustine.
In the period after their father died (post 1784) we have Richard Jr. listed as a Cider merchant at Orchard St in 1792 (which appears to be a dying profession according to the following source https://books.google.ca/books?id=6AgiAQAAIAAJ.) In Matthews Bristol Directory for 1793-94 we have Richard Jr. still at Orchard St. but now listed as a wine merchant. In this (1792) directory we have two John Newalls: John Newall, cabinet-maker, at Cock and Bottle Lane (see 1775) and John Newall, merchant at 11 Somerset Square. (Somerset Square was a Georgian Square in the Redcliffe district, southern edge of Bristol and near the road to Bath, and appears to have been a better neighbourhood).
The John Newall merchant seems to be a better fit for our John so the cabinet-maker may be a relative; possibly an uncle since he was established in 1775. John the cabinet-maker may have been the John Newell (spelling) who died 1829 at age 92 (born c 1736); which would make him the right age to be sibling of John's father Richard (another possible sibling was Elizabeth Newall born 1726).
The only Nowell in this 1792 directry was Charles Nowell Esq., Durham Downs (NW of City). This Directory also records a Sarah Newell (note spelling) at the Ship (Inn), Marsh Street (In http://bristolslostpubs.eu/page9.html she is listed as owner of this Pub from 1792-94).
The next references we have is in 1803 when John Newall, a Bristol merchant, signed a petition objecting to the redevelopment of the Bristol Harbour. Perhaps, one reason for this was that parts of the redevelopment was near Somerset Square (his residence in 1792). .
Shipping Records
The preceding section shows that, from 1792 until his bankruptcy in 1805, John Newall operated as a merchant in Bristol. We are also aware from his bankruptcy that in the early years of the 19th century John was involved in mercantile ventures in Harbour Grace, Nfld., New Brunswick and possibly Quebec. Given that most merchants involved with Newfoundland relied on ships to transport goods, the next logical step in the investigation was a search of shipping records for the late 18th and early 19th century.
Starting in the late 1700s the Lloyds Register of Ships (published annually) provides information on voyages of British and Colonial ships. The register is available electronically http://www.lrfoundation.org.uk/public_education/reference-library/register-of-ships-online/ but the search function frequently missed information so this source was supplemented by several documents that list voyages to Newfoundland that were extracted from the Lloyds registers e.g.: http://www.rootsweb.ancestry.com/~cannf/pw_lloyds1791-1800.htm and
http://www.rootsweb.ancestry.com/~cannf/pw_lloydspost1800.htm.
A search covering the period from 1780-1820 found references to both the Newell and Newall names. Starting in 1798 there were a number of References to a J. Newall who was owner (ship or cargo) on ships sailing between Bristol and Newfoundland. Earlier references to a J. Newell (spelling) as ships master are not connected to Bristol and are less likely to be our John Newall. It should be noted that the Lloyds records for the 1790s are not as easily searched and some earlier references might be missed. The latest record definitively linked to John Newall was in 1810.
The following Table list the voyages that appear to be connected to John Newall of Bristol:
| | | | | | |
| --- | --- | --- | --- | --- | --- |
| Year | Ship | Tons | Capt | Owner | Voyage |
| 1798 | Friends (1) | 69 | Furneau | Newall & Co. | Bristol to Nfld. |
| 1799 | Frederick | | J. Harris | J. Newall | Bristol to Nfld. |
| 1799 | Friends | 69 | Furneaux | Newall & Co | Bristol to Nfld. |
| 1800 | Frederick S | 67 | Harris | J.Newall | Bristol to Nfld. |
| 1801 | Ceres | 72 | J. Farnaux | J. Newall | Liverpool to Nfld. & Bristol |
| 1801 | Ceres | | Hooper | Newell & Co | Cork to Nfld. |
| 1804 | Harriot (2) | 122 | Furneaux | J. Newall | Bristol to Nfld. |
| 1804 | Friends | 69 | Furneaux | Maloney | Cork to ? |
| 1805 | Admiral ? | | Litton | J.Newall | Portugal |
| 1805 | Harriot | 122 | Furneaux | J. Newall | Bristol to Nfld. |
| 1805 | Friends (3) | 152 | Hammond | Newell & Co | Liverpool to Nfld |
| 1806 | Friends | 152 | Hammond | Newel & Co | Liverpool to Nfld |
| 1806 | Friends | 69 | Hammond | Maloney | Portugal |
| 1806 | Harriot | 122 | Furneaux | J.Newall | Bristol to Nfld. |
| 1806 | Admiral Nelson | 186 | Litton | J. Newall | Liverpool to Nfld. |
| 1807 | Harriot | 122 | Furneaux | J. Newall | Bristol to Nfld. |
| 1807 | Ceres | 85 | Lee | J.Newal | Bristol to Nfld. |
| 1808 | Ceres | 85 | J. Lee | J.Newall | Bristol to Nfld. |
| 1808 | Harriett | 122 | Furneaux | J. Newall | Bristol to Nfld. |
| 1809 | Harriett | 122 | Furneaux | J. Newall | Bristol to Nfld. |
| 1810 | Harriett | 122 | Furneaux | J. Newall | Bristol to Nfld. |
| 1811 | Diana | 92 | Jamisen | A. Newal ? | Greenock to Nfld. |
Notes: #1 This Brig Friends was built in Nfld c. 1796; #2 the Brig Harriott was built in Bristol c. 1804 and #3 this larger Brig Friends was built in Nfld c. 1800.
It is significant that the master on most of these voyages was named Furneaux which was the name of one of John Newall's creditors at Harbour Grace in 1806 and the name of a Newfoundland mercantile family with connections to Harbour Grace and Port-de-Grave (near the Dock). I have include references to Newell & Co (spelling) from the 1800s since there were references to Newall & Co sailing from Bristol under Furneaux in the 1700s. It also might be significant that John Newall's oldest daughter was Harriett.
I have also included two voyages of the Brig Friends (in 1804 and 1806) not directly connected with John Newall. These are included in the Table to demonstrate the links between John Newall and a Mr. Maloney who took over the ownership of both the large and small Friends after 1806. Maloney was connected to the smaller Friends as early as 1801 and used Furneaux as Master in 1804. In most of his later voyages Maloney used a Mr. Hammond as Master but in 1805 and 1806 John Newall also used Hammond as Master.
In 1808 we have two voyages of the Friends (to Nfld and Portugal) both with Hammond as Master. In one the owner is Maloney and in the other Mullowy. After this date the spelling of the owner of the Friends (with Hammond as Master) becomes Mullowys (e.g. 1810). Shipping records in the Bristol Mirror newspaper of 1820 reports the Friends from Newfoundland with W. Mullowney and other newspaper records from 1819 link him to T. Hammond. My hypothesis is that the Maloney/Mullowy/Mullowney linked to the Friends are William Mullowney, merchant of Harbour Grace and/or his relatives (these include David of Harbour Grace and likely James and John of Bristol). William, who was possibly the son of John of Harbour Grace (c. 1780), was living in Harbour Grace in the 1790s and early 1800s. Newfoundland papers reported his death in 1828 as follows:
At Bristol, on the 5th of February last, MR. WM. MULLOWNEY, Merchant, formerly of Harbour Grace, and having for many years carried on an extensive business in that town. http://ngb.chebucto.org/Newspaper-Obits/nflder-1827-30.shtml
The shipping data indicates that from 1798 to 1810 John Newall of Bristol was involved in mercantile activities in Newfoundland and that his Bankruptcy in 1805 did not have a major impact on these activities; except perhaps a switch to Liverpool as a base for a few years. During this period he was involved in shipping cargos to Newfoundland on several different ships and he was connected to at least one documented voyage to Portugal. His shipping activities (as owner) appear to have ended after 1810. The War of 1812-14 and a post war depression in Newfoundland (http://www.heritage.nf.ca/articles/economy/napolean-wars-economy.php) may have played a role in the end of his shipping operations and there is also the possibility that he may have partnered with other merchants (e.g. Mullowney) after 1810. One other possibility is that he may have relocated back to Newfoundland around this time (see next section).
Conclusion
Based on this research we know that John Newall of Bristol was involved with mercantile activities in Newfoundland from at least the late 1790s until 1810 and possibly much later. It is also clear that he had connections with other Nfld. families in Harbour Grace and Port-de-Grave (near "The Dock"). We now know that he had family connections in Bristol extending back to the mid 1700s (and possibly earlier) so it is conceivable that the Newells of "The Dock" might be related to the Newalls of Bristol. Unfortunately, there is no direct evidence to support this; however, this paper provides a starting point for future research.
There is one other very speculative connection between John Newall of Bristol and Newfoundland that arises from this research. Sometime before 1810 a John Noel became established in Brigus, Newfoundland (~ 4 miles south of "The Dock"). My earlier research could not establish a clear connection between this John Noel and any of the other Newell or Noel families in Newfoundland. This John was clearly a successful merchant and built a substantial house in Brigus c 1810 (https://noelhistory.wordpress.com/category/brigusburnt-head-noelnewell/); however, there is little evidence of him prior to this. There is a record of John Noel and his wife Mary who had a child Stephen baptized and buried at Brigus in July 1807. This birth could fit with John Newall of Bristol and his wife Mary Anne (she would be 39) or even their son John Jr (if he married at 16). Again, this is very speculative but possible now that we know that John Newall did not die in 1805/06.