This sub section provides information on the Size/ Tonnage of Schooners used in the Labrador Fishery. Tonnage represents the volume of the enclosed cargo space on a boat, using the same concept as displacement. Tonnage and size are directly related, and this unit gives you an idea of how much cargo you can carry before overloading. The method used for calculating tonnage in the early 19th century were somewhat different from those used today but today Gross register tonnage is a ship's total internal volume expressed in "register tons", each of which is equal to 100 cubic feet. Gross register tonnage uses the total permanently enclosed capacity of the vessel as its basis for volume. Net register tonnage subtracts the volume of spaces not available for carrying cargo. There is a general relationship between length and tonnage but it varies with the type of vessel (see the following examples).

The Effie M. Morrissey (now Ernestina-Morrissey) was a schooner skippered by Robert Bartlett (from Brigus) that made many scientific expeditions to Labrador and the Arctic. The Morrissey was launched in 1894 as a Grand Banks fishing vessel. The specs for the Morrissey are:
| | |
| --- | --- |
| Type: | Two-masted Gaff rigged schooner |
| Displacement: | 120 gross tons |
| Length: | 152 ft (46.3 m) LOA112 ft (34.1 m) WLL |
| Beam: | 24 ft 5 in (7.4 m) |
| Draft: | 13 ft (4.0 m) |
The Morrissey would be considered a large schooner in the Labrador fishery; in addition, since she was built for the Grand Banks fishery she was designed to be faster (sleeker) since she would have made frequent voyages in a season.
Schooners used in the Labrador fishery usually made the one long voyage and had to carry lots of cargo so they would be designed for this not speed.
A third class of schooners were those used for transporting cargo to overseas markets. These were larger vessels, well over 100 tons, manned by seamen not fishermen.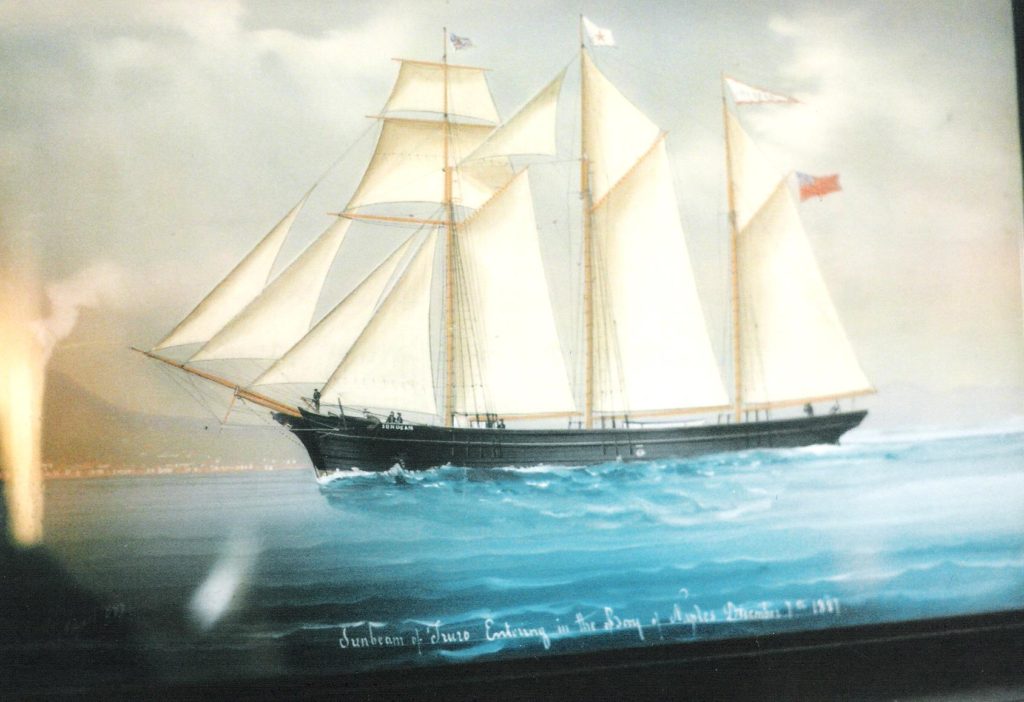 (Banker Schooners were sports Cars, Labrador Schooners were Vans and overseas schooners were transport trucks).
A typical Labrador schooner might be Marilla at 50 tons and 70 feet long. The following is a description of Labrador floater schooners in the mid 20th century (Paddon, 1989), by this time the Labrador fishery was just hanging on and the bigger schooners were no longer economical :

Building a schooner (even a relatively small one of 50 tons) was a major undertaking that required skilled workmen, a supply of wood and financial resources (for rigging, blocks, sails, gear). In addition, catching and processing sufficient fish to fill a mid size schooner frequently would require cooperation between families. If there was an existing merchant in the community they might build a schooner and give members of other families "berths" on the voyage for a share of the profits from that voyage (Sharemen). If there were several families (neither of which had sufficient resources) then they would pool their resources in exchange for shares of the boat. This is not a share of the voyage but shares in the boat. Even today in Canada, the property in a vessel is divided into 64 indivisible shares with 64 shares equivalent to 100% ownership. The origin of this practice has not been definitely established; however, it is a well established practice dating from the time of the British Merchant Shipping Act. Generally, one of the group would be the Captain.