My great-grandfather was John Newell (1828‑1908) of The Dock.  He was the grandson of Philip Newell by his son John.  John married  Caroline Wells of Salmon Cove around 1860; Caroline's  father was Henry Wells of Salmon Cove, Bay de Grave (see: separate section on Non Newell Parental ancestors for more information on her family).  Caroline was buried in Salem, Massachusetts  where she was living with her daughter Eliza Niland after John's death (see: Caroline Newell wife John Death 1920 Mass ).   John is buried in St. Mark's Anglican Cemetery, Bareneed (see gravestone ).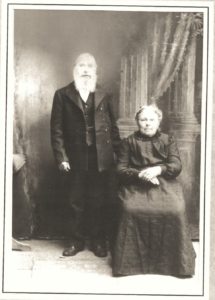 John and Caroline had seven children. Their names, dates of birth and locations at the time of their fathers death in 1908 were:
Patience 1861-1940 (Guysborough, Nova Scotia, married William Hadley)
Henry Walter 1866‑1892 (Drowned)
Albert 1868‑1941 (my grandfather, then living in Sydney Mines, Nova Scotia)
Mary Ann 1872-1947 (Gloucester, Mass., married Frank D. Smith) )
Elizabeth 1874‑1973 ( John's, Nfld., buried in Bareneed)
Edith Selena 1876-1961  (Boston, Mass., married Edwin Reed, mother of Jane Reed see Edith's photo below)
Eliza 1880-1970  (Bareneed, later moved to Mass and married Thomas Niland)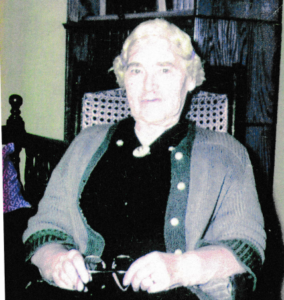 Edith Selena Reed née Newell (Jane's Reed's mother)
My grandfather was Albert Newell (1868‑1942)  and my grandmother Clara Andrews (1878-1951).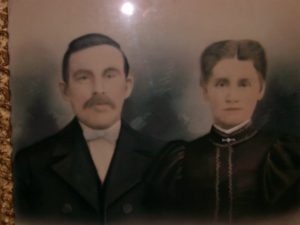 Albert and Clara Newell c 1905
Between 1898 and 1899 Albert worked as a ship's carpenter on a ship called the Cap Breton out of Montreal (see discharge papers below).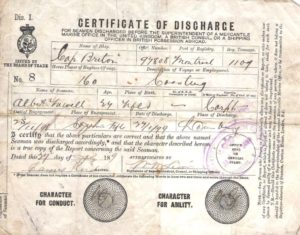 In December, 1899 he married Clara Andrews (b. 1878) of Port-de-Grave (see: Family of Clara Andrews). In 1902 he moved to Sydney Mines, Cape Breton, Nova Scotia and in 1903 Clara and Ethel Lulu followed.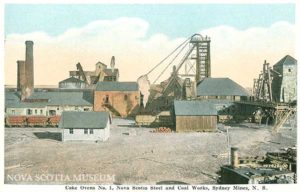 Sydney Mines, Cape Breton, N.S.  http://ltbksmns.blogspot.ca/
Albert did well in Cape Breton, becoming a foreman in the mines and building and renting several houses which he built (had house on Ocean Street, Sydney Mines). Albert and Clara had four children.
Lulu (Ethel Lulu) b. 1900 in the Dock, married Walter Earle of Shearstown;
Ted ( Theodore C. B.)  b. 1904 in Cape Breton, married Fanny Stanford;
John (aka Jack) , my father, b. 1908 in Cape Breton (registered as Robert John Andrews Newell in Cape Breton but always used John Robert Andrews in Newfoundland), married Gladys Norman and
Philip (Philip Harris Archibald Newell) b. 1909 in Cape Breton, died 1937, unmarried.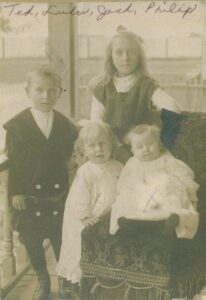 Photo Newell Children in Cape Breton c 1911: Lulu, Ted (to left), John Robert (my father with long hair) and Philip on chair.
They were recorded in the 1911 Nova Scotia census with Albert listed as a Foreman.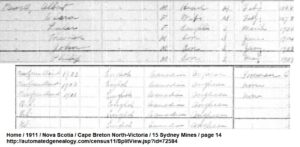 In 1912 Clara traveled to Bareneed to purchase a house (built 1860s from materials imported from England) from the wife of Mr. Isaac Richards, a local merchant who had fell on hard times (info from my cousin Ken Newell).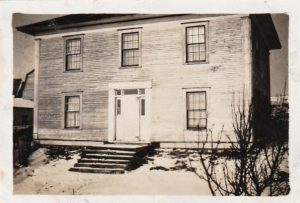 Bareneed house c 1950.
The Bareneed property was registered in Clara's name. In 1914 they sold their property in N.S, and the entire family returned to Newfoundland and moved into the Bareneed house. Albert bought two schooners used for importing coal from Cape Breton, NS. One schooner, the F. B. Wade later sank at its moorings in a storm and the other was sold to pay off debts.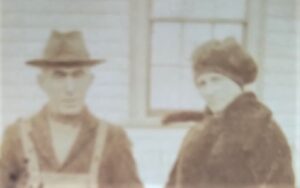 Albert & Clara c 1925
Photo c. 1918 of the students of St Mark's School, Bareneed.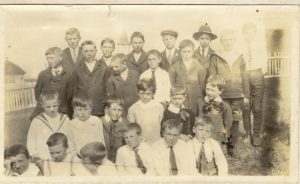 My father John Robert Andrews Newell is 2nd from right in sailor coat, his older brother Ted is behind him in hat and his younger brother Philip (died 1937) is in front of him. The following article from a St. John's newspaper (published 1916) shows that life in Bareneed was exciting for John and Philip: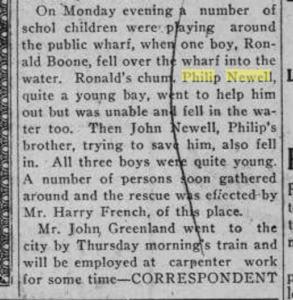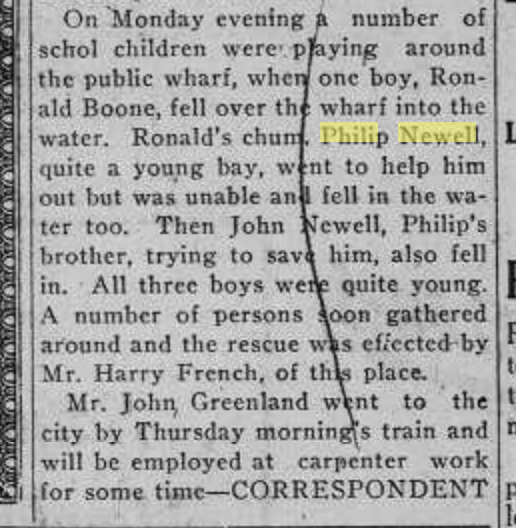 https://newspaperarchive.com/st-johns-daily-star-gs-jul-10-1916-p-7/
In 1926 Albert had a contract from the government to build a farm road that ran east west along the height of land separating the Dock from Black Duck Pond.  This was a good deal for Albert since he owned land at the end of this road and he employed his sons John & Philip (see statement of accounts below).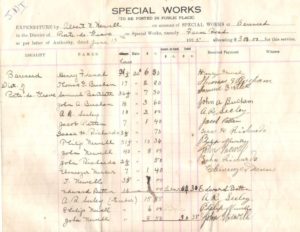 Philip had a problem with his spine and so was bookkeeper for the project. I still have Philips textbooks on bookkeeping (see photo Clara and her sons Philip (left) and Ted below).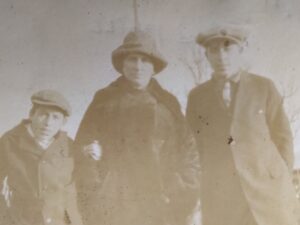 The following photo shows my father on left and his brother Ted in the garden at Bareneed.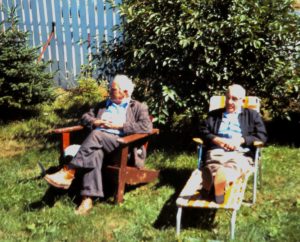 My father was a carpenter by training but was also involved in politics (campaigned for  confederation with Canada in the late 1940s) and  started various agricultural ventures (chicken & sheep farming). During the 1940s and early 1950s he worked as a carpenter constructing military bases in Newfoundland, in the mid 1950s he was briefly involved as a union organizer and in the 1960's he was a Construction Superintendent for  McNamara Construction building bridges for the new Trans Canada Highway that was being built across Newfoundland.
Sometimes a story can tell a lot about a person so here are a few stories related to my father from my own experience and from stories he told me.
The sealing industry was a backbone of the Conception Bay economy up to the 1950s but my father had limited experience with it. According to his story he only made one voyage on a sealing vessel in 1930, the year before the Viking Disaster (he would have been 22, a bit old to start sealing, likely Clara discouraged it). He never went into detail about his experience but he took other directions after this. The seal hunt is in March so when the ship returned home that spring he went to Toronto looking for carpentry work with my Uncle Ted (his older brother).  This period was near the peak of the Global Depression of the 1930s so Canada was restricting immigration from Newfoundland but Ted and John got in since they were born in Nova Scotia.  Uncle Ted became established as a carpenter  in Toronto and remained there; however, my father returned to Newfoundland.
The Global Depression of the 1930s was especially bad in Newfoundland. The Newfoundland government went bankrupt and on 16 February 1934, Newfoundland ceased to be a self-governing Dominion and the Commission of Government from Britain was implemented. While the remainder of North America started to recover from the Great Depression in the mid 1930s, the depression  lingered on in Newfoundland due to the austerity measures associated with the Commission of Government.  Around this time my father fished for lobsters with Ben Batten  of Bareneed, farmed the land in 'The Dock' (the 4 acre garden inland from the original land), cut wood at Mackinsons in the winter and looked after his parents (his younger brother died in 1937 and his father developed stomach cancer and died in 1942). From the stories my father told the family came through the depression better than most, he said that after they harvested their potato crop people would ask to glean the fields.
My father married my mother Gladys Norman from Bay Roberts in 1940. Gladys' father (Tom) had died in 1935 and my mother had been working at the Glen Mill Inn in Corner Brook, before that she had worked for the Harvey family of St. John's.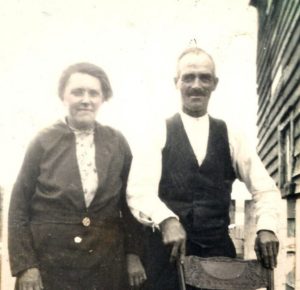 My Mothers Parents Tom Norman and Jessie Norman née Snelgrove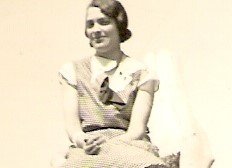 Photo of my mother before her marriage.
The start of WWII brought a measure of improvement to the Newfoundland economy. Under its Leased Bases Agreement with Britain, the United States had obtained permission in 1941 to establish military bases in Newfoundland in exchange for 50 of its aging destroyers. The first American troops arrived at St. John's in January 1941. In the months following, Newfoundland and Labrador became one of the most highly militarized places in North America as the United States spent more than $100 million to build military bases in St. John's, Argentia, and Stephenville (http://www.heritage.nf.ca/articles/politics/american-presence-newfoundland-labrador.php).  In 1940 a airfield and Canadian base (for RAF ferry command) was established at Gander which employed more than 1500 civilians and in 1941 a Canadian base was opened in Goose Bay.
My sister Shirley indicates that our father was working as a carpenter at  the US Air Base near St. John's when he married Gladys and later he worked at the base in Stephenville, then in Toronto and was working at the base in Gander when I was born.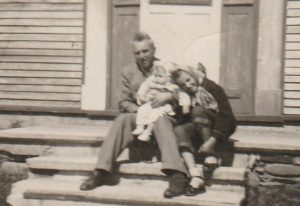 My father with my sister Shirley and me (baby) Bareneed.
During the late 1950s my father became involve as an organizer for the Carpenters Union. The one memory from this period that stands out is as a small boy listening to the news on the Radio with my mother and hearing that my father had been expelled from the Goose Bay Military Base for trying to sign up members.
The venture into sheep farming also took place in the late 1950s when I was a boy so I remember how it developed. Joseph Smallwood was the first premier of Newfoundland after Confederation with Canada in 1949. My father was a strong supporter of Smallwood and Smallwood was committed to starting various industrial ventures in in Newfoundland. One of the ventures Smallwood was promoting was a woolen knitting industry. In 1953 a knitting mill was established near Brigus (see: https://journals.lib.unb.ca/index.php/MCR/article/view/17957/21996); this mill was intended to complement an existing woolen mill near Mackinsons, a short distance from Brigus (http://collections.mun.ca/PDFs/cns_tools/NFLDWhosWho1952.pdf).   To support this industry Smallwood was also promoting larger scale sheep farming. Various government programs were implemented to support sheep farming including bringing in new breeds of sheep and importing a Scottish shepherd to train people on the use of sheep dogs. I remember this shepherd, who lived in the Otterbury, since he wore a Kilt (a novelty in Conception Bay). My father got involved, building a flock that reached nearly 200 sheep before the industry collapsed around 1960.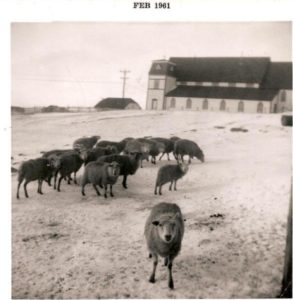 The last of our sheep 1961 (Bareneed church in background).
In the late 1950s my father started working for McNamara Construction as a foreman on a bridge being built at Rose Blanche (south coast of Newfoundland). Around 1960 he became a  Construction Superintendent for  McNamara Construction building bridges for the new Trans Canada Highway that was being built across Newfoundland. My father built bridges at: New World Island (causeway), Robinsons River, a river near Badger and Port Blandford. During this period my parents would live near the construction sites and I would attend the local schools (my sister was married).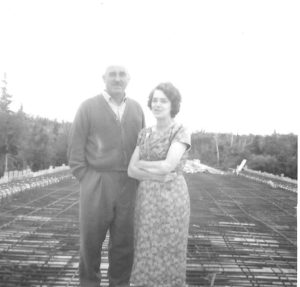 My parents at the construction site for the bridge across Robinsons River (western Newfoundland) early 1960s.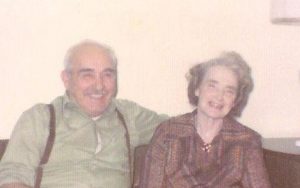 Jack (John Robert Andrews Newell) and Gladys née  Norman c. 1970s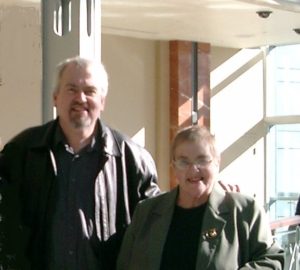 John P. Newell & Shirley Badcock née Newell a few years back.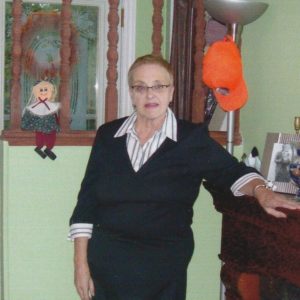 Shirley Badcock née  Newell