My parents Jack (John Robert Andrews Newell) and Gladys née  Norman c. 1970s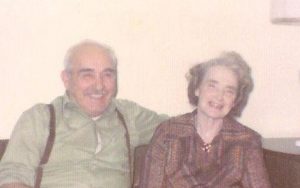 Photo c. 1918 of the students of St Mark's School, Bareneed.
My father John Robert Andrews Newell is 2nd from right in sailor coat, his older brother Ted is behind him in hat and his younger brother Philip (died 1925) is in front of him.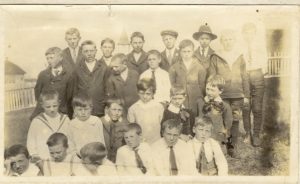 Grandparents (Newell)
My grandfather was Albert Newell (1868‑1941)  and my grandmother Clara Andrews (1878-1951). Between 1898 and 1899 Albert worked as a ship's carpenter on a ship called the Cap Breton out of Montreal. In December, 1899 he married Clara Andrews  of Port-de-Grave  and moved to Cape Breton, N.S. where he was a foreman in the coal mines at Sydney Mines, NS. Albert did well in Cape Breton, owning several houses which he built. In 1914 they sold their property in N.S, and returned to Newfoundland and purchased a house in Bareneed and two schooners for trading with Nova Scotia. One schooner later sank at its moorings in a storm and the other was sold.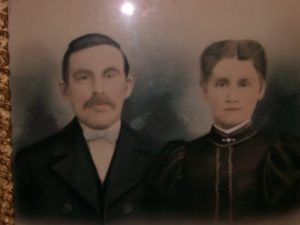 My great-grandfather was John Newell (1828‑1908) of The Dock. He married  Caroline Wells of Salmon Cove and they had seven children. Their names, dates of birth and locations at the time of their fathers death in 1908 were:
Patience 1861 (Nova Scotia)
Henry Walter 1865‑1892 (Drowned)
Albert 1868‑1941 (my grandfather, Nova Scotia)
Mary Ann 1872 (Gloucester, MA )
Elizabeth 1874‑1973 ( John's)
Edith 1876  (Boston, MA )
Eliza 1880  (Bareneed, later moved to Boston)